It was directed by Ricky Saiz, the former Supreme head designer. He's also worked with Beyoncé in the past for her "Yoncé" video.
The video is verrrrrryyy interesting, particularly because it was shot in Paris' famed Louvre museum.
According to Vulture:
"Beyoncé and Jay-Z visited the Louvre four times in the last ten years. During their last visit in May 2018, they explained their idea of filming," a spokesperson for the museum told Vulture. "The deadlines were very tight but the Louvre was quickly convinced because the synopsis showed a real attachment to the museum and its beloved artworks."
Fans were obsessed with the breathtaking visuals and, of course, we were wondering what most of the video meant ~below the surface~, so we did a little research and came up with a few things you may have missed if you blinked.
1.
First of all, Beyoncé's verse was written by Migos members Offset and Quavo. If you listen closely you can hear Quavo ad-libbing throughout the song.
2.
A quick refresher, Beyoncé and Jay-Z visited the Louvre and shared this photo in front of the Mona Lisa as tourists in 2014. Now they're back in the same position, this time, professionally:
3.
There were deep African story parallels that Bey and Jay have used before:
4.
The entire video was an expression of defiance:
BuzzFeed News reported on the historical significance of the video, speaking with Heidi Herrera, an art history major who offered her expertise on BuzzFeed News' AM to DM.
5.
Herrera explained that in this scene black bodies were used to represent beauty and power:
6.
Again, beyond the Napoleon reference, this scene went VERY deep: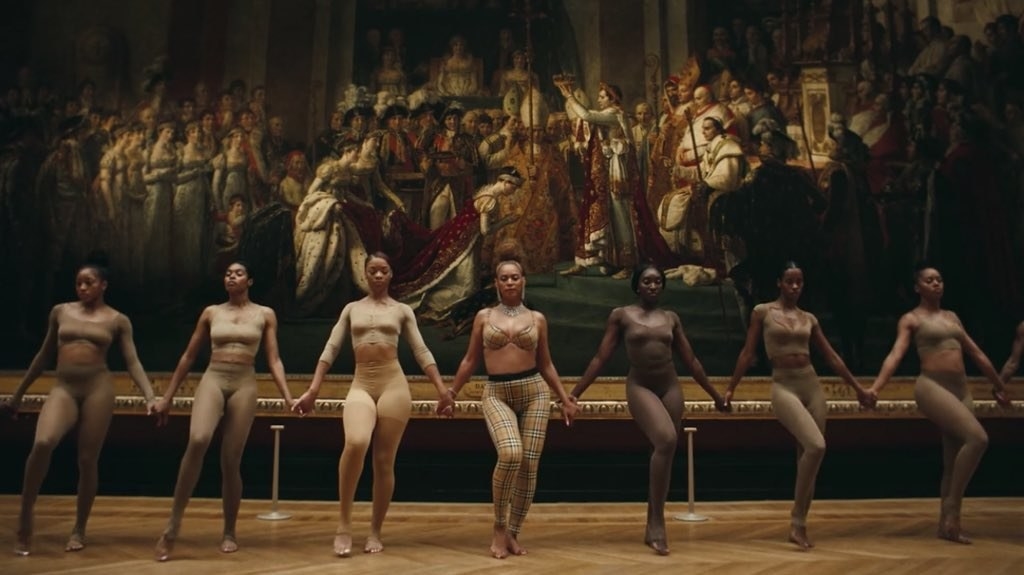 7.
This particular costume Beyoncé wore in front of this Ancient Greek statue was no mistake:
8.
Beyoncé's younger sister Solange also broke down stereotypes of blacks in traditionally white spaces when she performed at the Guggenheim museum in New York City...
9.
...Bey and Jay reaffirmed Solange's notion in the Louvre and solidified a "sense of belonging":
10.
And the scene where Beyoncé is dancing can be compared to black artist Faith Ringgold's 1991 painting:
11.
Another painting parallel was this particular piece matched up with Beyoncé's interpretation:
12.
Fashion-wise, Beyoncé's Burberry outfit in this particular scene could be a throwback to the couple's "'03 Bonnie and Clyde" video where Beyoncé also wore Burberry:
13.
The New York Times pointed out that this image "echoes the photography of the French artist Mohamed Bourouissa":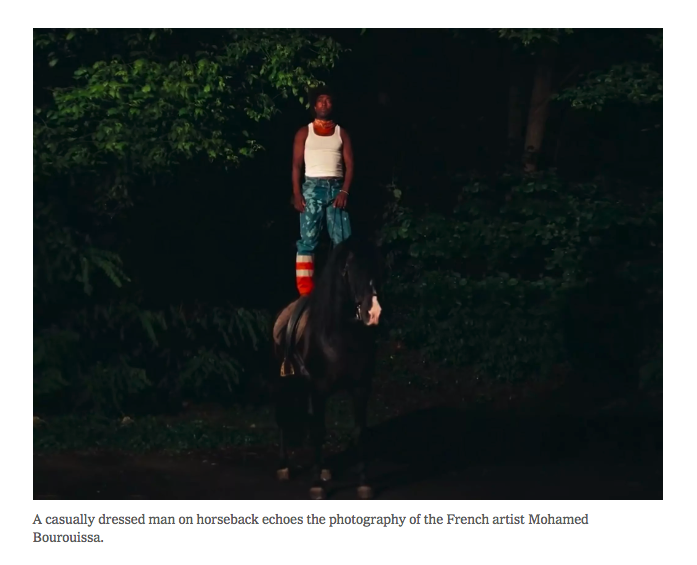 14.
And finally, the song was produced by Pharrell, a longtime friend of Bey and Jay:
Of course beyond the explanations, fans (particularly the Beyhive) literally went ape shit for this new video: