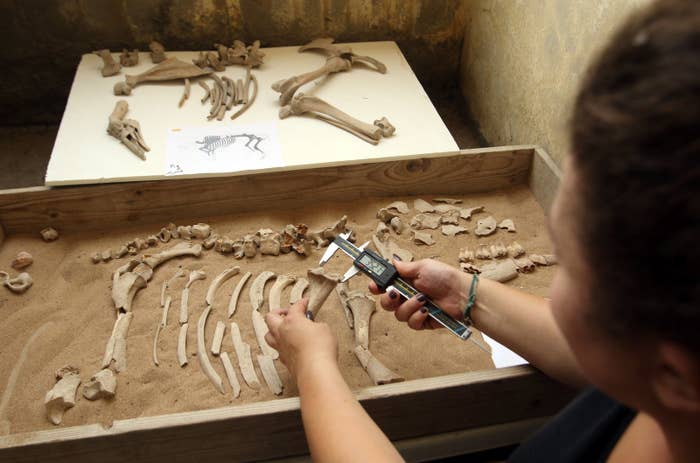 A report out today reveals exactly how much EU money each area of research in the UK gets. Commissioned by the UK's four national academies, it highlights what the UK would miss out on if it were to lose access to European grants for research and innovation after the country leaves the European Union.

British archaeologists are especially worried as the report shows archaeology in the UK gets 38% of its funding from the EU – a higher proportion than any other field. Archaeologists told BuzzFeed News that the figures are "very worrying" and that Brexit could be "catastrophic" for the field.
Classics, IT and software engineering, media studies, law, and philosophy all get more than a quarter of their total funding from EU programmes.
The report shows that, overall, 12% of UK research funding comes from EU government bodies, compared with just under half that comes from UK government bodies. But in some fields, such as archaeology, the EU chips in much more.
"In archaeology we're more worried than most. There's no doubt that British-based archaeologists have been extraordinarily successful in these [EU grant] competitions," Matthew Collins, a professor in the archaeology department at the University of York, told BuzzFeed News. "Realistically, if you're going to have that kind of drop in funding, what kind of impact is that going to have on British archaeology?"
Here are the 15 areas that received the most EU funding in the year 2014/15, as a proportion of their total funding:
The new report also shows which research areas receive the most money in total. Here are the top 15:

It's not just European money British academics fear losing access to once Brexit actually happens – Europe-wide collaborations are another thing that comes with access to the EU grants, and many researchers say these are vital for their work. That's definitely true of archaeology, said Collins.
"We don't do national boundaries, because they're not there archaeologically," he said. "When we're doing our research, we're looking at issues to do with mobility, movement, migration, and we can't constrain ourselves to looking within Britain – that would be crazy. And so as a consequence you're always working in international collaborations."
"If you're researching the Bronze Age or the Viking age, you need access to data across several European countries," Julian Richards, director of the Archaeology Data Service, also at the University of York, told BuzzFeed News. "So we inevitably got involved with projects about data sharing across Europe, and the UK has had a lead in digital preservation. If we are no longer part of European projects, we're in danger of losing that lead role and losing our influence."

"Even if [the UK government] replaces all the funding that's lost we still need mechanisms for collaborative projects," he added.
Collins puts the success of the archaeology department at the University of York (it's currently ranked 11th in the world) down to European grants and attracting European talent. "Britain has been a very attractive place to come and do archaeology. The concern is now that will change," he said.
He himself took a position at the University of Copenhagen last September, while maintaining his affiliation to the University of York. "I'm obviously delighted that I'm in a position now in Copenhagen to still be able to go for European funding, and I feel desperately worried for my colleagues in the UK how archaeology is going to shake down."
Rachel Pope, director of fieldwork at the archaeology department of the University of Liverpool, told BuzzFeed News that "to lose that degree of EU funding is catastrophic for disciplines like ours".
"It's vital for society to know where it's come from, and to understand its past. Particularly with the issues today, like migration, ethnicity, identity, archaeology has the ability to talk about in deep time perspective, and all we're seeing currently is cuts to our ability to do that," she said. "It's really depleting British society and our own perspective on ourselves."

"The money and the loss of knowledge is one thing, but also it's the loss of a progressive research culture in Britain, which means we're going to start to lagging behind," she added.
There are three main sources of EU funding that goes to research in the UK: Horizon 2020, part of the EU's main research and innovation programme; regional development funding from the European Structural and Investment Fund; and loans from the European Investment Bank.

The report shows that England gets the vast majority of the €2.6 million (£2.24 million) Horizon 2020 funding the UK receives from the EU.
But when it comes to regional development funding, Wales and Northern Ireland proportionally do much better.

Ash Amin, foreign secretary of the British Academy, said in a statement: "UK-based humanities and social sciences are world-leading and this is recognised in the significant funding they have won from competitive EU programmes. The high proportion of EU funding in these disciplines also demonstrates the limited funding sources that exist within the UK.
"As the UK prepares to leave the EU, it is vital that our disciplines can maintain their global reputation for research and innovation. The government must continue to support excellent UK-based research, through access to additional UK and international funding."