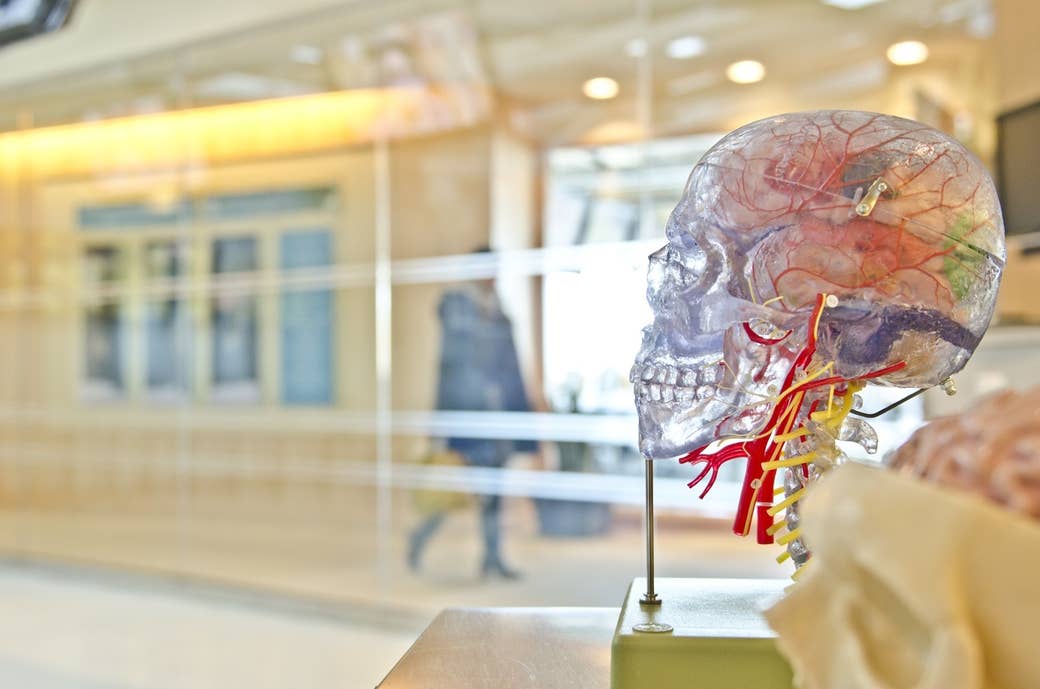 More than 29,000 people have signed a petition calling for the UK to retain access to EU research and development programmes after Brexit is initiated.
The petition comes amid growing concern from scientists about the impact Britain's vote to leave the EU will have on scientific research in the country.
Last week, more than 1,600 early-career researchers signed a letter to The Times asking the government to guarantee funding at the same level if EU money is lost and to ensure that free movement of researchers is protected. And a joint letter signed by seven national academies, including the Royal Society, called for urgent discussions on "how to address any funding gap in both the short and medium term" and emphasised the "intrinsically collaborative" nature of European research programmes that "allow researchers to achieve more than they would alone".
The new petition was created by David Robinson, a metrology expert who runs Surrey-based research consultancy Psi-tran. He told BuzzFeed News that he started the petition to keep the issues facing the UK science community on the agenda as the government begins to negotiate Brexit.
Despite reassurances from both science minister Jo Johnson and European commissioner Carlos Moedas that current projects and applications will not be affected, some scientists in the UK say they're already feeling the effects of the Brexit vote. Potential collaborators are being put off from applying for funding with UK partners and potential hires are reluctant to pursue a career in a country with an uncertain future, they say.
It's not just European money that British scientists are scared of losing. Those who have spoken to BuzzFeed News say there is much more at stake than that, and that's what they hope to draw attention to by signing the petition.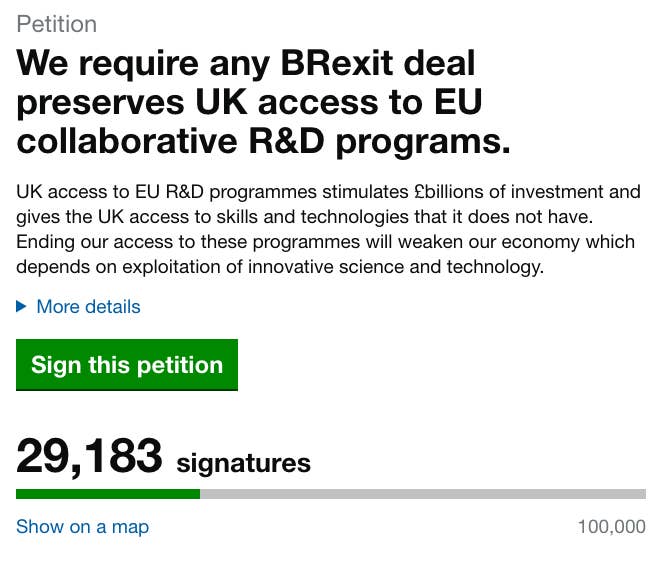 The opportunity to work as part of large collaborations is one issue. Robinson's company works with the European Space Agency, in partnership with other small companies and the UK's National Physical Laboratory, making instruments that are used for spacecraft testing in Holland. Together with partners from Germany and France, the company put in an application to Horizon 2020, a seven-year EU research programme that will run until 2020 and has almost €80 billion funding available, a month before the EU referendum, he says. Now, like many others, Robinson is worried about the impact of Brexit on that application – and on whether he'll be able to take part in similar collaborations in the future.

"The funding itself can be replaced, but the UK's access to the Horizon 2020 programme provides access to a large, collaborative research community that will be hard to replicate," Sarah Kendrew, an astrophysicist who works for the European Space Agency and recently moved from the University of Oxford to the Space Telescope Science Institute in the US, told BuzzFeed News.
If the UK cuts itself off from European collaborations, Robinson said, we'll lose access to a lot of skills and experience. "Some say that the UK government can replace the lost funding using the dividend we get from not paying into the European Union," he said. "But what happens then is that a potentially big project, with a lot of skills brought in, would be reduced from the UK point of view, just to one little project, with a lot less skills and resources."
Andrew Steele, a computational biologist at the Francis Crick Institute in London, told BuzzFeed News: "European grants are one of the few ways to fund projects with partners in multiple countries, and the UK no longer being part of those schemes would be bad for us, and bad for the rest of Europe too."
James Bell, a PhD student in deep-sea ecology at the University of Leeds, said he signed the petition because he didn't want to lose "access to important collaborative projects with leading scientists in EU member states".
"Even if the negotiations are unsuccessful, I hope that the petition will raise awareness about this potential funding deficit and encourage the treasury to invest more significantly in science," he added.
The other big issue is the free movement of researchers. Scientists say the UK risks losing a rich source of researchers if it becomes more difficult for EU nationals to work in Britain. And they are concerned that there might be fewer opportunities for UK citizens to work and train in Europe, too. "The training and education element of it is very powerful and should never be dismissed," Robinson said.

As uncertainty looms, it seems the UK has already become less attractive to scientists looking for jobs. Speaking at the EuroScience Open Forum conference on Tuesday in Manchester, Iain Mattaj, director general of the European Molecular Biology Laboratory (EMBL), said that "in the few weeks since the decision was taken we have had almost no applications for positions for [EMBL's UK centre in Hinxton, Cambridgeshire] from EU citizens". He added that four people have turned down positions in the UK "because of the uncertainty".
Angela Mathis, chief executive of Edinburgh-based mathematics innovation company ThinkTank Maths, told BuzzFeed News she'd already seen "a dramatic drop-off in interest" from EU applicants for research jobs. "If this trend continues, which we are monitoring each week, we would activate plans to open additional offices on the continent," she added.
Similar stories have been popping up around the country. Scientists for EU, an organisation of UK scientists that campaigned for Remain, has been collecting stories about how Brexit is already affecting scientists. It says it's had 25 responses (out of nearly 350 total submissions) detailing cases where someone coming to the UK has refused a job or pulled their application after the referendum result came in.
While these incidents may turn out to be isolated, they certainly have scientists worried about what the future may be like. "From reading the entries, it's clear that the UK has overnight become less attractive as a place to do science. This is what we need to turn around," Mike Galsworthy, programme director of Scientists for EU, told BuzzFeed News.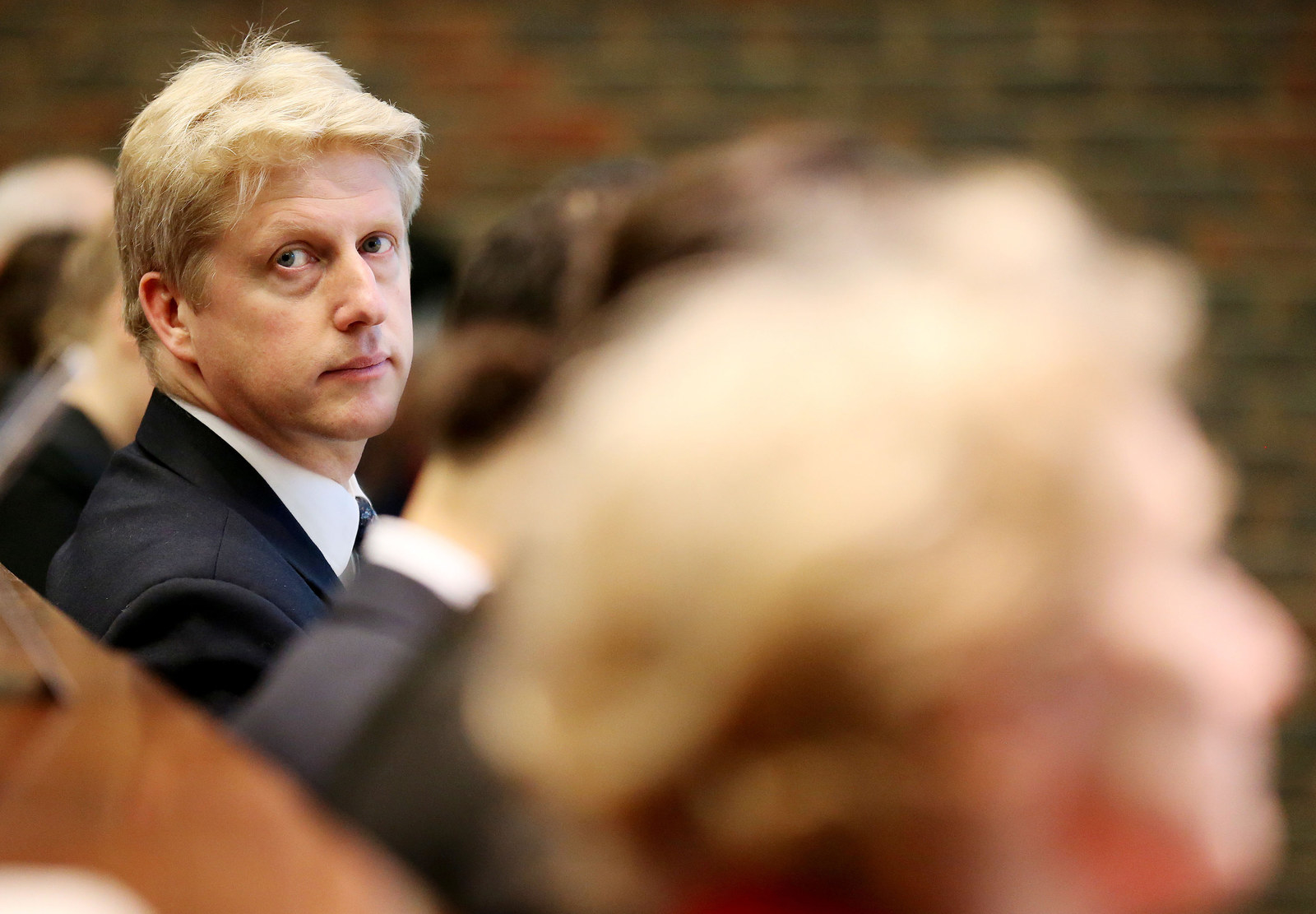 All of this is not to say that these problems can't be solved. "It's not difficult to see a route by which we could retain membership by buying into the right programmes," said Robinson. But whether a deal can be struck that suits everyone remains to be seen.

In a speech last month, science minister Jo Johnson said it was "too early to say what a new settlement will look like, and exactly what our relationship to successive framework programmes will be, but I'm confident we will continue to thrive".
Robinson said he thought scientists were signing the petition because it gave them a voice.
"As time has gone on I've felt increasingly that very senior scientists, like Nobel Prize winners and scientific institutions, already get a voice in government. They can easily lobby and feel they're doing something," he said. "But ordinary scientists in universities, especially the young ones, don't. They just sit and worry. And the reassurances we've been given so far have not been good enough."