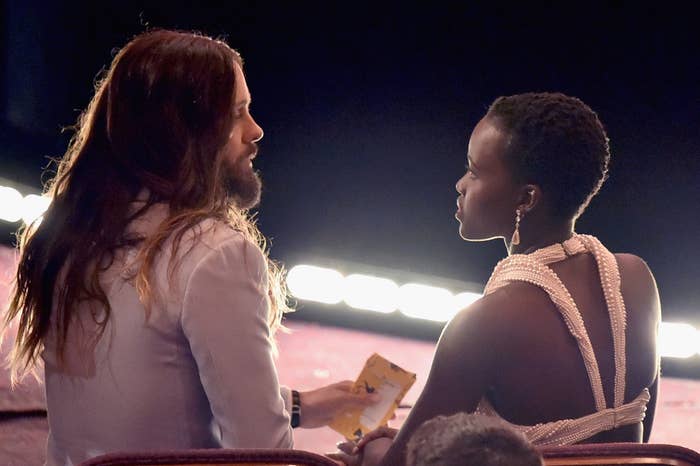 The cameras at the Oscars are always trying to catch famous faces doing interesting things, but they cannot capture everything. BuzzFeed News' Kelley L. Carter and Adam B. Vary attended the 87th Academy Awards on Sunday and saw how Hollywood's elite were celebrating and interacting when the cameras weren't in their faces.
1. Right before the show began, the Dolby Theater was filled with a mad rush of glad-handing and hellos. On the left aisle, Gwyneth Paltrow hugged Best Actress nominee Marion Cotillard, who then chatted up her fellow nominee Julianne Moore.
2. Meanwhile, on the right aisle, Jennifer Aniston hugged Selma star David Oyelowo, who then turned to talk with Oprah Winfrey's longtime partner Stedman Graham.
3. And then there was Oprah herself. Throughout the night, people would approach her to say hi. Among the very first was Academy president Cheryl Boone Isaacs, who did the high-five hand clasp with Winfrey. (Her signature!)
4. With roughly a minute to go before the show, Anna Faris struggled to make it to her seat, holding the train of her dress in her arms as her husband Chris Pratt dutifully followed behind her. Still, she had time to scream, "Hiiiiii!" to Best Actress nominee Felicity Jones.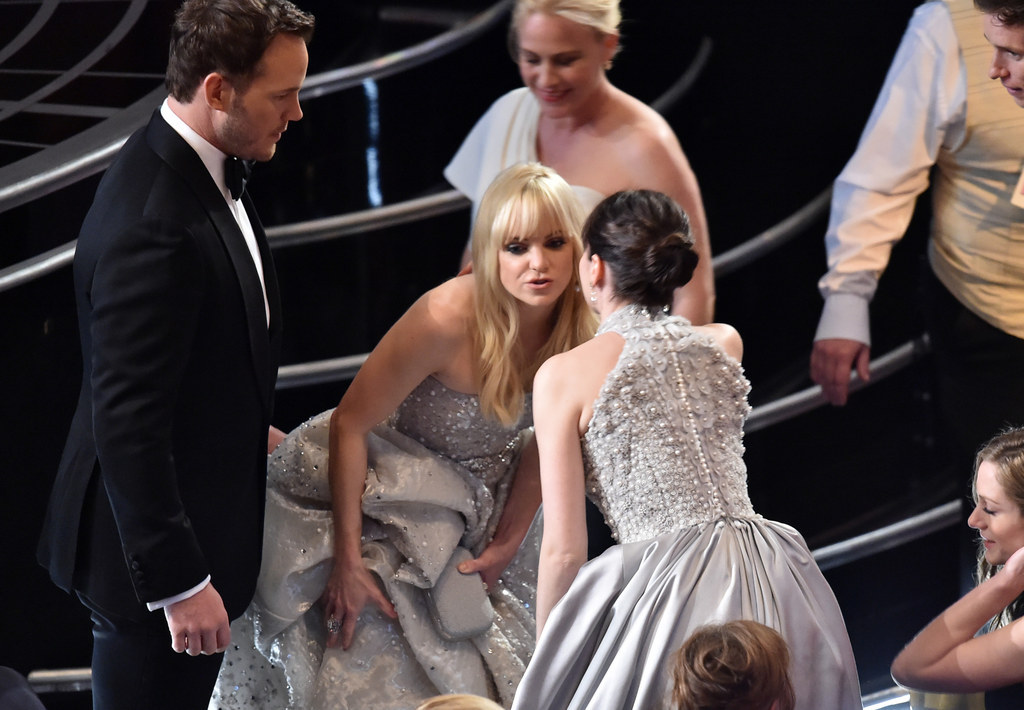 5. After the first commercial break — 20 minutes after the show began — Academy CEO Dawn Hudson immediately turned around to performer Lady Gaga and gave her a water bottle.
6. Oyelowo also took the time to huddle in conversation with fellow Brit and eventual Best Actor winner Eddie Redmayne.
7. Host Neil Patrick Harris also squeezed in some precious time with his husband, David Burtka. Harris stepped into the audience during the break to kiss and hug his husband.
8. With a few seconds to kill, Harris turned to schmooze with Oyelowo, while Burtka kneeled down to talk with Winfrey, because he understands that when you talk with Oprah, you literally need to get on her level.
9. Just before the show came back from the break, Emma Stone's mom appeared to rub off a makeup smudge from her daughter's face. As any good mom would do.
10. After their comedy bit in which Harris pretended Best Actor nominee Steve Carell was a seat filler — it is his first nomination, after all — Harris thanked Carell with a friendly "you're a good sport" pat on the back.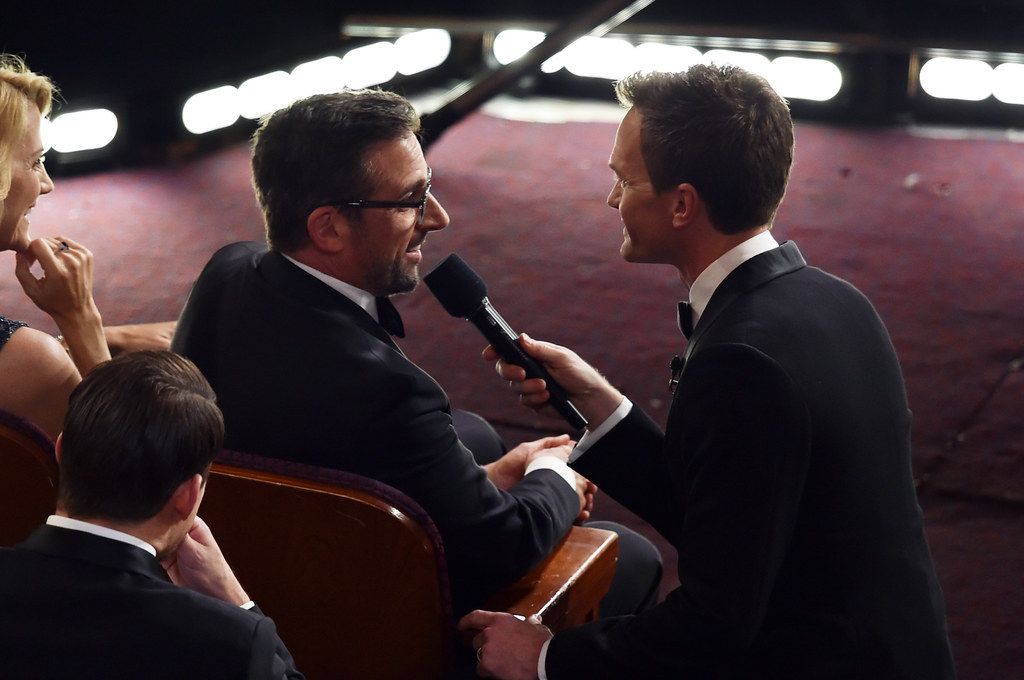 11. Meanwhile, inside the lobby of the Dolby Theater, stars started pouring into the sleek "Dolby Lounge," a VIP-like space with semi-secluded bathrooms and a small bar. One of them was Scarlett Johansson, who patiently waited in line for the bathroom. "I never remembered there being a bar here before. So exciting!" she said.
12. Next up on the Oprah receiving line: Last year's Best Supporting Actress winner Lupita Nyong'o. She went in for a full Oprah embrace, with both arms, and a slight sway.
13. Afterward, as she headed back to her seat, Nyong'o intercepted Oyelowo as he walked back to his chair for another hug. Clearly, Lupita Nyong'o really loved Selma like the rest of us. (Oh hi, Academy.)
14. Those LEGO Oscars quickly became one of the must-have consolation prizes from this year's Oscars, after the "Everything Is Awesome" dancers gave them to several actors in the audience. Best Supporting Actress nominee Meryl Streep was so reluctant to accept her LEGO Oscar, however, that the dancer with it almost didn't make it back to the stage in time.
15. One actor who did love his LEGO Oscar: Channing Tatum. As Kerry Washington and Jason Bateman presented Best Live-Action Short, Tatum kept poking his Foxcatcher co-star Carell in the back with his yellow statuette.
16. After stepping on stage in his Birdman tighty whities, Harris scurried off the stage while covering his crotch and butt, and finally his nipples, to the audience's delight.
17. After they finished presenting Best Sound Mixing, Sienna Miller and Chris Evans hugged each other as the nominees package was rolling, laughing and seemingly relieved that they'd gotten through it.
18. Much like Meryl Streep, all the women in the audience threw up their arms in applause when Patricia Arquette called for equal pay in her Best Supporting Actress acceptance speech. Like, every one of 'em.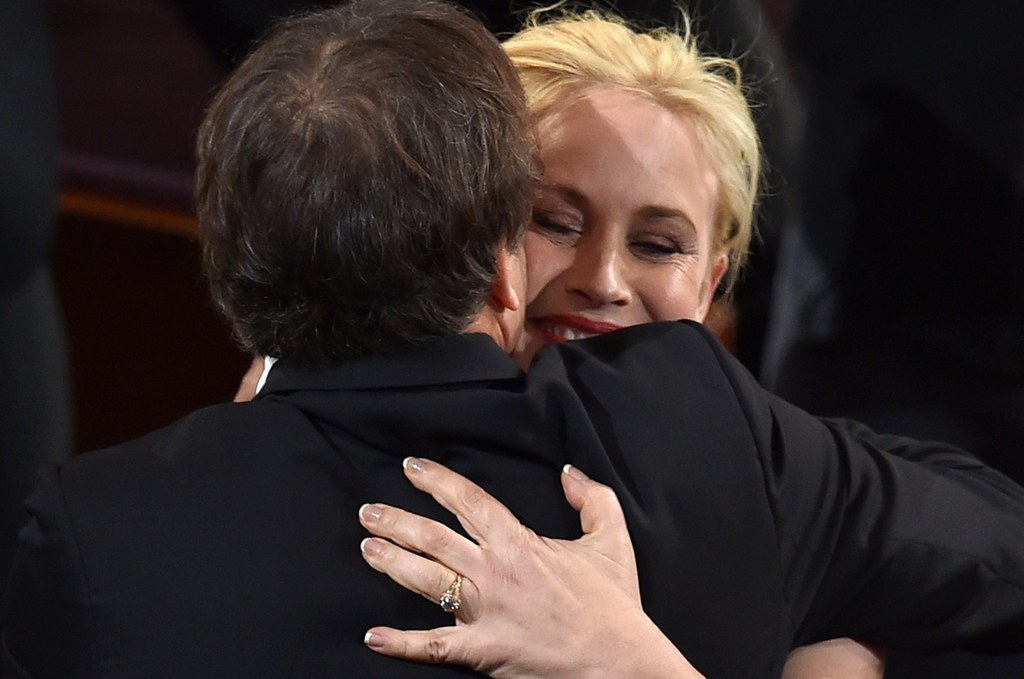 17. Back on the main floor of the lobby (which included a much larger bar), The Grand Budapest Hotel stars Adrien Brody and Jeff Goldblum, both in white tux jackets, stood at a cocktail table, laughing with their dates.
18. Meanwhile, Chiwetel Ejiofor and Boyz n the Hood director John Singleton laughed it up in the Dolby Lounge while sipping champagne. Might they be thinking of a way to collaborate?!
19. And once Brody caught sight of Ejiofor, he pulled Goldblum into the lounge, so they could all meet.
20. The stars weren't restricted to the main lobby bar, either. The Dolby houses three balconies (i.e. mezzanines), each with its own bar. On the first mezzanine, several of the voice actors behind Big Hero 6 — Damon Wayans Jr., Jamie Chung, T.J. Miller, and Scott Adsit, who clutched a small plush Baymax doll — celebrated their film's somewhat unexpected win for Best Animated Feature. Wayans Jr. told BuzzFeed News that he was very happy that the film won, especially since he was expecting DreamWorks Animation's How to Train Your Dragon 2 to take home the honor instead.
21. Back inside the theater, after Kevin Hart said hello to Winfrey, he tried to work his way back up the aisle, only to run into Chrissy Teigen. Like, literally. She began shifting from side to side, joking like she wasn't going to let him pass. And since she stands about three-quarters of a foot taller than Hart in heels, she probably could have succeeded.
22. The entire audience appeared deeply impressed during Common and John Legend's performance of "Glory," but Jennifer Lopez was into it, rocking her head back and forth throughout the song, especially during Common's rapping.
23. Chris Pine, Best Supporting Actress nominee Laura Dern, and Viola Davis leapt to their feet after Common and John Legend's beautiful acceptance speech when "Glory" won for Best Original Song shortly after their performance.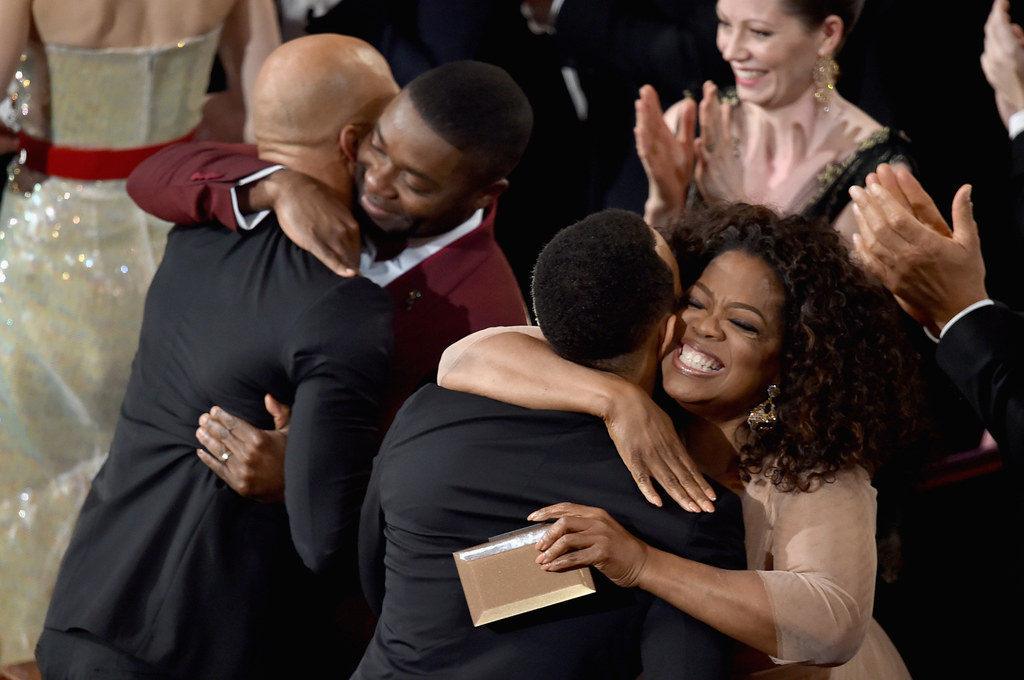 24. With just a few more categories to go, Anna Kendrick used a secret door at the back of the Dolby Lounge to sneak back into the theater before Best Director was announced.
25. Idina Menzel got many thumbs up from the people hanging out in a small lounge on the main floor as she exited the stage after her "Adele Dazeem" bit with John Travolta. She was smiling and seemingly happy the presentation went over as well as it did.
26. And finally, after the show was over, Harris looked over the crowd as it began slowly working its way back outside and into the Governors Ball, a small smile on his face. As he stood there, several crew members came up to shake Harris' hand. It had been a long night, and everyone seemed happy with the show — and happy it was over.