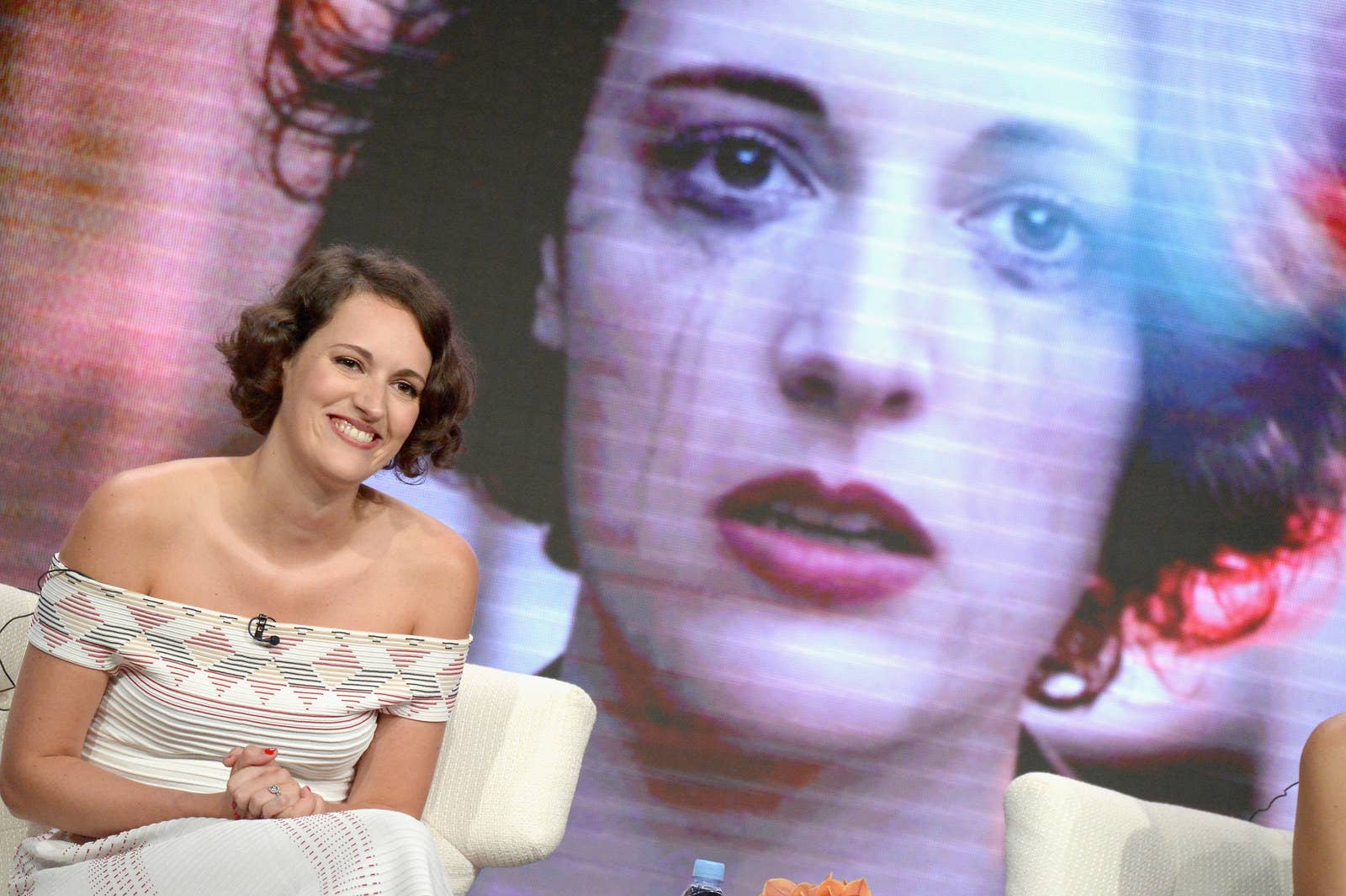 "I'm bathing in how many amazing shows there are about women at the moment," Phoebe Waller-Bridge said enthusiastically, pulling her legs up so she could sit comfortably cross-legged on a chair inside The London hotel in West Hollywood. The writer and star of Fleabag, Amazon's six-episode series that premiered July of last year to rave reviews, is as bawdy and animated in person as her onscreen persona. She also has the same short brown hair, and she's frequently tucking it behind one ear; it becomes disheveled when she gesticulates, and she gesticulates a lot. Her speech is fast and unfiltered, often peppered with "fucks" and "shits," and the words come even quicker when she's talking about something that excites her — in this case, women currently on television. "When it became very obvious that the appetite for complex stories with female leads had resurfaced, all this amazing stuff came out!"
Waller-Bridge, a new and powerful voice in TV, is as much an avid consumer as she is a creator. She just finished Big Little Lies and cried during the finale — "it's always women standing up for each other, and women acting in solidarity gets me more than anything else" — and she's one episode into The Handmaid's Tale — "Jesus Christ, it's bleak." But Fleabag stands apart from most onscreen women for many reasons, chief among them her brazen ownership of what's often considered socially taboo.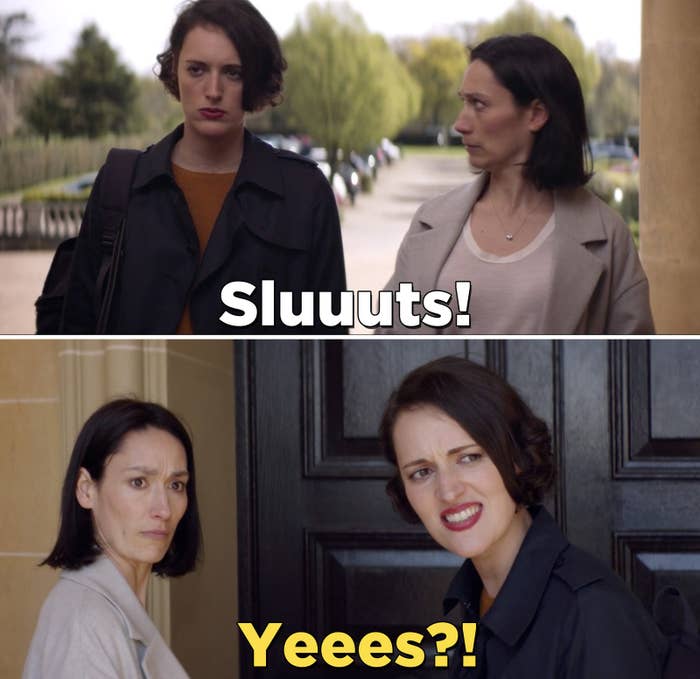 This reclamation of the darker parts of womanhood, so often swept under the rug, are on full display during Episode 4 of Fleabag. "Sluuuts!" an unseen, random man in the distance shouts at Fleabag (Waller-Bridge) and her sister Claire (Sian Clifford). The slight rings out just as Claire rings the doorbell to Mindful Farm, a women's-only silent retreat outside London where their father has gifted the sisters a getaway — a lovely weekend of washing floors and gardening together in forced tranquility. Claire, pressed and professional even in her casualwear, looks aghast. But without missing a beat, Fleabag gleefully responds. "Yeees?!" she yells back, smirking mischievously, owning the insult.
"Ahh, sluts!" Waller-Bridge tittered as she remembered that scene. During the same episode, Fleabag discovers a men's-only retreat, Better Man, next door — undoubtedly where the "slut!" shout came from. The male attendees hurl insults at female blow-up dolls — trying to exorcise their anger in the hopes of emotional reformation — while the women trim tiny shrubs in mandatory quietude mere feet away. "The received idea for women is to be passive and quiet and clean the house," Waller-Bridge explained of writing that juxtaposition. "And for men, it's to scream and own the language that they've been given, the language that they've been using against women. That cracks me up, people who are really trying," she laughed. "Really, I just thought it was a funny gag."
Fleabag is never directly addressed by name in the series — we know her only as "Fleabag," the name she's given in the show's credits. "I couldn't think of anything that summed her up," Waller-Bridge said of struggling to name the character (and the original 2013 one-woman play the series is based on). But then her mother phoned and addressed her by her family nickname, "Fleabag," and she just knew. "My sister was 'Mouse' and my brother was 'Mole,' but 'Flea' has really stuck. I was like, 'Ahh, fuck!' when I realized it. It's going to be such a pain in the ass, because now everyone's going to be like, 'It's you!' But I love the idea that the title gave the subtext of her emotional state."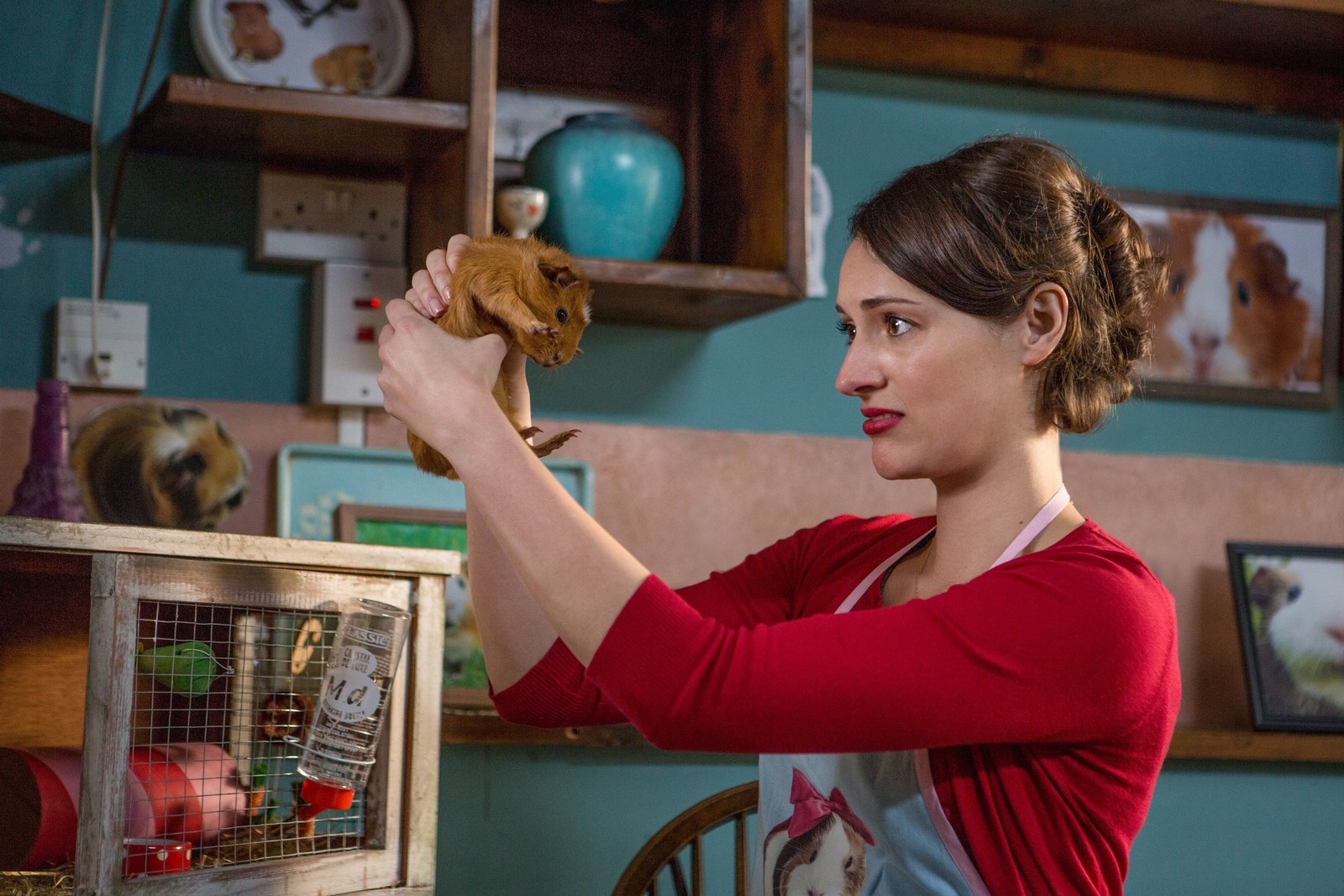 Fleabag's dark, underlying emotional state throughout the series is masked by sexual bravado and perfectly applied red lipstick. Cripplingly depressed beneath her rouge, reeling from both her mother's death and her best friend's accidental suicide ("She didn't actually think she'd die, she just found out that her boyfriend fucked someone else and wanted to punish him by ending up in hospital," Fleabag drunkenly word-vomits to a cab driver in the first episode), she copes with grief almost entirely through sex. "I wanted to give the feeling of a woman who'd been completely desensitized by her own need for validation through sex," Waller-Bridge said. "Someone who had blurred the line between 'It's fun and feels good!' and 'Actually it's kind of filling a void.'"
That use of sexuality, and "the need to have sex but the simultaneous need to not connect with somebody at the same time, but be needed and be wanted," is something Waller-Bridge related to viscerally in her early twenties. "I remember thinking, like, That's the main element of control I've got in the world."
A minute and a half into the first episode, Fleabag's having anal sex with her on-call yogi fuckboy. In various moments throughout the series, she masturbates to an Obama speech on her laptop while her milquetoast boyfriend dozes next to her, tries to low-key seduce a patron of her café by dropping a cucumber, and awkwardly hits on her doctor mid–breast exam. We even learn that she's the "someone else" her dead best friend's boyfriend fucked. When she can't secure a drunken hookup for even one night, she shows up on her emotionally withdrawn father's porch, unable to be alone with her heartache. "I have a horrible feeling that I'm a greedy, perverted, selfish, apathetic, cynical, depraved, morally bankrupt woman who can't even call herself a feminist," she half-cries. "Well," her father stammers after a long moment, seemingly unable to contradict her, "you get all that from your mother."
But Waller-Bridge doesn't categorize Fleabag as "unlikable" by any means. "I didn't see her like that," she said immediately. "She did morally ambiguous things and made morally ambiguous choices, but I felt like she was clearly in pain and that's what was driving all that. When people really go for unlikable characters, especially female ones, it's because they can't see why they're behaving like that." And the 31-year-old isn't surprised that people, especially women, find Fleabag so relatable. "We have our versions of 'normal.' Me and my friends, we talk like this, we feel like this, and this is our version of 'normal,' and I put it into Fleabag. As a young woman you're supposed to be, first and foremost, attractive. I really felt like that, and I could see that everyone else felt like that as well, and it made me so sad."
A "really committed" tomboy until age 11, Waller-Bridge credits Buffy Summers from Buffy the Vampire Slayer and Eddy and Patsy from Absolutely Fabulous as her earliest onscreen heroines — but she still related to boys' narratives much more. "I had my hair short, wore boxer shorts, was called 'Alex,' the whole thing," she cackled. She wanted to be Cody from Disney's animated feature The Rescuers Down Under just so she, too, could ride on the back of an eagle.
But she believes women's narratives are changing for the better, despite a continued lack of eagle-riding young girl characters. "I have to say," she said, half-jokingly pointing a finger to emphasize her point (always toeing the line between serious and slapstick, like Fleabag), "I think it's changed so much in the last few years. Some of these shows that are coming out now make me weep with happiness that these stories are being told." And what's the trick to keeping those stories coming? "Empowering female writers. There's only so much a man can get under the skin of a female character. And vice versa."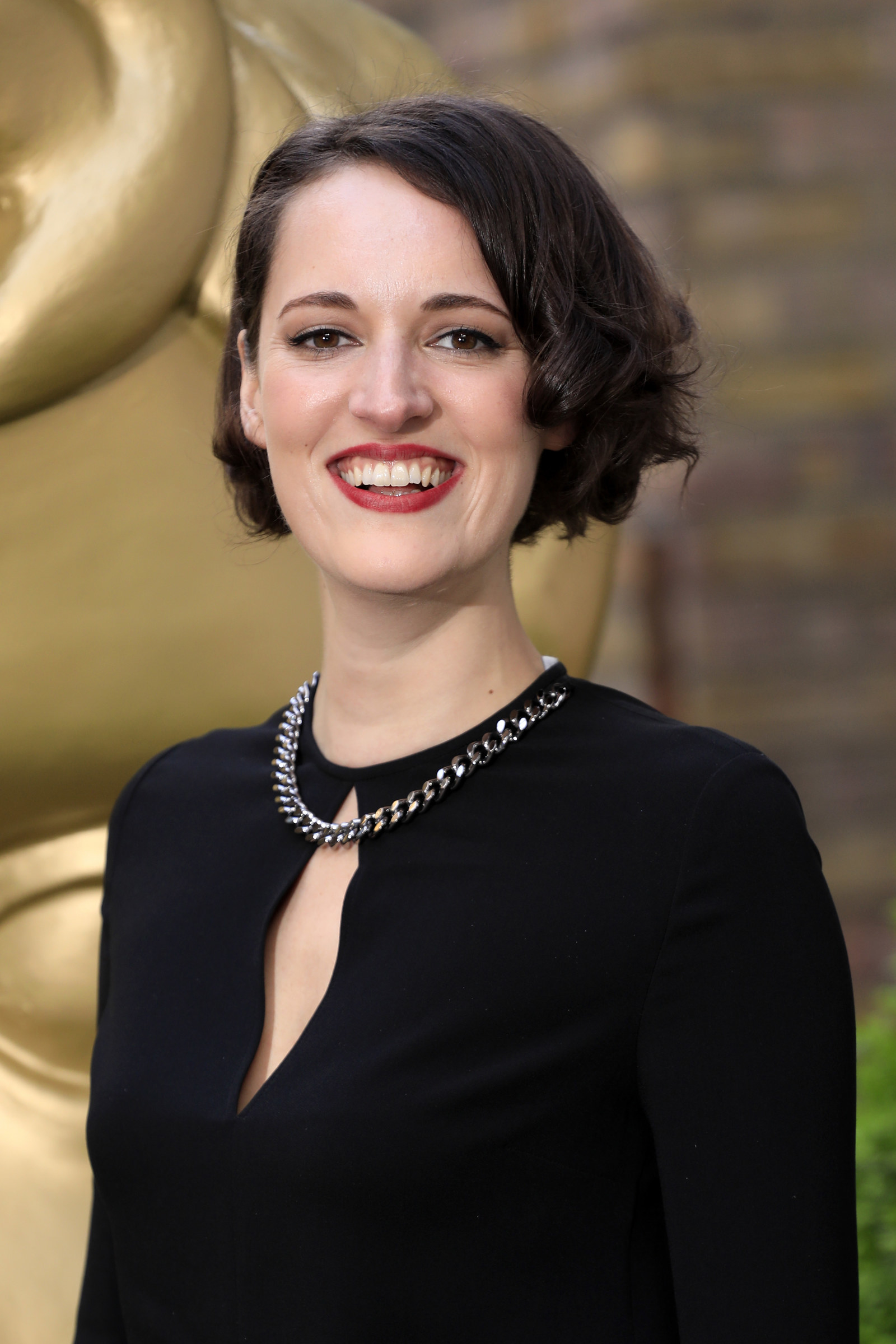 Waller-Bridge will continue to personally contribute to the growing landscape of complicated and flawed onscreen women, in creation and portrayal. Fleabag is what landed her an audition and — eventually — an undefined major role in 2018's untitled Han Solo Star Wars anthology film. She won't confirm or deny the rumor that she'll be playing the first significant female droid in the Star Wars canon — "can't say anything, can't say anything," she repeated with the same robotic intonation (much like a droid). Right now she's finishing up penning the script for Killing Eve, an eight-episode spy thriller for BBC America that follows the obsessive relationship between a psychopathic assassin and the woman charged with killing her; she's also showrunner and executive producer on the project.
Then, very possibly, she'll return to Fleabag for a second series. "We're still negotiating it all at the moment," she clarified about her deal with Amazon Studios. "I really didn't want to do another [series], I didn't want to fuck it up. [But] when will I ever get to play that character again, at a different stage in her life and my life? I think I'd regret not doing it."
Even if it's not via Fleabag, Waller-Bridge wants to continue telling real and relatable stories, regardless of likability. "I think there's a responsibility for us to keep telling the most honest stories about women in their complexities," she said, "and not hide away from the uglier side of the female psyche — which are the bits I get really excited about."