Zac Efron graces the cover of the latest issue of The Hollywood Report.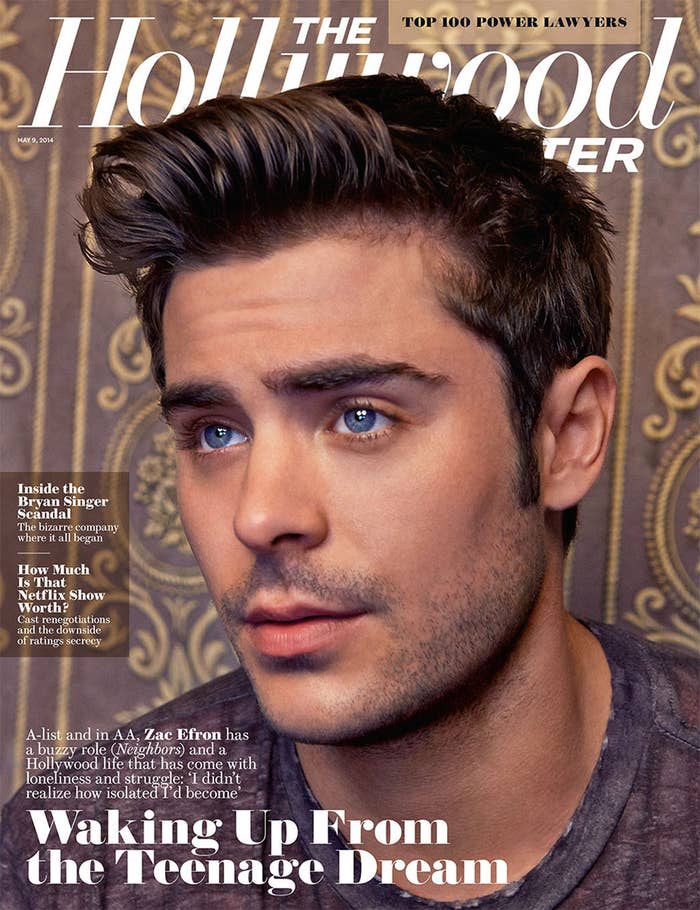 You'd think that with that gorgeous face, that Greek-god body and a hugely successful acting career, Zac Efron is having it all – he's the perfect being living the perfect life.
However, in the most recent interview with The Hollywood Reporter, our favorite ex-High-School-Musical pinup-boy describes himself as an insomniac, and reveals his constant wrestling with anxiety, admitting to being plagued by "thoughts, just thoughts, just overthinking things."
More shockingly, Efron boldly shares about his alcoholic and drug addiction woes, which he reveals is an indirect result of his over-hectic acting career.
At that time, Efron was working through three different films back-to-back -- Richard Linklater's period piece Me and Orson Welles (2008), the romantic comedy 17 Again (2009) and Lee Daniels' Cannes entry The Paperboy (2012) -- and he admits that he was feeling totally "burnt out" and empty on the inside. To which, he turned to alcoholism and drug abuse:
"I was drinking a lot, way too much," he says, acknowledging there were drugs, too. "It's never one specific thing. I mean, you're in your 20s, single, going through life in Hollywood, you know? Everything is thrown at you. I wouldn't take anything back; I needed to learn everything I did. But it was an interesting journey, to say the least."
Efron tells the unseen struggles of being a successful Hollywood actor:
Work, he says, "started to become the reason to go anywhere, the reason to talk to anybody. The phone calls I received were regarding [work], the ones I wanted to make were regarding scripts or to producers. Slowly but surely, I was no longer living in my house. It was just hotel to hotel. So my hobbies went out the window."
He stopped seeing friends, grew distant from his family and hopped from location to location, living out of a suitcase, turning to alcohol and drugs to make the rush of it all tolerable. "I was just so deep into my work, it was really the only thing I had," he says. "I clung to it in a way that became a little bit destructive."
Efron has since joined Alcoholics Anonymous and has also gotten himself a therapist to help him work things out, though he frankly acknowledges his personal battle with addiction as "a never-ending struggle."
Efron also comes clean in the interview about the truth behind that fight on skid row:
He explains that he and his friend were grabbing a late meal downtown when their car ran out of gas off the 110 highway. While waiting for help, a homeless guy knocked on their car's window. Before Efron knew it, his friend got out of the car and started fighting with the homeless man, who then flashed a knife. Efron got out of the car to help, only to get hit "pretty hard in the face." Thankfully the police came in time to break up the brawl before further damage or injury was incurred. Efron calls it "the most terrifying moment" of his life.
It was hands down the most honest, carefree, passionate experience of my life. There were no expectations. [But later] I definitely felt that pressure. I'm not comfortable with it at all times. The people that I saw and the people that I started to meet, the majority were young. These were kids, and I looked into their eyes and I saw myself as a fan, and it was shocking to be on the other end of that. You just want to please every single one.
He raised us [Efron and younger brother Dylan] with a firm hand and instilled in us, 'If you're going to do something, do it right.' With him behind me, I could excel at anything. He was very driven, very motivated. He always had us doing something. You could say he was strict. But to this day, there's nobody that I go to more for advice. My dad, he's probably the best guy I know.
We learn that his dad was the one who discovered his singing talent:
Efron's father encouraged his son to perform when he overheard him singing and realized he had memorized every word of Michael Jackson's songs. "We had the Greatest Hits album playing in my mom's car constantly," says Efron. "One day, I started singing all the songs consecutively, word for word. My dad was like, 'How do you know all the words?' He said, 'If you're not going to play sports, you have to do something.'"
God bless this great man for bringing Zac Efron to the world and to us. Amen.
Efron and his crazy routine of the moment:
To turn things around, he goes on an "ultrafit" workout regime. He does weights, goes on the rowing machine, and swim 20 laps a day. To top it off, he eats healthy and drinks "pH-balanced water from a specially installed alkaline faucet."
Efron also tells that he gets ready for bed early, at around 9 p.m., "when he'll watch a movie and read a script, turning in before some of his peers even rise."
I'm constantly searching for characters that are about betterment of self and betterment of others, and I'm searching for those parts because those are the ones that make me happy. They're the ones that fulfill me personally.
When you have success young, and you accept the good things, you have to accept all of it. You have to accept the moments of glory but also a great responsibility. And that responsibility, to some degree, involves being a role model. At the same time, I'm a human being, and I've made a lot of mistakes. I've learned from each one.
Without those moments where you feel like your lowest, it's impossible to appreciate the high ones, but I sit here in front of you today much happier and healthier than I've probably ever been.
Read the complete story on Zac Efron's secret battles and his inspirational determination to strive for a better tomorrow here.