1.
A Himalayan salt lamp with a wood base and dimmer switch to give your dorm some positive energy. It'll make a great night light and add to the overall ~aesthetic~ of your room. 
Promising review: "This lamp is prefect. Great light, plus it's really pretty and easily fits any decor theme. With the dimmer we can dim it to barely on and it provides enough light to see in the middle of the night and it's soft and dim enough that it isn't noticed by our new baby when he's up for feeding. It lets me see what I'm doing while keeping it dark enough for him. When we get up for the day early in the morning we turn it up and it brightens the whole room with a soft warm light and we don't need to turn on our bedroom light to see." —Mikaela
Get it from Amazon for $19.97.
2.
A fluffy faux fur rug that'll give your chair or the floor by your bed a quick and fabulous makeover. Alexa, play "Glamorous" by Fergie.
Promising review: "I bought this to cover up the ugly desk chair that came with my dorm. I love it! It's really soft and luxurious, plus it doesn't shed. When you first get it, there are some creases from how it was packaged, but you just have to fluff it up and they go away." —Kelsie Thomas
Get it from Amazon for $16.99+ (available in six colors).
3.
A roll of glossy marble contact paper to transform your desk, bookshelf, or DIY almost any hard surface that needs an upgrade. It'll automatically make your space look more chic and expensive. 
Promising review: "I do not have the money for a new vanity right now. Insert DIY project of covering my ugly pink bathroom vanity in marble contact paper. It looks 100% better and it's super durable. It's a little tricky to work with at first and then you get the hang of it. I'm buying more for my half bath! Update: my vanity still looks great a couple months later! I decided to do my tabletop in my laundry room and it looks great, too!" —Natalie Evans
Get it from Amazon for $5.99+ (available in four sizes).
Read our marble contact paper deep dive to learn more about why people love it so much!
4.
A very fashionable Oliver Gal canvas print for you to hang on your wall and feel like you're having breakfast at Tiffany's (instead of whatever's in the dining hall) every morning.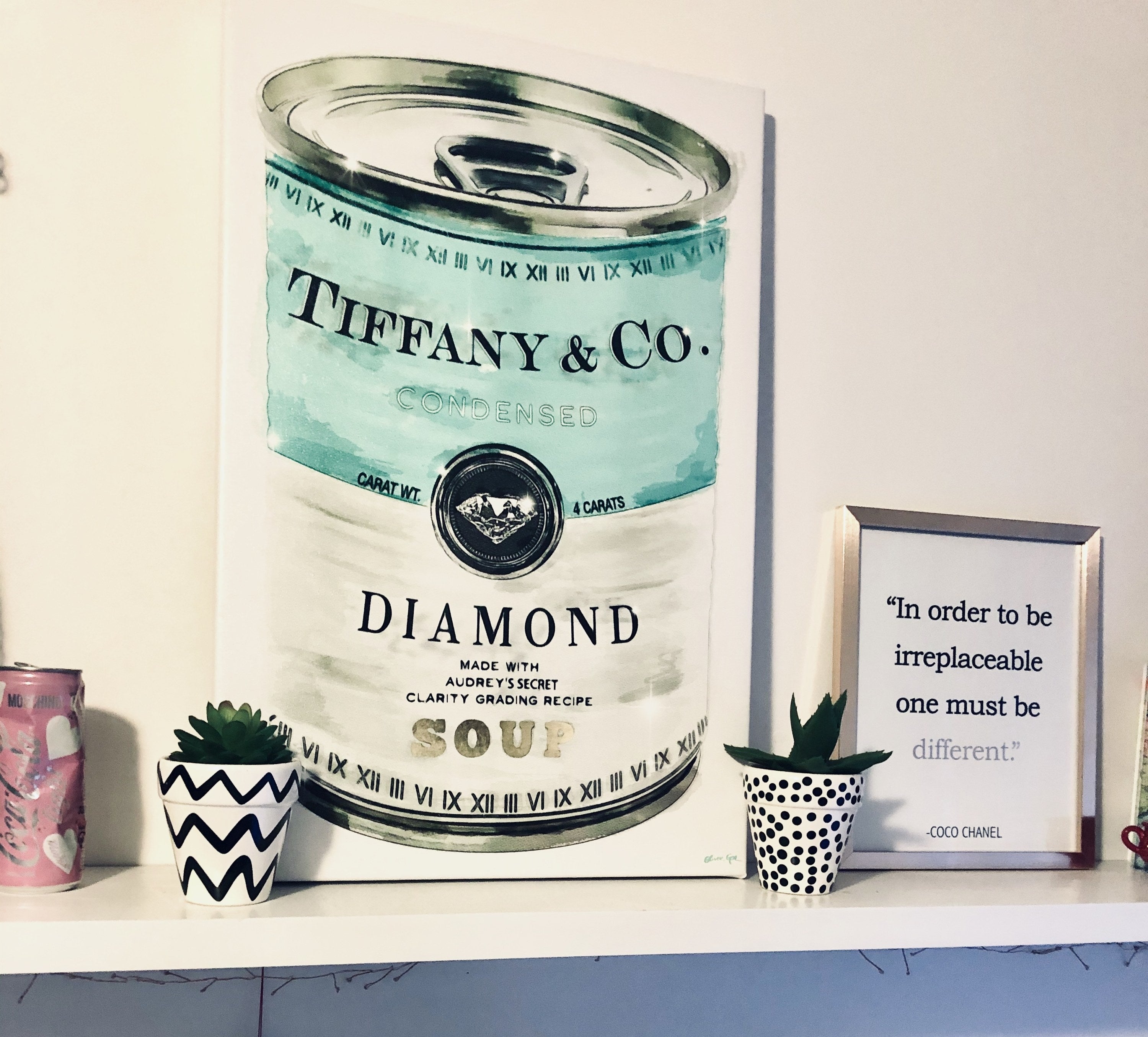 This is one of my favorite pieces of decor in my room! It's so unique and perfect for anyone who loves fashion. It definitely adds some glam to my space and my friends always compliment it when they come over.
Oliver Gal is a woman-owned business founded by sister artists Lola Sánchez and Ana Gal. Inspired by the Miami art scene, their products feature a lot of fashion, pop culture, and travel. They also offer really cute custom pet portraits.
Get it from Amazon for $82.99+ (available in canvas or framed print and six sizes) or Oliver Gal for $90+ (available in three styles, four frame colors, and six sizes).
5.
A complimentary doormat that'll no doubt make you smile every time you walk in the door. "Why thank you, doormat, I DO look good today."
Promising review: "Super cute and so happy I found this! Makes all of my visitors and myself feel good every time we go to my front door." —Amazon Customer
Get it from Novogratz on Amazon for $31.99.
6.
An adorable magnetic cloud-shaped key holder to ensure you don't lose your keys anymore. Just put this by the door and you'll look forward to sticking your keys to it when you walk in.
Promising review: "One of the most useful purchases I've ever made on Amazon. I use it every single day to hang my keys. I've had it for at least half a year now it seems. Hasn't lost any magnetism and it holds my car keys, remote start, USB, rewards/gift cards, house and work keys, etc. In love. One of the best purchases I've made." —Makenah
Get it from Amazon for $7.98.
7.
A pack of two velvet throw pillow covers with a pom-pom trim that are luxe, stylish, and available in tons of great colors to accent your bed or chair.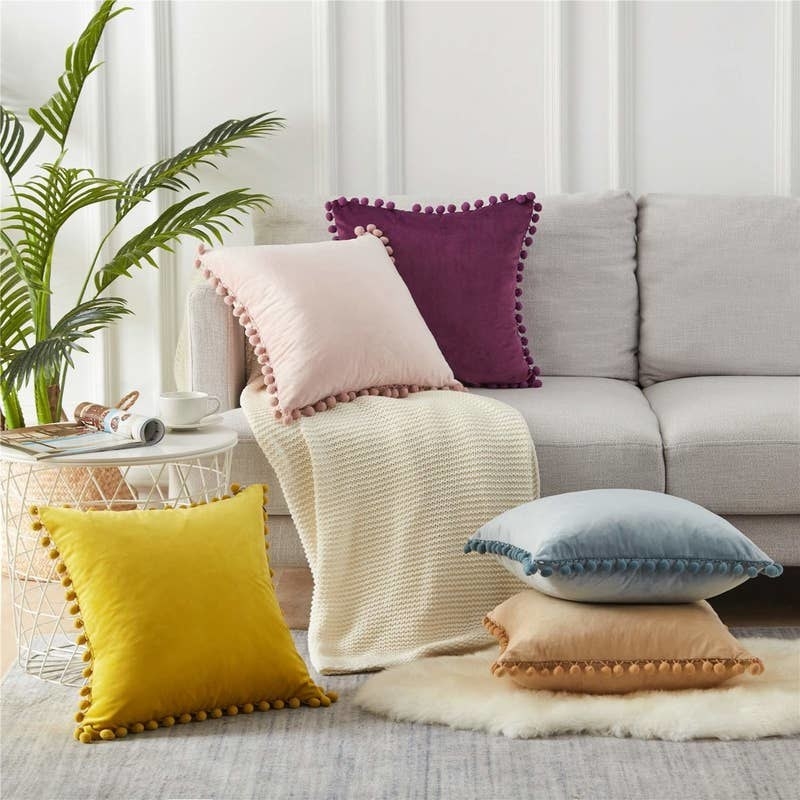 Promising review: "These pillow cases are so soft and cozy! The color is true to the picture, a nice deep red, and the material itself is cozy and velvety. The little pom-poms are actually very much secured to the pillow, and I've never experienced any of them coming loose, and I am using them daily. The zippers are very well hidden without being difficult to use, too." —Al
Get a set of two from Amazon for $12.79+ (available in seven sizes and 23 colors).
8.
A trendy wire storage table and ottoman that allows you to store a few items inside — like blankets or notebooks — and still have a functional piece of furniture for propping up your feet or setting your drink on.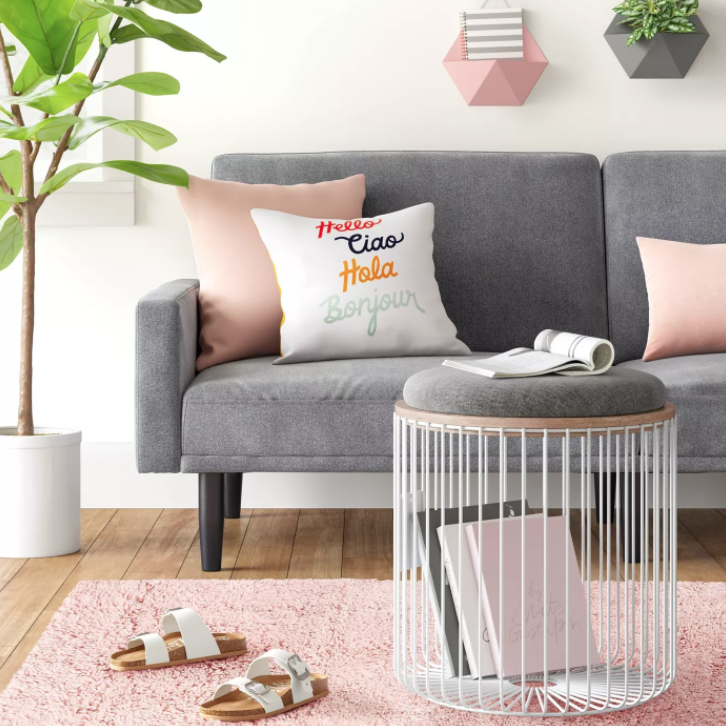 Promising review: "This little ottoman is so cute and multifunctional! It can hold a few blankets and acts as a little end table for drinks or as a footrest. The wood part is also sealed, so it won't stain if you leave a drink on it. We also use the tabletop to play cards on the couch while we watch a movie. Such a great purchase!!" —Steph
Get it from Target for $40.
9.
A collapsible floral file holder for a nice way to store that messy stack of graded assignments, notes, and folders.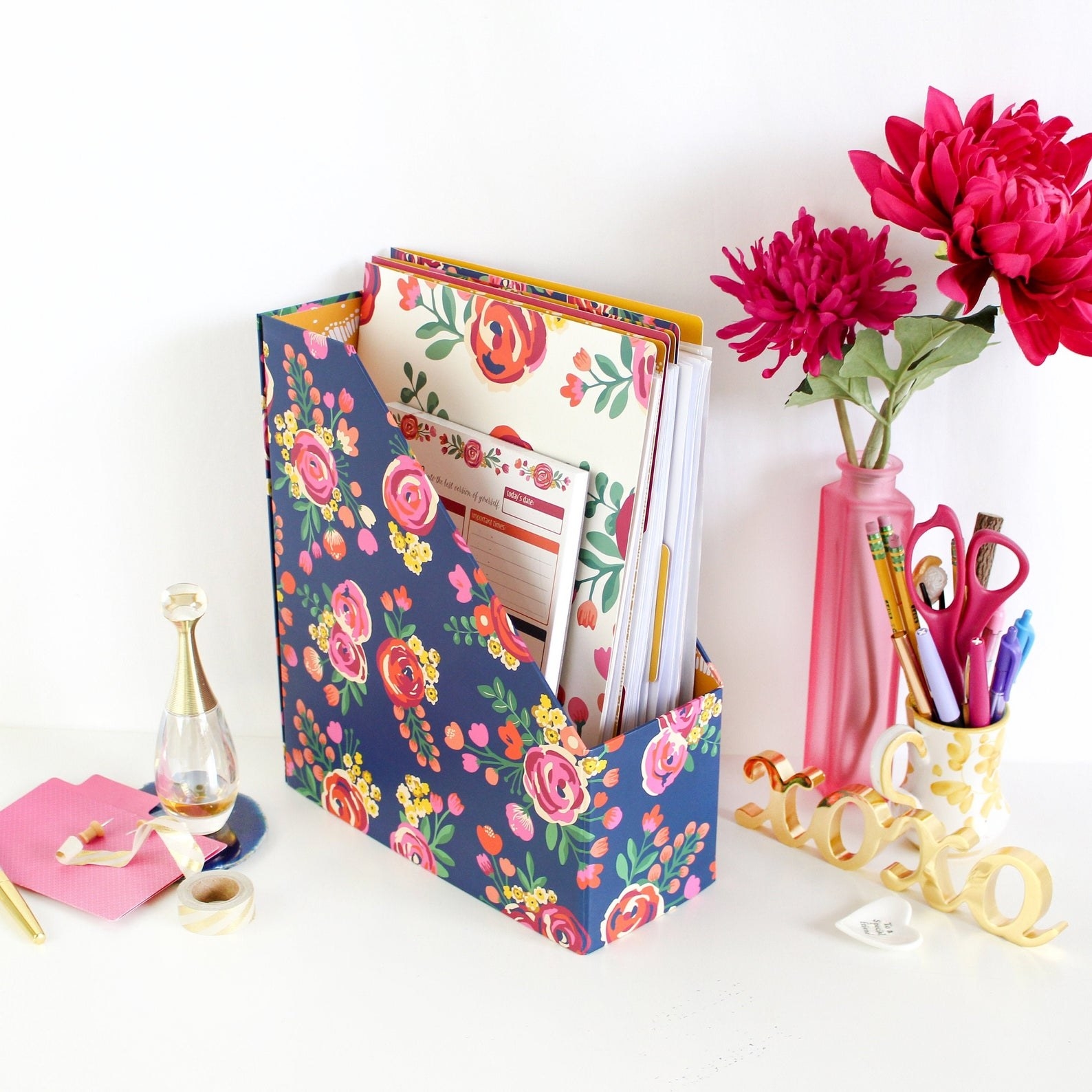 Bloom Planners is a woman-owned small Etsy shop based in Newark, Delaware.
Promising review: "Pretty, sturdy, and well-made, these are great for my office and organizing my daughter's music books." —Emily Glenn
Get it from Bloom Planners on Etsy for $12.95.
10.
A gold tray with a mirrored bottom you can use to display your perfumes, jewelry, or other trinkets in a very classy and Insta-worthy way.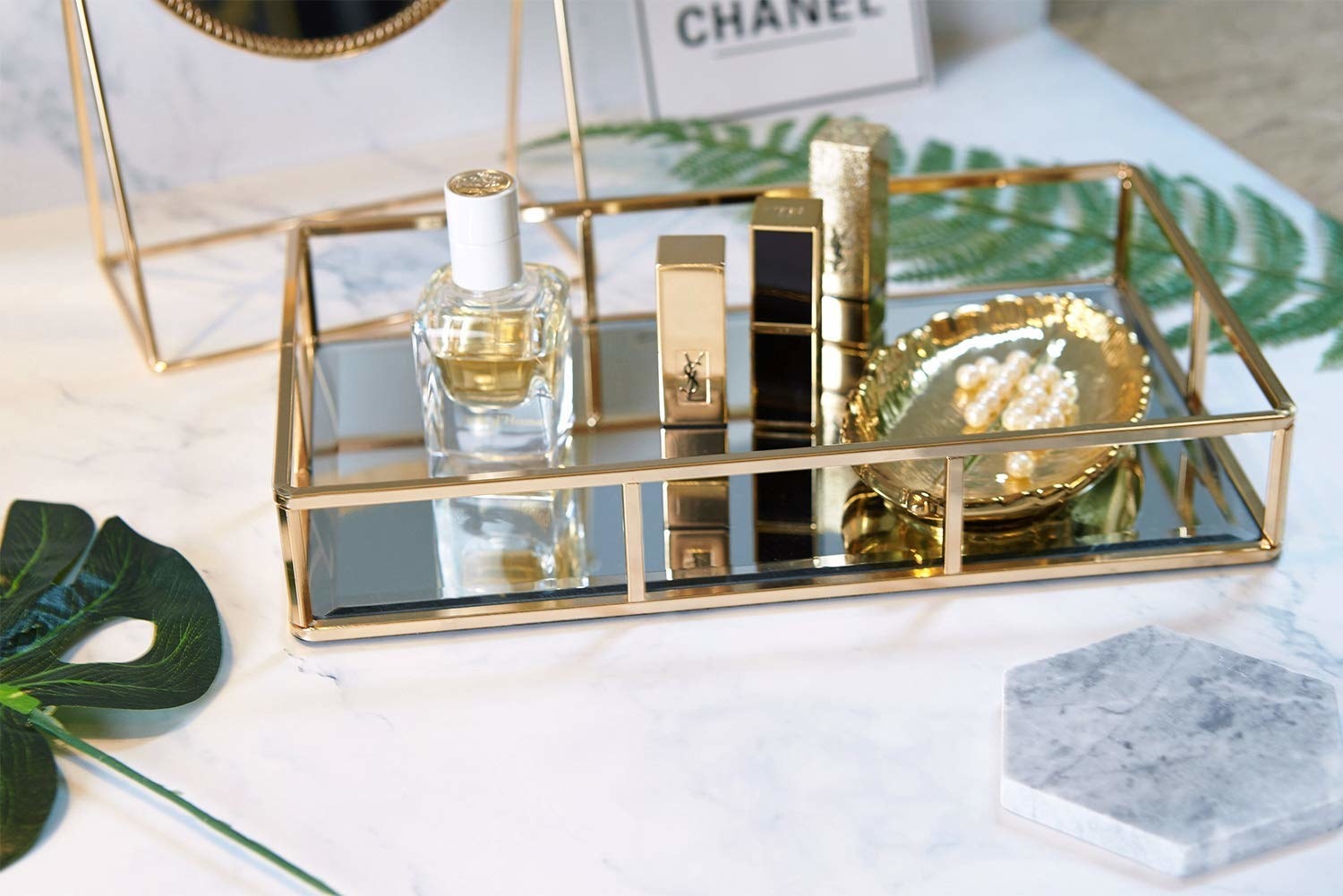 It's lined with felt on the bottom, so no need to worry about it scraping your lovely furniture and tabletops!
Promising review: "I bought this tray to use in my bathroom, to hold various creams, serums, etc. It's a perfect size for that, it's lovely, and very sturdy — not at all light or cheap-feeling. I'm super pleased with it." —Jocelyn Merkel
Get it from Amazon for $24.99.
11.
A set of mini macaron trinket boxes to store small school supplies or jewelry in, or even just use as decor. They're sure to brighten up your space and your day.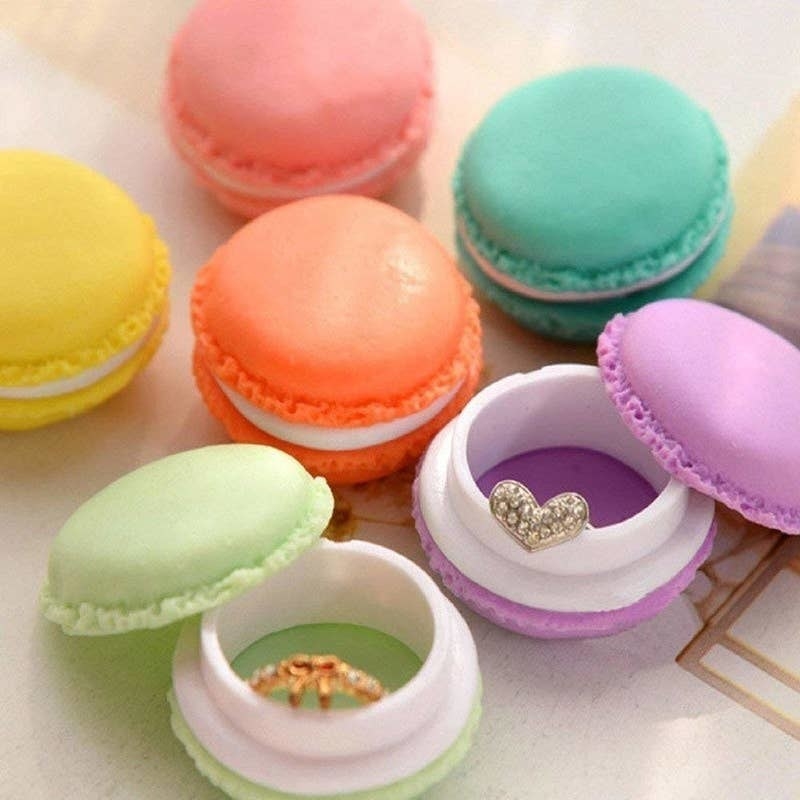 Promising review: "These little macaron containers are perfect. I am using them for various crafting purposes and to travel. I use them to travel and put my smaller stud earrings in them. I take them with me for paper clips and stuff in office when I have meetings on the go. The colors are very pretty and the quantity is more than adequate for the cost. They are very nicely made and were individually packaged. This is a fun item especially if you are short on space and only need small storage." —Marie70
Get a six-pack from Amazon for $6.69.
12.
A macrame wall-hanging mirror that'll give a boho vibe to your dorm and double as the perfect spot to check your makeup before heading out the door.
13.
A sleek mirrored digital alarm clock with USB ports that'll look way better than a typical alarm clock, PLUS it can charge your devices while you sleep. No more waking up cranky because you forgot to plug in your phone before you fell asleep.
Promising review: "Love love love this clock... sleek and definitely a statement piece. Alarm is subtle. It will definitely wake you up however it will not scare the B-Jesus out of you. Love the extra ports on the side to charge other things with it." —Meika B.
Get it from Amazon for $18.59 (available in two colors).
14.
Some artificial vines to add a touch of lovely greenery to your space. No plant parent skills required.
Promising review: "I decided to make my room very earthy and zen. My room is covered in succulents and faux plants, and...these vines! I've bought them three times now and I love them. They are perfect and can be used for anything. The leaves on the vines don't fall off — unlike other vines I've purchased. Perfect for whatever the occasion is, and I'm sure these would be beautiful for wedding decorating or other stuff. Regardless, I highly recommend and will probably buy another pack for my room." —Amei Ayuel
Get a 12-pack from Amazon for $9.99.
15.
Or a set of four artificial succulents in little glass vases to spruce up any surface in your room, without having to worry about a lack of sunlight.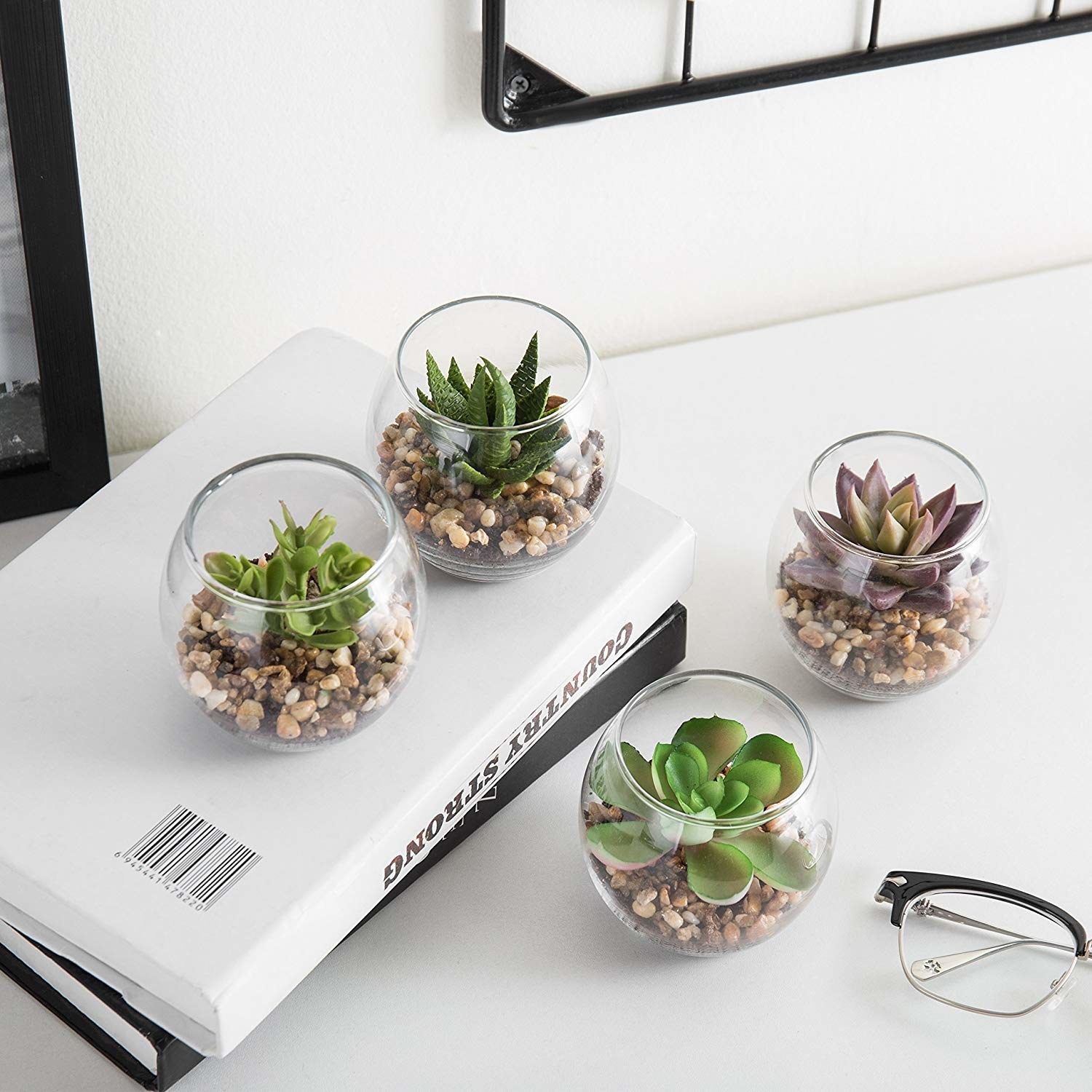 Promising review: "They're very cute and are the perfect size for decorating a dorm. Product matches the description on Amazon and I would definitely recommend these to anyone looking for nice decorations for a room. They look very realistic." —ihcati
Get it from Amazon for $15.99+ (available in three options).