1.
The amazing Yonanas machine, which — get this — makes a treat with the consistency of real ice cream with 👏 JUST 👏 FROZEN 👏 FRUIT 👏. Trust me, my parents have one of these and every time they serve this dessert to guests, peopled are *wowed.* It comes with 36 recipe ideas, but there's so much room to get creative turning all your favorite fruits into creamy deliciousness!
Promising review: "What a treat! It was not noisy at all (my electric toothbrush is louder)! The instructions were easy to follow, as was the cleanup of the unit. I also purchased PB2 and PB2 with cocoa when I ordered the Yonanas. I rolled the slightly thawed (five minutes) bananas in the PB2 and the result was a delicious peanut buttery treat! This machine truly delivers everything it promises and more! No, I'm not a paid spokesperson, just a very satisfied customer!" —Y. C. Turner
Get it from Amazon for $39.77+ (available in six colors). 
2.
A CUTE version of the fan-fave Chom Chom roller — aka an endlessly reusable, nonadhesive hair remover roller you can just glide over your furniture to suck up the seemingly impossible amounts of fuzz your beloved fur baby deposits on a daily basis. Now with a cute lil' pet face on it, too!

Promising review: "I can't say enough amazing things about this! We have two cats and a pug and there's hair everywhere always! Used it on one couch cushion and my boyfriend was speechless. Worth it x 100! I work at a dry cleaner and have to de-lint items with a roller before sending them to the plant and I'm gonna buy another for work just to make my life easier. 20 years in the industry, I feel like they should buy it for me lol, but it is what it is! Buy this item! Already recommended it to all of my friends and family with pets!" —Amazon Customer

Get it from Amazon for $25.46+ (available in two styles).
3.
An Oxo Tot Perfect Pull wipe dispenser because when your baby is crying while you're trying to clean their stinky tush, the last thing you need is for the whole dang packet of wipes to come out when you try to reach for one. It's designed so you can easily grab ONE wipe with ONE hand — miracles happen.
Promising review: "My husband and I were definitely not on the hunt for a wipe dispenser and even thought it was a waste of money. But one month into having our first baby and seeing how annoying it would be to pull wipes from their own disposable packages and have the whole package come up with each wipe (especially when it got towards the bottom of the pack), we were on the hunt for a solution. We reluctantly got this one, ashamed that we were spending $20 on something so extra, but once we started using this we were 100% sold on its use. It truly is a one wipe dispenser, which is AMAZING, and we love the click-open lid that silently opens up, not like the super loud crinkly wipe packages that are so noisy at 3 a.m. when you are trying to quietly change your baby's diaper. We love this so much we bought a second just to keep at our in-laws house when we spend time there. Can't say enough good things about this." —Brian F
Get it from Amazon for $20.99+ (available in four colors).
4.
A lawn repair formula for those bare, damaged spots that would keep you from winning the All-England Best Kept Suburban Lawn Competition (sorry, Vernon Dursley, that's not a thing). It even works in tough conditions, whether those areas that need some TLC are in the sun or the shade.
The reviewer above's results are after just two weeks!
Promising review: "Been using the product for 10 days or so and it works GREAT!! My backyard now has grass growing after two years of trying other products. 100% satisfied!!" —W. Earl Mattison
Get it from Amazon for $16.44+ (available in five sizes).
5.
A dreamy tulle midi skirt, aka the fashion item that shouldn't just be a want, but a need IMHO. You quite simply DESERVE the twirl-worthy, high-fashion 'fit of your dreams, and at under $40? A no-brainer. 
Tuck in a sleek top and add heels to make it dressy, of course, but also don't be afraid to pair it with graphic tees, moto jackets, sneakers, and combat boots!

Promising reviews: "This is great evening/party attire. This is a great A-line circle skirt. I bought the black version for a holiday party. I got many compliments. I'm a size 18 and bought the 3X. It fit perfectly, and hit me just below the knee and had excellent poof!" —Margeaux Chavez
"Honest review: If you're looking for a tulle/tutu skirt this is it. I wasn't expecting the quality, fluffiness, and fullness — this skirt checks all of those boxes I was pleasantly surprised after trying it on. Buy it; you won't be disappointed." —noooo
Get it from Amazon for $34.99+ (available in women's sizes XS–5X and in 44 colors).
6.
A 3D-printed toilet paper protector to save the Charmin you splurged on from the claws or teeth of the beasts that live in your house rent-free. It's an absolute *must* if you've got a destructive pet.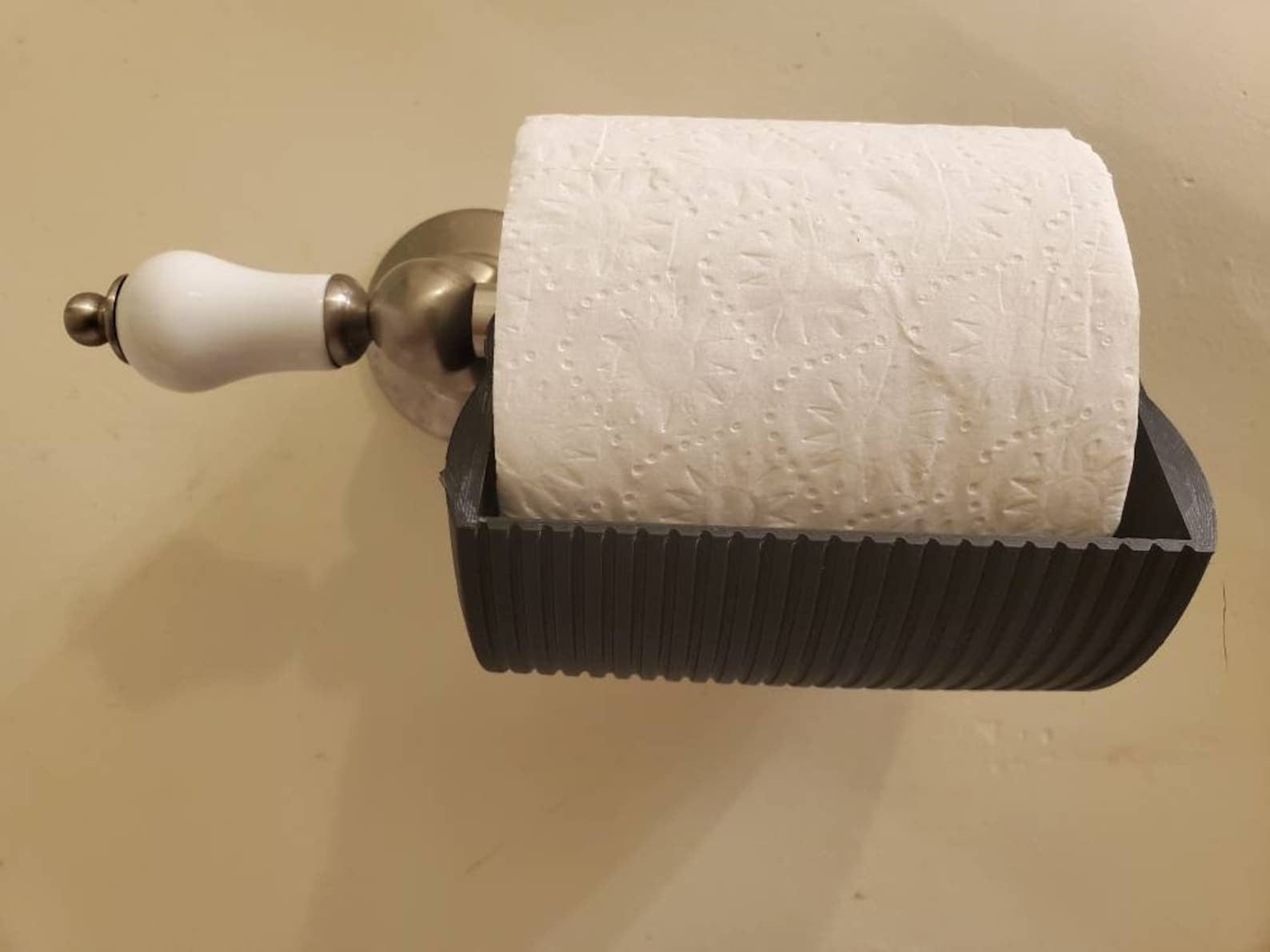 It's from a New Jersey-based small business.
Promising review: "Super grateful to find this. I searched Amazon first and found nothing that solved our problem with TP and kittens (they all required getting an entire new TP system and we are renting so that's not doable). While this isn't the prettiest solution, it was reasonably priced and it's been super effective and it added right on to what we already had. No more TP shredded all over the floor of our bathroom! Thank you for this!" —Christina W.

7.
Quick-dry water shoes that over 85,000 (!!!) reviewers swear by, so you know they'll be a beach game-changer this summer. They're super light and flexible (easy to throw in a beach bag or carry-on) and uh, did I mention they're only 12 bucks???
Promising review: "I bought these shoes a couple of years ago before a river hike. UM THESE ARE AWESOME. They lasted a long time and the only reason I bought these yellow ones was because I wanted a new color, haha. My older pair did start to wear out in the toes from scraping them on rocks and such when hiking but still no holes in them. These shoes feel like socks but with enough of a sole that you can walk on gravel with no problem. It really is like walking barefoot. Also, these are the only water shoes that I have worn that do NOT let a bunch of debris into the shoe making you constantly have to take it off to empty it or just deal with the irritant. You can play on the beach with minimal sand stuck between your toes. Thoroughly impressed by that. So with that, I do recommend if you are a half size to size down so they are snug, otherwise the sock-like ability to keep stuff out might not work so well." —Samantha Lindsay
Get them from Amazon for $11.99 (available in seven unisex sizes and 44 colors).
8.
Supergoop Shimmershade Eyeshadow, which is not regular eyeshadow — it's blessed with SPF 30, because we all know that eyelids are one of the least fun places to get sunburned (IDK how exactly to describe it but they end up feeling almost...crispy, you know?). The creamy formula is made with soothing antioxidant ingredients and comes in perfect everyday neutral shades.

Check it out on TikTok!
Promising reviews: "Effortlessly gorg and perfect for summer!! The texture/pigment of this shadow makes my eyes glow and ever so faintly shimmer. Need all colors!!" —katesykes

"I work outside so I love the idea of an eyeshadow with sunscreen. It is a gorgeous shade with a buildable pigment. After I do my eyes I pat the extra on my nose, cheekbones, and Cupid's bow for a subtle glow." —mermaddie
Get it from Amazon or Sephora for $24 (available in four shades). 
9.
Satisfying toilet bowl bombs for a more fun (low bar, I know) way to clean your latrine and cut down on scrubbing time. Let 'em fizz where you whizz for 15–30 minutes, and brushing away nastiness should be a breeze!
BuzzFeed Shopping editor Amanda Davis loves these and writes: "I've been using the blood orange scented bowl bombs for a couple of months now, and OMG they smell amazing! Like, right when I opened the package. After during a thorough cleaning of my bathroom I always pop of these babies in the toilet as a last step to clean and make the room smell a little better (I have a teeny tiny bathroom so this little guy does the trick). And in terms of cleaning the porcelain throne, they absolutely work. My toilet bowl always shines brighter after using one. It's also helpful that the packaging is plain ole adorable and I don't have to hide or store it anywhere!"
And psst, they're from a woman-owned small business!
Promising review: "Literally can't tell you how worth the wait these toilet bombs are! They smell absolutely incredible but not artificial, and they WORK. I have a new baby and two other kids, and my house is basically a biohazard because I'm short on time and energy. I just plop one of these puppies into the toilet, come back shortly and scrub, and they glisten. Even my husband, who has never voluntarily cleaned anything in his life, will clean toilets because the fizzers are fun. I was part of the BuzzFeed order rush, and so there were significant delays, but the communication was awesome and so friendly! Even though I had the long wait, it was absolutely worth it, and they have a customer for life. I'm so excited to try their other products!!" —Teresa Cambria
Get it from Viren Apothecary on Etsy for $9+ (available in three packaging options and in blood orange, eucalyptus, or unscented).
10.
A ridiculously cute tote bag that can fold up inside a lil' plushie pal. (Who'll also chillax on your shoulder when you pop out the bag!) Squee-worthy, a compliment magnet, sustainable (hello, fewer plastic grocery bags), and easy to travel with — basically, this is an all-around WIN and uh, why don't you already own it???

11.
An Angry Microwave Mama who'll blow her top (in a productive way!) when you fill her with vinegar and water and microwave her for seven minutes. She'll use all that steam to loosen all the yuck that's coated your microwave for...let's not talk about how long...so you can easily wipe it away.
Promising review: "LOVE this purchase!! I wish I had taken a before picture; my disgusting roommates destroyed our microwave, it was filthy. They would've never cleaned it since they're slobs but this purchase saved me SO much time. All the food came off very easily and it looked brand-new after! Amazing, wish I could give it 10 stars." —Marissa
Get it from Amazon for $6.99 (available in four colors).
12.
A 16-piece travel toiletry container set because you're at a point in your life where you're ready to 1) not have your cosmetic bag be chaos and 2) stop relying on crappy hotel shampoo and lotion and instead bring a bit of all your faves from home. Plus, it's CUTE!

You'll get four bottles, two jars, two spray bottles, two scoopers for transferring creams, a funnel for transferring liquids, a cleaning brush, a page of labels, and a clear bag to hold 'em all.  
Promising review: "This is essential for flying! I fly pretty often throughout the year and after having numerous leakage issues with regular plastic travel containers, decided to go the silicone route and am so glad I did. I love that this set includes different sizes of bottles and tools to help fill/empty them so reusing them is a breeze and there is no wasted product. The variety of colors is great so I can easily tell apart my toiletries, even without the included labels! Love this set and highly recommend it!" —Hennie S.
Get it from Amazon for $16.95. 
13.
A super freakin' chic travel belt to fasten your tote (and even the jacket you're schlepping!) to the top of your luggage. It'll cut down on those spills and topples that happen at least once a trip as you try to juggle all your baggage, *and* look cool doing it.
Cincha is a BIPOC-owned business run by couple Ash and James. BuzzFeed Shopping editor Chelsea Stuart has one of these and loves it — check out what she has to say here.
Promising review: "This is the item I never realized I'd always needed! Bonus points: I had at least 10 different people stop me on the way to my flight to compliment my Cincha." —Lauren
Get it from Cincha for $39.99 (available in 14 colors and prints).
14.
A foot peel mask so you can treat thy cracked and crusty feet and give them a Mia Thermopolis-level makeover. Just soak your feet in warm water, wear these bbs for an hour and a half, then watch all that nasty but oh-so-satisfying dead skin peel away over the next week or so.

For best results, soak your feet in warm water each day!
Promising review: "I've ordered some of these before (different brand) and my foot was like slightly peeling but not like the review pics. So, I was hesitant to buy these but I'm on day 4 and when I got out of the bath I was shooketh!! My foot looked like a small feral animal tore my skin up LOL it actually works!!!!! I would add a pic but no free feet pics : ). I am actually so eager to see when all the skin is off, it is really tempting to pull it but I'm following the rules!" —Sarah

Get it from Amazon for $14.36+ (available in four scents).