1.
A pair of giant adhesive googly eyes to help you bring pretty much anything to life. I can't for the life of me tell you why I find the personified bush below so funny, but I do.
Promising review: "These are awesome! I bought them along with a giant mustache to decorate an unsightly file cabinet that was placed in front of my desk at the office. They make everyone smile when they walk by, and they also serve as an early warning for earthquakes. It was a little tricky to remove the backing to stick them on the cabinet, but once I got it started, they were easy to apply and have stayed on with no issues." —S. Freeman
Get them from Amazon for $2.69.
2.
A TikTok-famous floating pasta timer who goes by the name of Al Dente (LOL!) and who will sing a different melody (including the Godfather theme) seven, nine, and 11 minutes into cooking so you'll never overcook your noodles again. Who comes up with this stuff?!?!
3.
A duck! crossbody! purse! that is just so ducking cute (and for once, that is not an autocorrect error). This'll fit the ~bill~ when you're just looking for a cute and compliment-worthy way to stash your essentials for the day.

Promising review: "I have decided to name my purse Goosebert. Goosebert is very cute and very durable. He also has plenty of space for your phone, money, and any other necessities. Most definitely worth the money." —Johnathon Stidham

Get it from Amazon for $20.26+ (available in three designs).
4.
A mini inflatable tube guy to make a day at your desk less of a snooze. It's hard to be stressed about that spreadsheet when he's over here waving his hands in the air like he just doesn't care!
It even comes with a mini booklet of facts about this wavy creatures that are always at car dealerships, for some reason.
Promising review: "OMG! I love this guy! These things large and small will ALWAYS make me laugh. My husband bought the desk version for me, and I can always count on it to make me laugh. My coworkers love it too. People just stop by to turn him on for a quick pick-me-up. I would recommend getting the AC plug since batteries can run down fast. I think we should create a community of fellow air-dancer-havers and post clips of our little guys dancing to our favorite songs. Anyone in?" —Mark
Get it from Amazon for $9.58 (also available in a purple, pearl-wearing version here!).
5.
Silly Poopy's Hide & Seek game, aka a bestselling toy you and your kids will have a blast (fart pun sort of intended?) playing hide and seek with. You just hide the rainbow poop emoji pal, then search for him with your kiddos, meaning no one actually has to try to hide in uncomfy spots around the house to play.
Check out a TikTok of the Silly Poopy game. 
Promising review: "Let me tell you that if you want hours of endless fun of hide and go seek without having to hide yourself, this is a must get! When it's hidden, it makes various toot noises and says stuff so the kids know if they are close. And when they find it and press the button to do and sing the silly poopy dance ... even you will dance and sing along!!! Doesn't need batteries and come on, it's poop? Who doesn't think poop and toot noises are funny, and if they don't, they are lying to themselves. A must-have for fun with your kids without barely doing any work!!" —andrea kelli gorman
Get it from Amazon for $20.38.

6.
A glitzy Minnie Mouse pool party bag charm your vacation tote is simply incomplete without. It's a mouse-t-have.

7.
A truly incredible sea creature cat hat, because I bet you're sitting there thinking your resident floofbucket couldn't get any cuter or more ridiculous. But what if you dressed them as a CRAB? Or an OCTOPUS? Or an AXOLOTL? You gotta at least try it in the name of science.

You gotta see the rest of the review photos — trust me.
Promising review: "My cats are not very excited about this hat, but it's OK because I am very excited on their behalf. I tried it on two different cats, and it fit both of them, even though one cat is really small and the other is a bit overweight. I got really lucky, and my surprise cat hat was the axolotl. I love that these are handmade. The packaging is also very cute. (It says on the back, 'It's time to cat in style,' and I 10,000% agree with that statement.) Highest recommendation." —mms
Get one of six random designs from Amazon for $7.99.
8.
A hilarious Twilight-inspired rearview mirror decal I legitimately cannot stop laughing at. No silver Volvo, or any car for that matter, is truly complete without this fang-tastic purchase.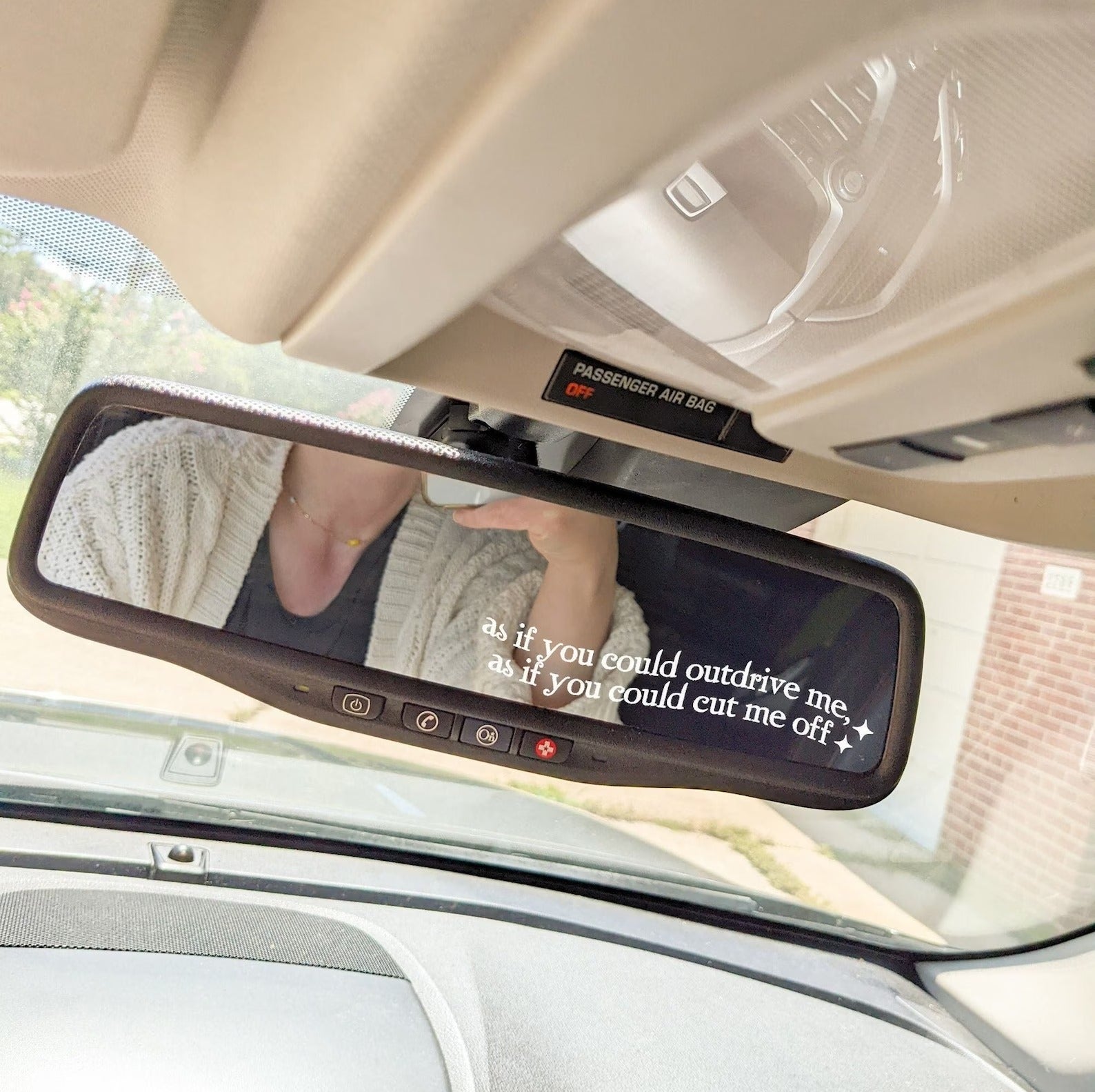 This Jacksonville, Florida-based shop has the CUTEST fandom merch!
Promising review: "Love this sticker so much; it cracks me up lol. The only negative I have is that it's kinda hard to separate it from the paper to get it onto the mirror. It was pretty stuck to the paper and took a bit. We did figure it out in the end lol, I think one or two letters may have been crooked because of it, but not enough to make me not want to buy it again. Once it's on, it's perfect!" —Amy Thomas
Get it from Ally Makes Magic on Etsy for $6.99+ (available in seven colors and two sizes).

9.
A snoozing Pokémon desk buddy whose lil' beanbag serves three purposes: 1) to be a cozy bed for your pocket monster, 2) to be something you can satisfyingly squish during the workday, and 3) to be flipped over and used as a screen cleaner! TL;DR: This desk accessory is the very best — like no one ever was.

I got Snorlax in my stocking this year, and I LOVE him! He can lie down or stand up on his beanbag (though Snorlaxes aren't known for being upright creatures), and he just brings me joy. I futz with him constantly throughout the day. He's my pal!
Promising review: "Bought this guy as part of my girlfriend's birthday present as Bulbasaur is her favorite starter.  She absolutely adores him! Little guy is currently sitting on her PC tower. I catch her smiling at him sometimes while we game together." —Tiphani Hoehn
Get it from Amazon for $14.99+ (available in six Pokémon).
10.
A little tooth pillow sure to become a family treasure. This cutie will hang on your kiddo's door and allow them to leave their lost chomper in the pocket for the Tooth Fairy and give her a spot to leave a gift in return. I'm sure she'll appreciate this too, since it means no more rummaging under pillows under sleepy heads 😉.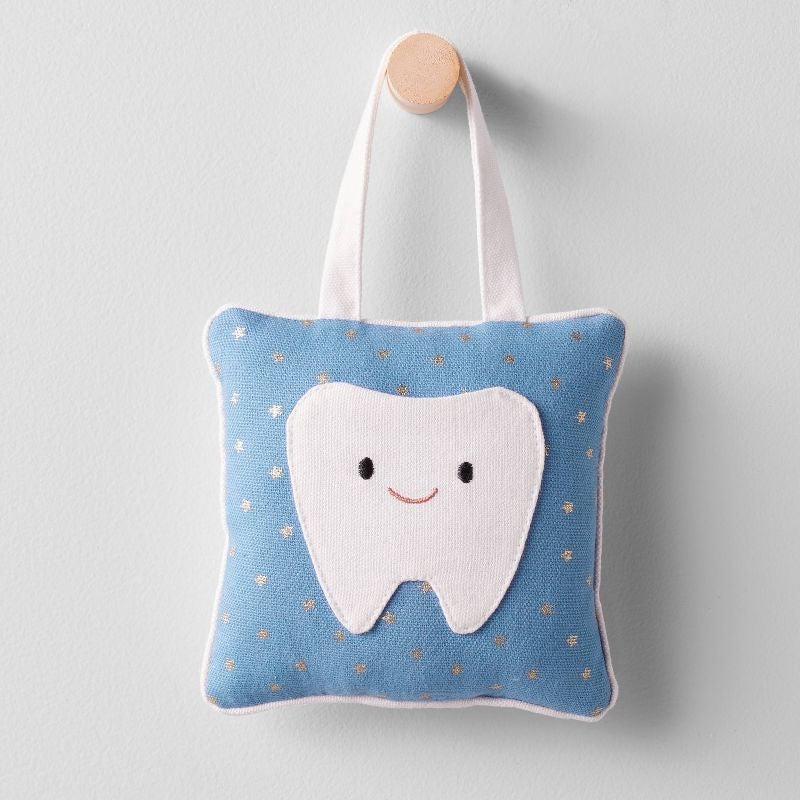 Promising review: "This is genius. I have one light sleeper who I had the worst time retrieving the tooth/putting the $/note under the pillow for FOR YEARS. It's so traumatizing for parents. Lol. Another sleeps through for now, but for the rest of their teeth I'm so excited to use this in the future for the little one who's still getting teeth in. It's stitched well and very cute! Pretty tight fit so if you're a coin family, I don't think you'd be able to fish it out after sliding it in, it's have to be a teeny note and bill for sure." —Dh

Get it from Target for $5.
11.
A giant bubble wands kit so you and your fam can become those people blowing ahhhh-mazing bubbles at the park who everyone stops to watch. Sing it with me...🎶 you're gonna be POPular. 🎶
Maybe we can all come and go by bubble a la Glinda....
You'll get the giant bubble wand, two pouches of bubble concentrate, and an instruction booklet!
Promising reviews: "Fantastic product!! My 8-year-old son played outside with them for two solid hours...unplugged...happy as can be! I definitely recommend and will buy again!." —Pxysis
"So much fun!! The younger kids were challenged however the adults had a BLAST!! Just like everything in life, it takes practice. We found that using Dawn dish soap also worked. Great gift. Buy one for yourself." —forget.me.not
Get it from Amazon for $14.95+ (available in six styles).
12.
An iconic sticker any Princess Bride fan will be able to hear in their head immediately. Am I the only one who sometimes says this when wishing friends on their way?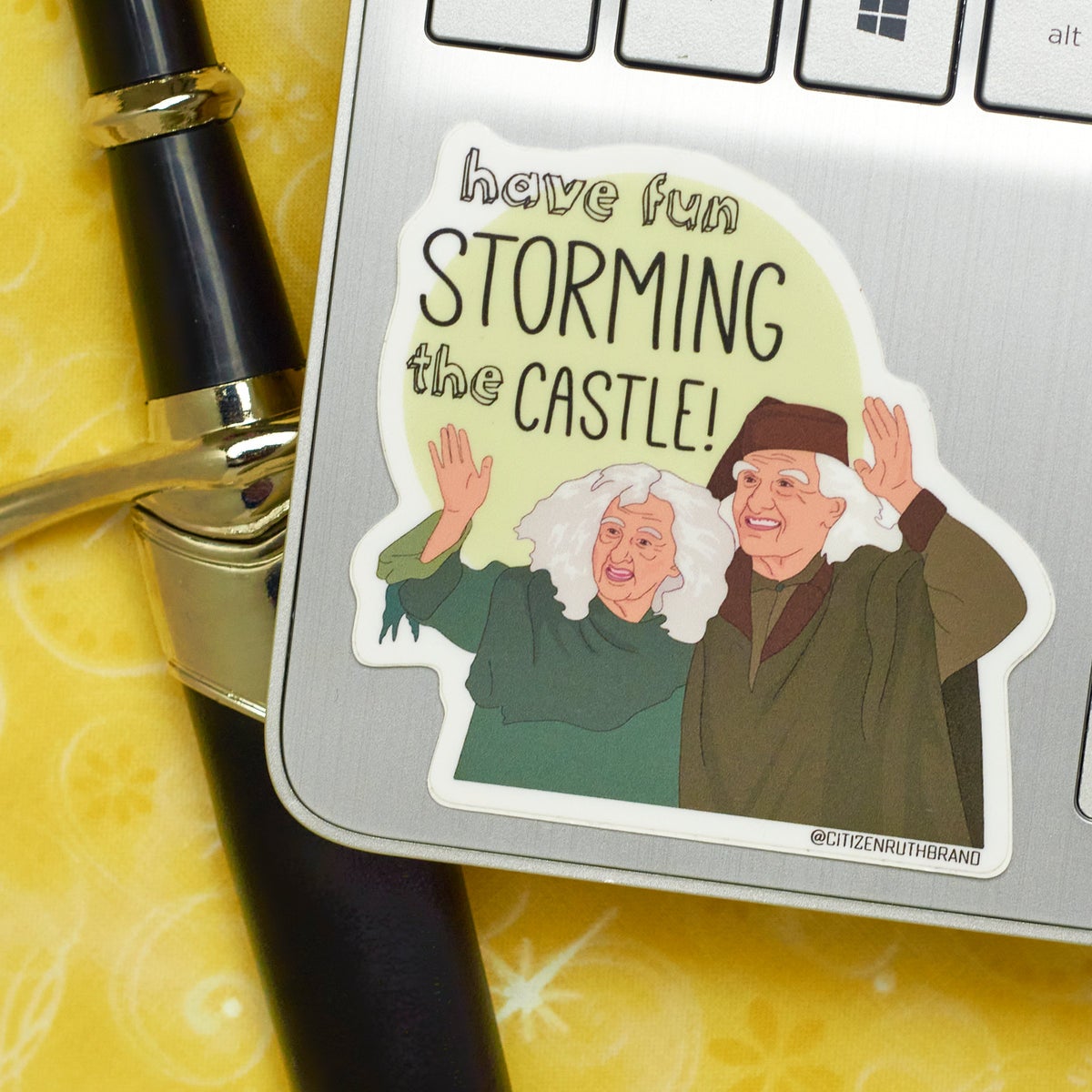 Always Fits is a wonderfully quirky small biz based in Massachusetts with a huge selection of cheeky and pop-culture-inspired gifts.

Get it from Always Fits for $4.95.

13.
A LOL-worthy screaming goat figure, because don't you just want to meet (and befriend) whoever was like, "What about a little plastic goat that shrieks when you press him? I think we could all use that." They were correct.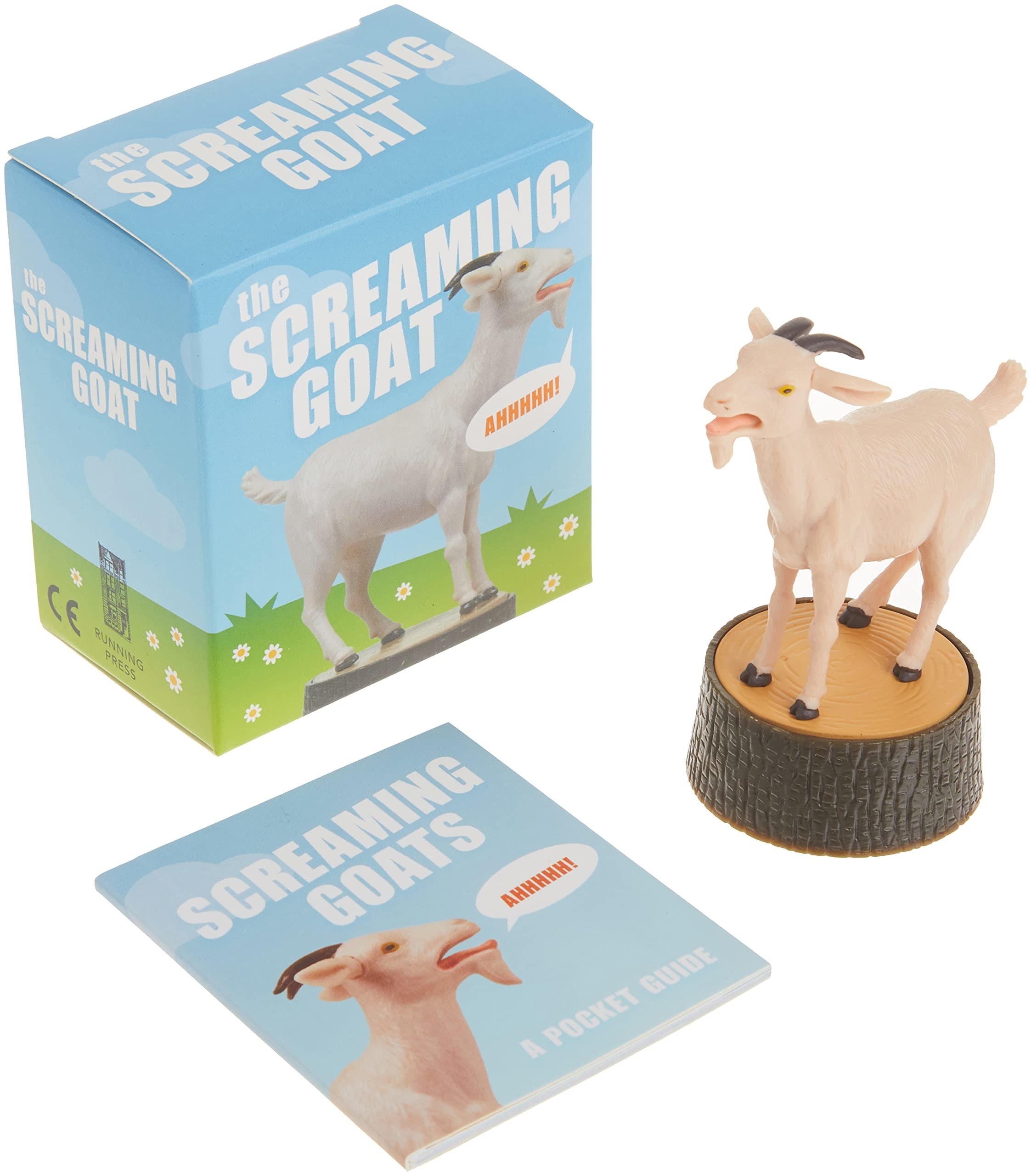 He also comes with a little book of equally delightful goat facts.
Promising review: "This is one of those things you don't know you need in your life until you see it. Yes, it may have been a late night, altered state kind of purchase that surprised me a bit when it showed up, but it's one of the best things that's ever happened to me. For just a few dollars, you too can receive an informational mini-book full of goat facts to awe and impress your friends as well as a miniature screaming goat. If you're a fan of the screaming goat videos on YouTube, this will be right up your alley. It sounds best when set on a hard surface like a table or desk, so the sound can echo. It's just loud enough for coworkers to ask 'did y'all just hear a screaming goat?' Yes. Yes you did, Phil. If you've read this far, it's been decided: you need this. This will be there for you longer than that dumb T-shirt you're considering. This screaming goat will complete you. Better get one for your best friend too, while you're at it." —echobunny
Get it from Amazon for $7.77.
14.
A pawsitively amazing UPS pet costume sure to ~deliver~ pure joy (and about a gazillion likes on Insta).
It comes with a hat and a shirt with little plush arms holding a box!
Promising review: "My dog LOVES our UPS guy so I got this costume to get a picture of them together. It's quick to get on and off. I posted some pics on Facebook and received so many compliments." —LoriLou
Get it from Amazon for $17.68+ (available in three sizes).