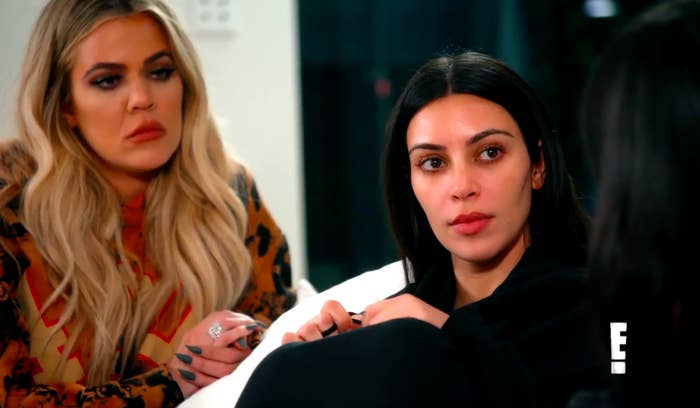 The Keeping Up With the Kardashians cameras didn't capture the night when Kim Kardashian West was robbed at gunpoint in Paris, but Sunday's episode of the E! series pieced the story together using a mixture of interviews, the emergency call to the police, headlines, and footage of her husband, Kanye West, stopping his concert because of a "family emergency."
At the time, the public's reaction to the Oct. 3 robbery was — as is often the case when bad things happen to the Kardashians — fraught, if not mean-spirited. There were those who thought it was staged and others who said that it was only a matter of time until something like this happened, given the opulence the Kardashians, particularly Kim, displayed on social media. A few late-night comedians had a field day as well. Jimmy Kimmel said (somewhat nonsensically), "If we find out you harmed even a single extension on her People's Choice Award-winning head, we will find you and we will make you so les misérables, you will wish you were never born to a woman who doesn't shave her armpits." And Conan O'Brien said: "No one was hurt, but in a mansion in Paris, Kim Kardashian was robbed at gunpoint. Kim was bound and gagged — then the robbers broke in." It wasn't only comedians: The political pundits of Morning Joe also mocked the robbery. (James Corden, however, defended Kardashian, tweeting: "People making jokes about @KimKardashian tonight would do well to remember that she's a mother, a daughter, a wife, a friend. Be nice or shut up.")
Kardashian hadn't previously publicly recounted the events of the robbery — in which an estimated $10 million in jewelry was stolen, including her 20-carat diamond engagement ring. But it wasn't surprising that she chose to do so on Keeping Up With the Kardashians, which has always served as her method of self-expression, along with social media.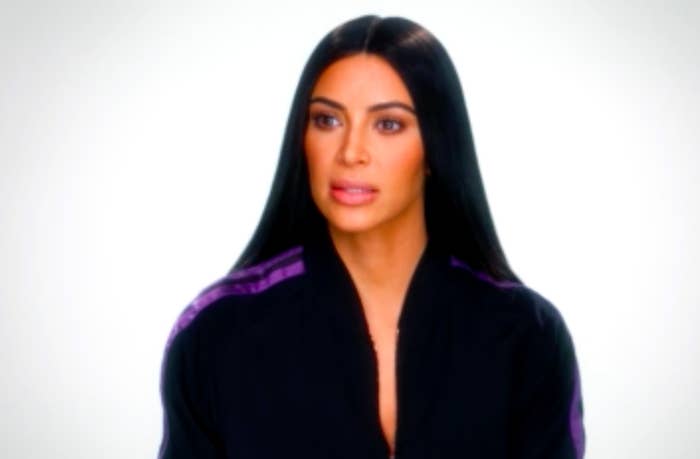 The episode begins with the Kardashians arriving in New York City, surrounded by the paparazzi asking Kardashian how she is. In an elevator, she tells West she doesn't want to talk about the robbery in front of their children, out of fear she might cry and worry them.
The episode then goes back in time a week, showing Kardashian's excitement about taking the trip — she is accompanied by, among other people, her sister Kourtney, as well as her sister Kendall Jenner, who's appearing in a show during Paris' Fashion Week.
The episode finally gets to the robbery at a residential hotel in Paris around the 22-minute mark, showing West leaving the stage during his concert and Kardashian's mom, Kris Jenner, and Kendall and Kourtney in confessional interviews, describing when they first heard Kardashian had been held up at gunpoint.
Around the 50-minute mark, Kardashian finally tells the story of what happened to Kourtney and her other sister, Khloé, who was not in Paris at the time. It's edited with a confessional in which she says she thinks she was being followed throughout the trip, and that she had Snapchatted that she was alone in the apartment where the robbery took place. Two men dressed as police, who had handcuffed the concierge and taken him up to unlock her room, tied her up. Through tears, Kardashian remembers saying to the concierge: "Are we gonna die? Like, what's happening to us? Like, I have babies. Please tell them. Please, they can't understand me, but tell them I have babies at home, like, please, like, I have a family, like, let me live."
Kardashian was already tied up on the bed, but the robbers duct-taped her mouth. She says that as the robbers pulled her by the legs to the edge of the bed, she mentally prepared for them to rape her, but they didn't. She still assumed they would kill her and she prayed that Kourtney could have a "normal life after she sees [her] dead body on the bed."

"That was the last thought," she tells Kourtney and Khloé. "And then they put me in the bathroom. And ran. Whatever."
The episode ends with a montage of the Kardashian Wests, and their children, mostly featuring footage from before the robbery and Instagram photos Kardashian posted after — and then Kourtney, Khloé, and Kim hugging.
In January, 17 people were arrested in association with the robbery, and 10 were charged. In early February, Kardashian flew to New York to testify before a French judge.
After so much buildup, there was a flatness to the episode that undercut the obvious trauma of the event. Kardashian, who has lived her life in public since the 2007 premiere of Keeping Up With the Kardashians, took a long break from social media in its aftermath. She had tweeted the day before the robbery, but didn't return to Twitter, Instagram, or Snapchat until nearly three months after. During that time, the anguish from the robbery was not her only problem: In November 2016, her husband, Kanye West, began to act erratically, arriving late to his concerts and, once there, going on rants about Beyoncé, Jay Z, and Donald Trump. Soon after, West was admitted to UCLA Medical Center for a week for exhaustion, among other things. From the trailer for this season's events, West's breakdown will also be featured.
Being accused of exploiting her own life is clearly a sensitive issue for Kardashian. In the episode, she says she had been monitoring the public's reactions. "People like Howard Stern are saying I should go to jail if this is fake," she tells her mom. On Sunday, in a series of tweets, she explained why she would show such a personal thing on television.