We hope you love the products we recommend! All of them were independently selected by our editors. Some may have been sent as samples, but all opinions and reviews are our own. Just so you know, BuzzFeed may collect a share of sales or other compensation from the links on this page if you decide to shop from them. Oh, and FYI — prices are accurate and items in stock as of time of publication.
Lately I've been extremely fascinated with the kitchen and small appliances section at Target. IDK what it is about that aisle that excites me, all I know is that I purposely avoid that area, because if I don't, I'll be looking at my bank statement trying to figure out who spent all of my money. However, I did buy an Aroma 20-cup digital rice cooker from Target for $42.99. This is probably one of my favorite small kitchen appliances, and I think it could be your favorite, too.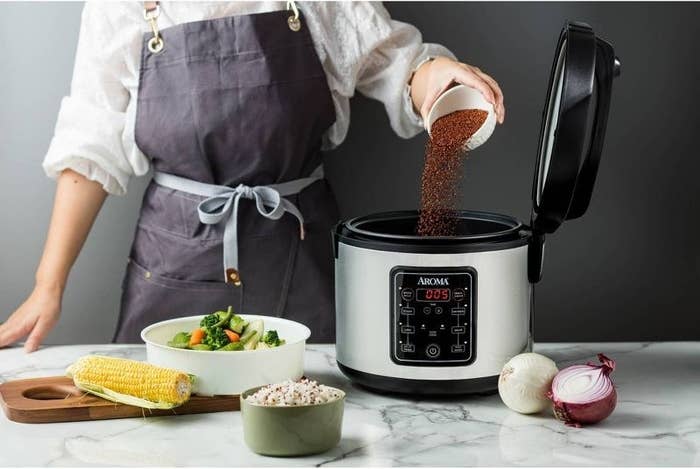 With nine programmable digital controls, this cooker allows for all sorts of meals to be made! It even has a 15-hour delay timer, so you can make all the slow cooker recipes your heart desires. No matter what you cook, when the timer goes off, the rice cooker automatically switches to the "keep warm" setting. Then it counts the minutes that it has been placed on "keep warm." You'll never have those "how long has this been on?" moments.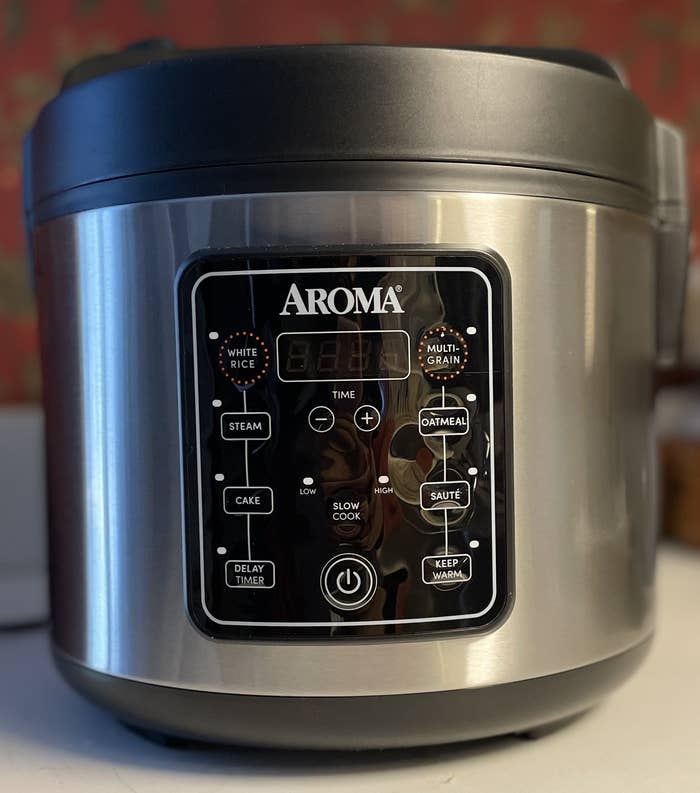 I swear this is the best rice cooker because my rice is always cooked to perfection! For some reason, the consistency is way better than stovetop rice. I also appreciate the fact that I can walk away from my food and not have to worry about it burning. I just set the rice cooker to "white rice," waited for the beep, and it was finished cooking in about 15 minutes. It's really that easy!
I bought my rice cooker last March, and I'd only used it to make the fluffiest rice ever. I wondered what else I could make, so I tried making orzo, the TikTok-famous feta pasta, and a sponge cake.
I love that the inner pot is nonstick because I can do other things at once and practically forget about my food. I enjoy cooking, but always having to check on it can feel like watching paint dry. As you can see, it worked perfectly with the orzo pasta!
Just a little garnish because why not. Seriously though, the orzo was ready in under 20 minutes, and it came out great! The texture was perfect and it had a slight shine from being cooked in chicken stock.
Next, I made the famous TikTok feta pasta. NGL, I was super nervous that it would be overcooked, overall disgusting, or an unfortunate mixture of both.
Toped with basil and sprinkled with parmesan cheese, the pasta tasted heavenly. The noodles were cooked al dente and the feta was creamy enough to be blended with the pasta and tomatoes. The total cooking time was around 35 minutes. Not bad for a dish that would normally take around 45 minutes to an hour to make.
Making this sponge cake stressed me out the most. Even though my rice cooker has a "cake" setting, I seriously doubted it would work. As you can see in the GIF below, it worked.
Obviously, the cake setting does work for cakes. I didn't even have to set a timer. The timer set itself for like 15 or 20 minutes.
I'm not the only one who absolutely loves this rice cooker, and has used it to make other dishes. Check out what other reviewers had to say!
TL;DR: Basicalllyyyyy having a rice cooker is a great investment if you value saving time. It costs under $50 and is super easy to clean and store. It could be a great alternative when you don't feel like using the stove or the oven. If you enjoy cooking, but don't always have the time, then this rice cooker is for you. Get it from Target for $42.99.