Healthier Cashew Chicken Stir-Fry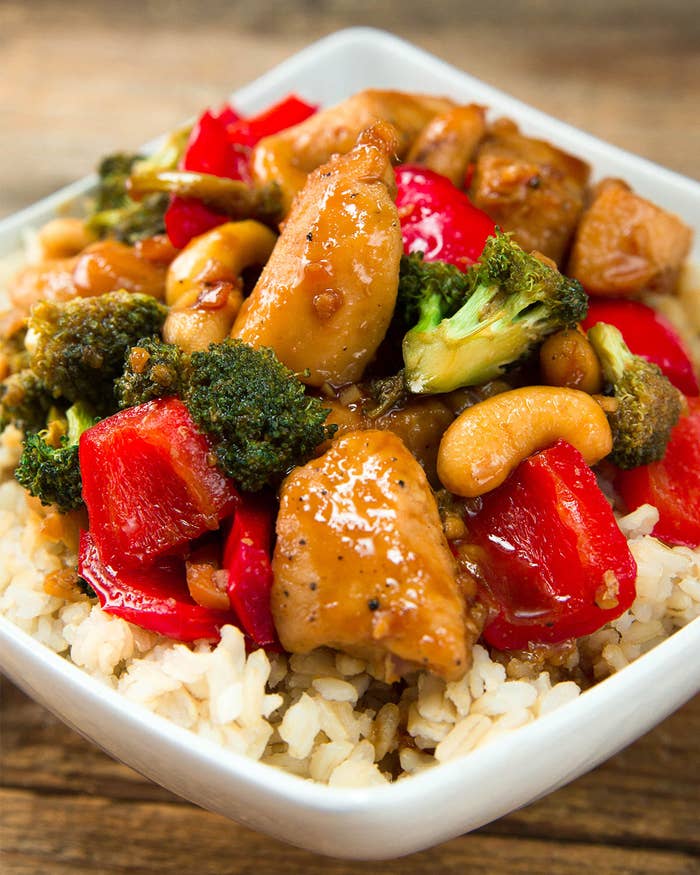 INGREDIENTS
6 tablespoons soy sauce
1 tablespoon hoisin sauce
1 tablespoon rice vinegar
2 tablespoons honey
1 teaspoon sesame oil
½ tablespoon ginger, minced
2 cloves garlic, minced
¾ pounds chicken breasts, cut into 1-inch pieces
Salt, to taste
Pepper, to taste
1 tablespoon cornstarch
1 tablespoon sesame oil
4 cups broccoli florets
1 red bell pepper, cut into 1-inch pieces
¾ cup raw cashews
½ cup water
Brown rice, to serve
PREPARATION
1. In a medium bowl, combine the soy sauce, hoisin sauce, rice vinegar, honey, sesame oil, ginger, and garlic. Set aside.
2. In a medium bowl, season the chicken with salt, pepper, and cornstarch.
3. Heat a large skillet over medium-high heat and add sesame oil.
4. Add the chicken and cook for 5-6 minutes, or until the chicken begins to brown.
5. Remove chicken and set aside in a separate bowl.
6. Add the broccoli and bell peppers and cook for 2-3 minutes.
7. Pour in the sauce and add the cashews. Stir together and allow sauce to thicken.
8. Remove from heat and serve over brown rice.
9. Enjoy!
Inspired by the recipe here