EGG-IN-A-HOLE SWEET POTATO NESTS
Breakfast just got a major upgrade.
by
,
Egg-In-A-Hole Sweet Potato Nests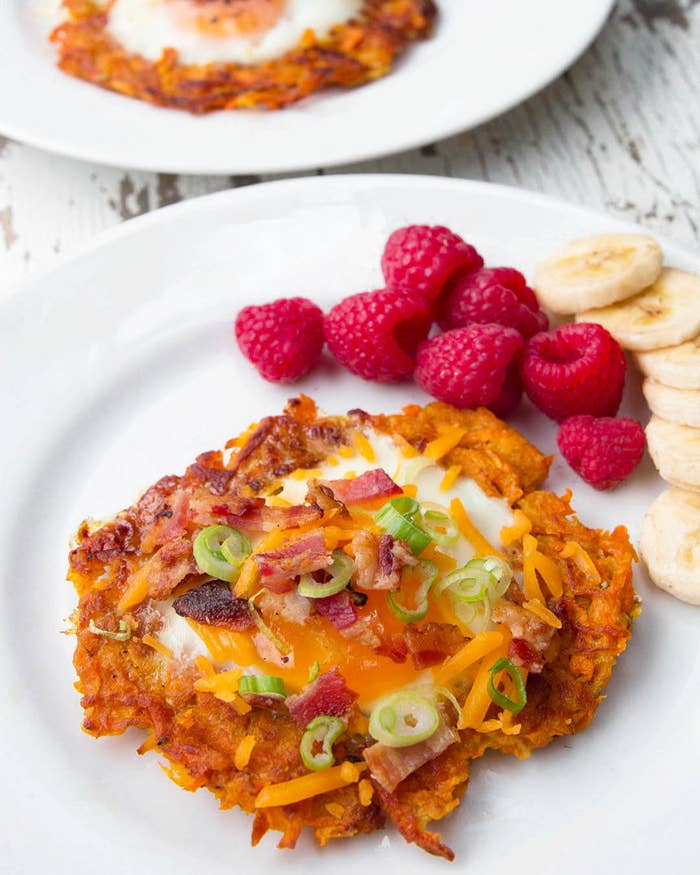 INGREDIENTS

1 large sweet potato1 medium yellow onion1½ teaspoon salt1 teaspoon pepper1 teaspoon garlic powder3 tablespoons flour7 eggs3 tablespoons olive oil
PREPARATION
1. Peel the skin off the sweet potato, and coarsely grate on a box grater. 2. Peel the onion, and coarsely grate on a box grater. 3. Transfer the grated sweet potato and onion to a towel-lined bowl. 4. Gently twist the towel, squeezing the liquid into an empty bowl and discard. 5. Transfer the sweet potato and onion to a bowl, and sprinkle with salt, pepper, garlic powder, flour, and 1 egg. Gently stir to combine. 6. Form large flat patties with your hands, approximately ⅓ cup of mixture each.7. Heat a large pan on medium heat and coat with oil. 8. Add the sweet potato patties. Fry for 2-3 minutes, then gently flip.9. Immediately use a small cookie cutter to remove a hole in the middle of each fritter. 10. Crack an egg in the hole, add a pinch of salt and pepper, then cover. 11. Fry for 3-7 minutes, or until cooked to your preference. 12. Uncover and serve with desired garnishes. 13. Enjoy!
Inspired by: https://eatthegains.com/spiralized-sweet-potato-egg-in-a-hole/