Blue Drip Cake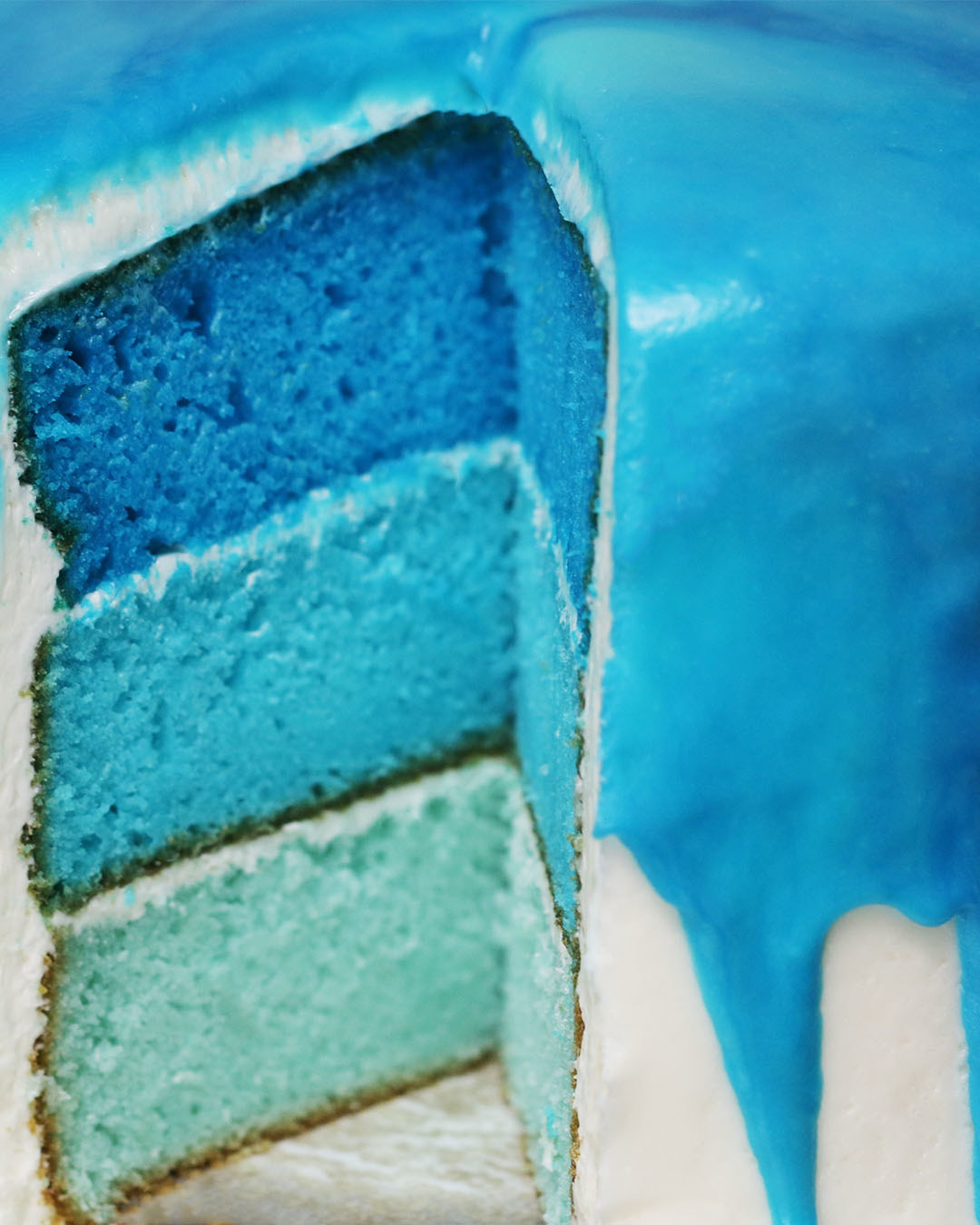 Watch the recipe video here:
INGREDIENTS
2 boxes of white cake mix
½ cup heavy cream
1½ cups white chocolate
Blue food coloring
Vanilla frosting
PREPARATION
1. Prepare 2 boxes of white cake mix according to instructions on box.
2. Separate batter evenly into 3 bowls. Add 1 drop of blue coloring to one bowl, stir until color is mixed thoroughly. Repeat with the next 2 bowls adding more food coloring until the desired colors are reached.
3. Grease three 6-inch cake pans and line with parchment paper. Pour each colored batter into a separate pan. Bake according to box instructions.
4. Remove cake from pans and let cool. Use a serrated knife cut the round top off of the cake so the cakes are even and flat.
5. Place the first cake on a cake stand and add a thick layer of frosting. Place the second cake on top, and add more frosting. Place the third cake on top and frost the cake until completely covered.
6. Frost the entire cake until smooth. Chill in the refrigerator for 1 hour.
7. For the ganache, heat the heavy cream in the microwave until bubbling, about 45 seconds. Add the white chocolate and stir until smooth. You may need to microwave the ganache for 10-20 seconds to melt any lumps.
8. Separate the ganache into 3 bowls. Add one drop of food coloring to one bowl. Stir until the color is evenly mixed. Repeat the the next 2 bowls adding more food coloring until the desired color is reached.
9. Spoon ganache in circles one on top of the other, making sure the ganache is not too thick. Continue until the ganache starts dripping over the edge.
10. Slice and enjoy!
Inspired by the recipe here
Looks like there are no comments yet.
Be the first to comment!