Everybody probably has one of these in their closet, right?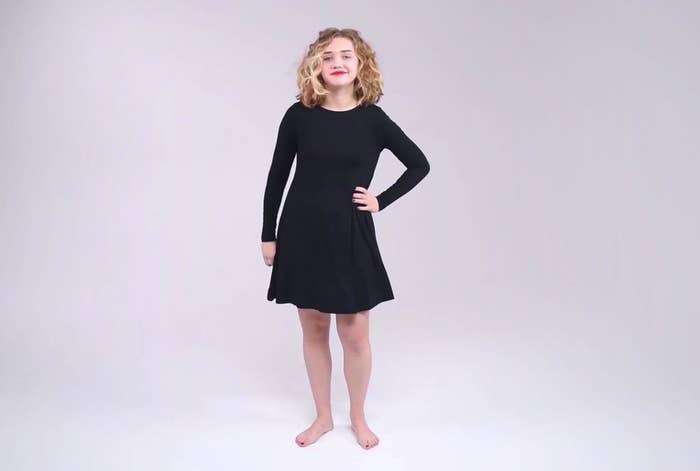 And the BEST thing about a black dress is that it can be dressed up or down.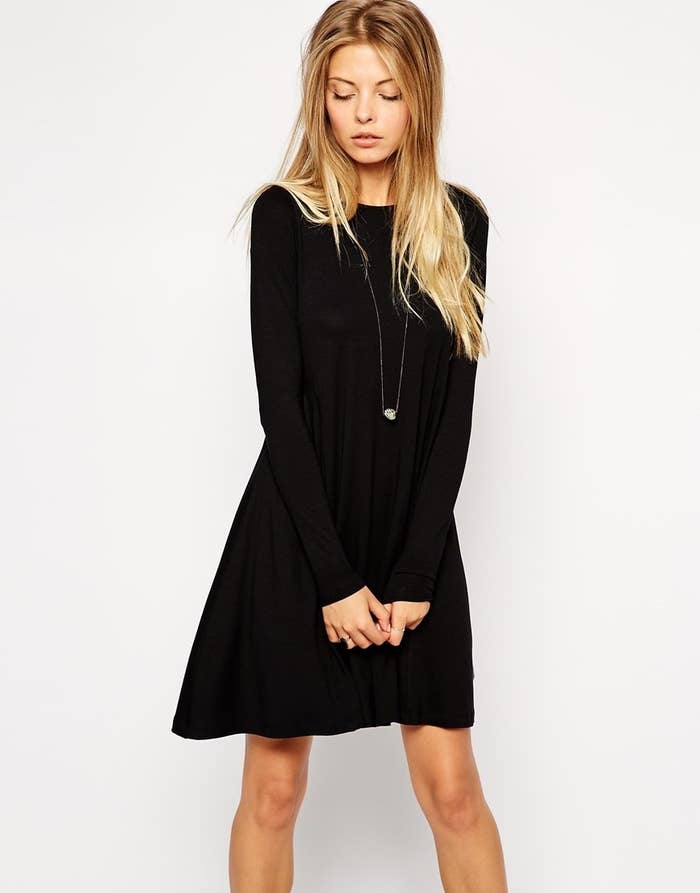 So we decided to put the transformative basic to the test and show just how many ways you can wear it.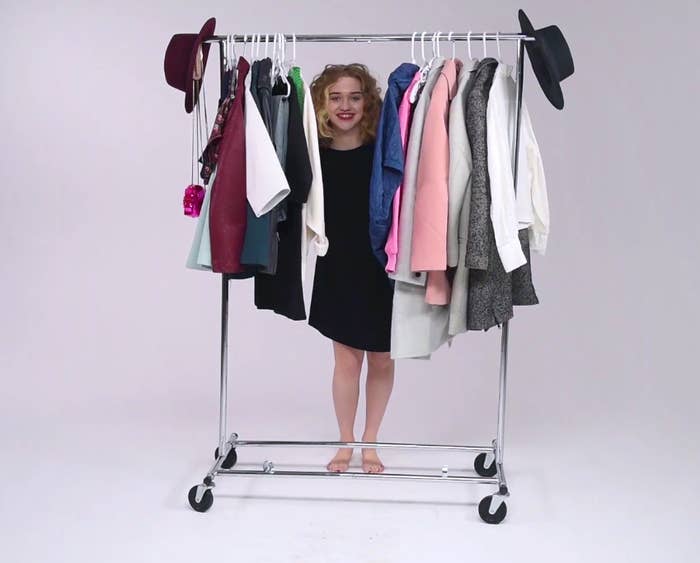 Pair yours with a skirt and blazer for a daytime work ~lewk~.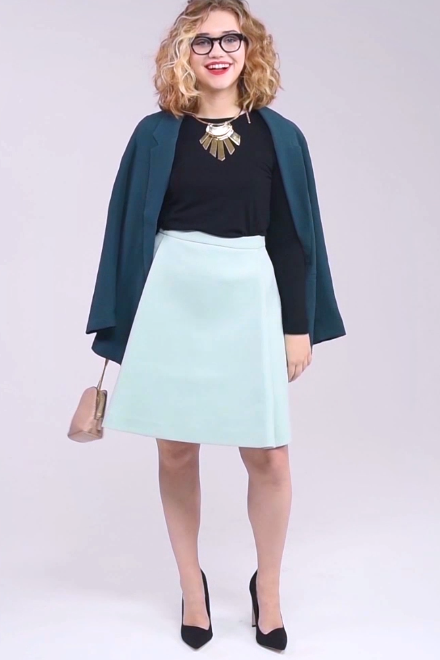 Styling tip: Our LBD is a swing dress, which means the silhouette is super relaxed. By adding a skirt, you can change up the silhouette and make more of a cinched-at-the-waist look. Adding a skirt is also great if you feel like your LBD is a little short for the office—get a little more length at the hemline and then go all-legs at night.
• Asos Slim Tailored Jacket in Crepe, $76
• Giambattista Valli Skirt, $747.50
• Statement Fan Bib Necklace, $18.50
• Half Moon Chain Mini Cross Body Bag, $24
• Pioneer Platform Heels, $81
Tie your dress in the back and wear it with boyfriend jeans and booties.
Styling tip: This tip is super helpful if you've packed light on a vacay or if you're in the mood to wear a top with a fancier fabric. Gather the back of the dress into your hand and wrap a hair tie around the fabric the same way you would a ponytail. Tuck the remaining fabric into the back of your shirt. Add a jacket and no one will even know.
• Jeans, model's own.
• Coat, model's own.
• Brixton Colton Hat, $88
• Metallic Foldover Clutch, $33
• Evermore Metal Detail Ankle Boots, $72
• Erickson Beamon So Real Cuff Braclet, $322
Go for a super femme ensemble with your fave sweatshirt.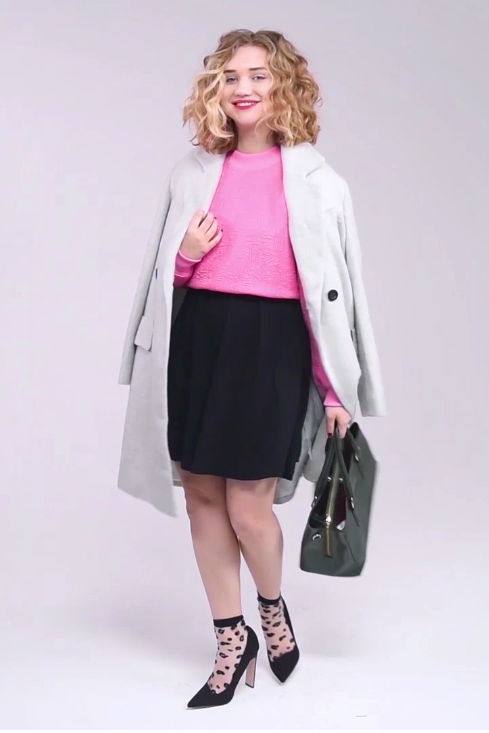 Styling tip: Maybe you get cold super easily, but you don't have a jacket or sweater that looks ~quite~ right with your LBD? Put on a bright sweatshirt and use the dress-tying technique above to cinch the dress right above your hips. This trick creates a super cute silhouette with the bonus of being cozy all night long.
• Moschino Imprinted Sweatshirt, $212.50
• J.O.A. Double Breasted Notch Collar Coat, $140
• Animal Print Sheer Socks, $7.50
• Prefect Pointed Black Heels, $81
If you feel like setting a trend, tie a denim shirt around your waist and turn it around.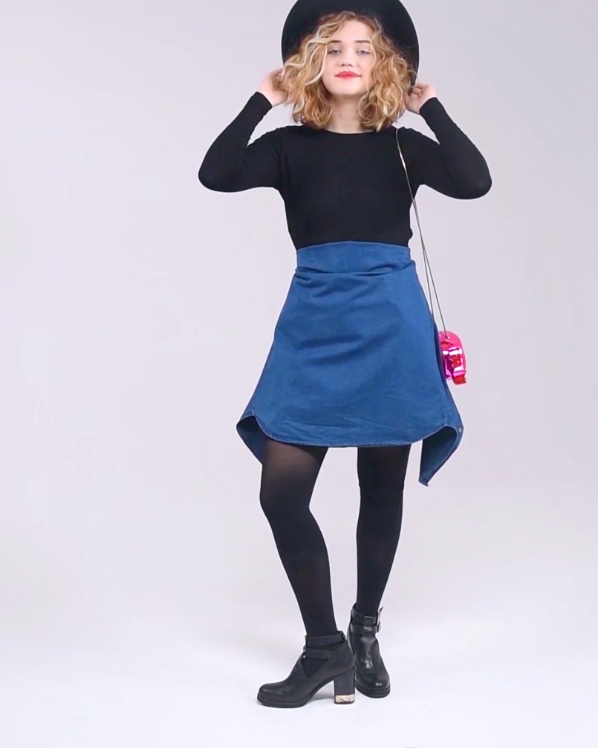 To add more length to your LBD, put a longer, textured skirt underneath it.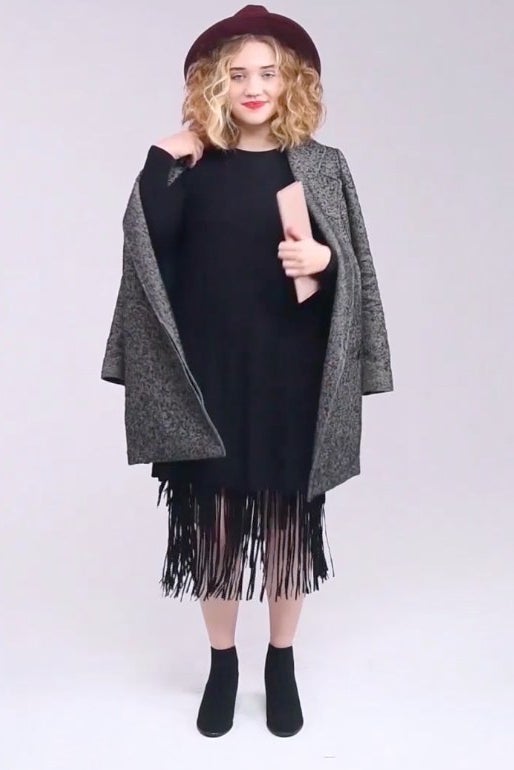 Styling tip: Isn't this long fringe skirt BALLER AF? To add a little action at the hemline, we put it on underneath the LBD and it launched the look into a different stratosphere. If you have a super textured maxi skirt, try it on with your dress and see what you think.
• The Wallflower Grazing Fringe Skirt, $89.99
• Tibi Coat, Model's own
• Sleek Clutch Bag With Metal Bar, $22
• Burgundy Felt Fedora with Bow, $45
• Ride the Wave Chelsea Ankle Boots, $44
For a chill badass look, tie up your LBD and wear it with a pencil skirt.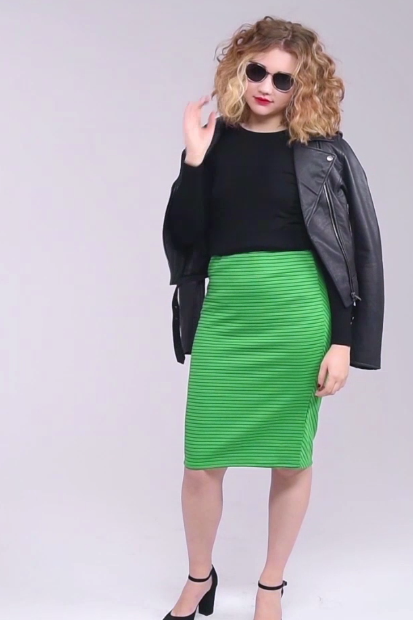 Styling tip: The awesome thing about tying up your LBD (with the technique used above) is that you get to determine your waistline. You can tie the dress up higher for a cropped look or wear it a little lower, depending on your mood. Keep a jacket over your shoulders for some Kardashian realness and you're good to go.
• Silence + Noise Tough Leather Moto Jacket, $398
• Silence + Noise Revolt Set Midi Skirt, $49
Want great beauty and style tips twice a week? Sign up for the BuzzFeed Health & Beauty newsletter!