Do ya ever sit down for a long binge-watch of Fixer Upper in your sad, cramped New York apartment and think, Man, I wish that was MY life. I wish Chip and Joanna were MY parents and could shiplap the fuck outta my living room.
No? Mmkay, maybe that's just me.
In any case, it turns out the Gaines family is growing — again. The family of six announced on Wednesday that they're adding another kid into the mix.
In a follow-up post on Facebook, Joanna Gaines shared a video of her ultrasound.
Their other children are Drake, 12, Ella, 11, Duke, 9, and Emmie Kay, 7.
And because Chip is a man for whom the phrase TMI has no meaning, he shared this over Twitter: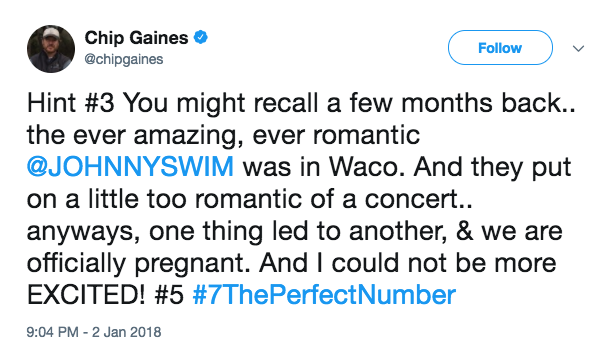 Fans were predictably thrilled.
There were Demo Day jokes.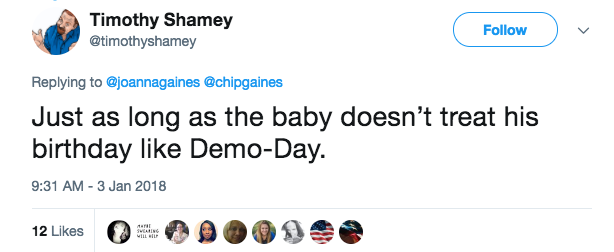 A lot of 'em.
And shiplap humor.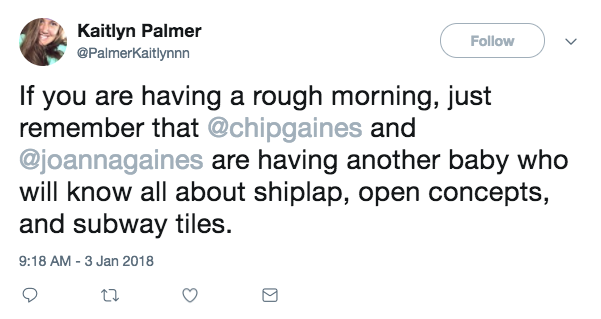 I mean, at the very least:
Congrats, you two!