On Sunday, Cara Delevingne wrote on her Instagram that she had started "The Future Is Female" shirts.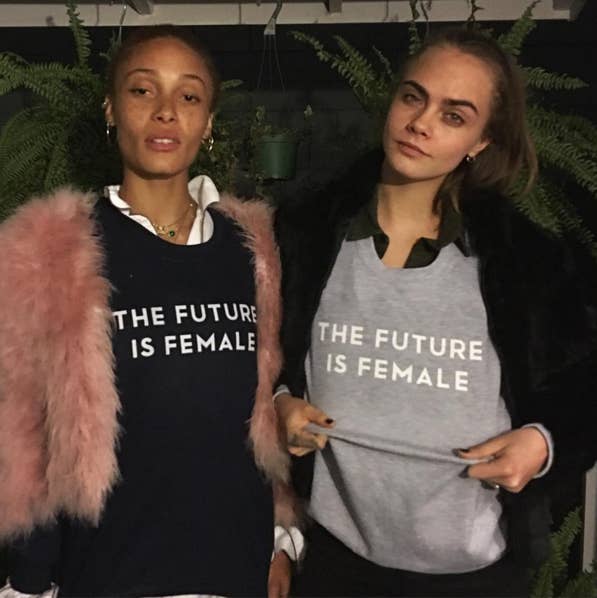 Proceeds from the sales are going to Girl Up's campaign to promote the health, safety, and education of girls in developing countries.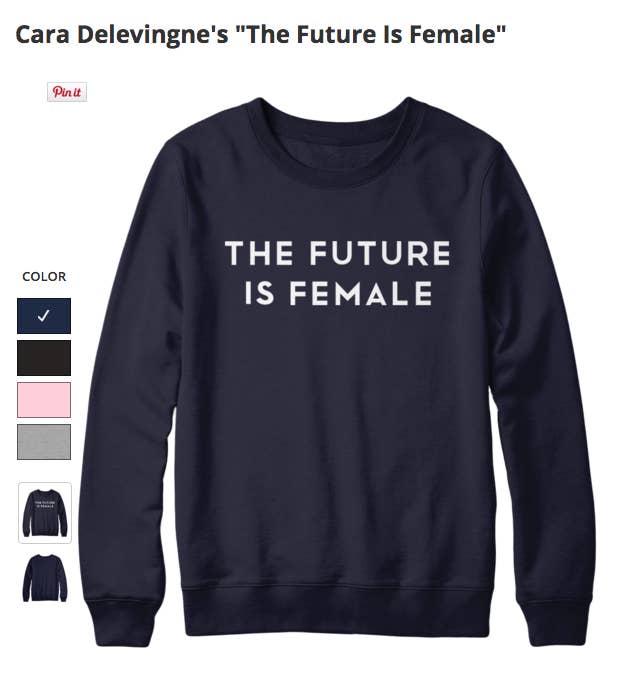 Cool, except that LA Brand Otherwild says she totally ripped them off. Here's what their shirt looks like:
On Sunday, the fashion company posted this Instagram about it, calling out the model/actress for dishonesty and telling people to urge her to "CUT the SHIT."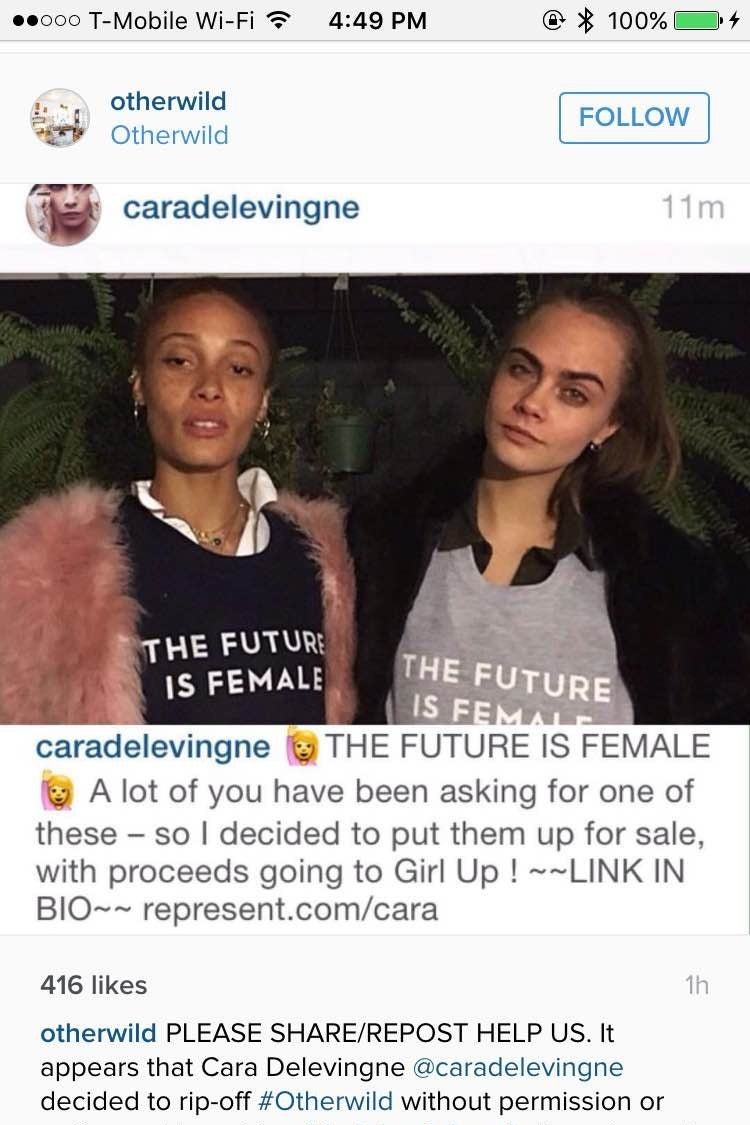 After several hours they took it down, because said Rachel Berks of Otherwild, "The comments felt extremely violent and it was very upsetting to me."
Otherwild later replaced their original Instagram post with this post, which directly compares Delevingne's shirt with their own.
The caption reads:
"I wanted to share my thoughts and this image which shows #Otherwild's sweatshirt on the left, and @caradelevingne's identical version on the right. The slogan "The Future Is Female" originates from Jane Lurie's and Marizel Rios' Labyris Books (1972), and Otherwild used @lizacowan's image of Alix Dobkin in the shirt (1975) with permission, as originally seen on Kelly Rakowski's @h_e_r_s_t_o_r_y. Otherwild's redesign and reissue of the FIF tees and buttons is protected under copyright law, which mandates that any reproduction of an existing known public work must be altered at least 20% from the original."

"If model/actress Cara Delevingne wanted to sell my line, she would need to wholesale them from Otherwild, and because we donate 25% of our line's proceeds to Planned Parenthood, Delevingne's ethical practice would benefit not only our woman-owned small business but would also serve as a significant donation to PP. Delevingne could also choose not to wholesale from Otherwild and create her own design of the slogan on clothing to sell. But Delevingne's choice to lift and manufacture Otherwild's design, claiming it as her own to sell with an undisclosed charitable offering, is indefensible. Her actions ironically counter the very message of the slogan "The Future Is Female", and it's confounding that she would do this to a small queer feminist-owned business after purchasing the product from us just a few weeks ago. Although under pressure, Delevingne has changed the line's attribution several times in the past 24 hrs., she has not yet offered to wholesale from us nor cease and desist blatantly copying and selling our designs."
As the company says, Otherwild's shirt is actually an authorized remake of this '70s shirt worn by folk singer Alix Dobkin. The shirt carries the slogan for New York's first woman's bookstore, Labyris Books.
Supporters of Otherwild took to Cara's Instagram page to complain.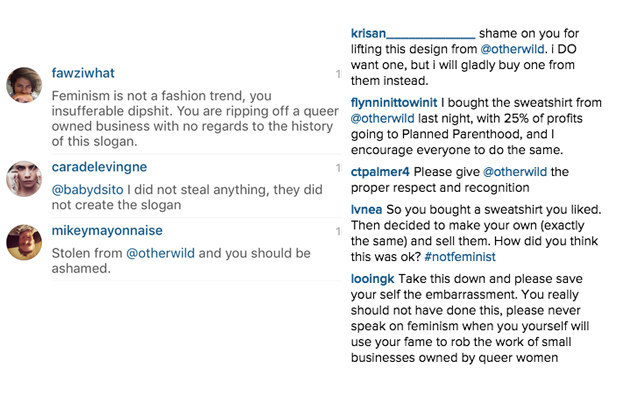 So does Otherwild actually have a case? Maaaaaybe, according to one branding expert.
"Otherwild might have a case but only if they protected their design via trademark registration AND the design has what the law refers to as 'secondary meaning' or what we brand enthusiasts call 'brand equity,'" Rob Wallace told BuzzFeed Life.
But, says Wallace, "If Otherwild can prove (through a consumer survey for example) that consumers recognize the T shirt design as a Otherwild brand, then their trademark registration is valid."
"However, if there is little relevant equity or association of the design back to Otherwild as the source of that design, then the design may be what the law refers to as 'generic,'" he said.
"My guess? Since the design pre-existed since the 1970s and the design is fairly commonplace (All cap helvetica type, my guess) there is probably little equity that links the design back to Otherwild," Wallace said.
Otherwild's co-founder Rachel Berks told BuzzFeed Life she feels Delevingne is being "unscruplous" and "unethical" in selling the same shirt as her brand.
"It is confounding that she would do this to a small queer feminist-owned business after purchasing the product from us just a few weeks ago," she said.
"[Delevingne] has changed the attribution several times [on Sunday], but she has not offered to wholesale from us, or cease and desist producing and selling our shirts and create her own design."
Delevingne's representatives have not responded to a request for comment.