1.
Cate Blanchett wore black lace Armani Prive to the Golden Globes.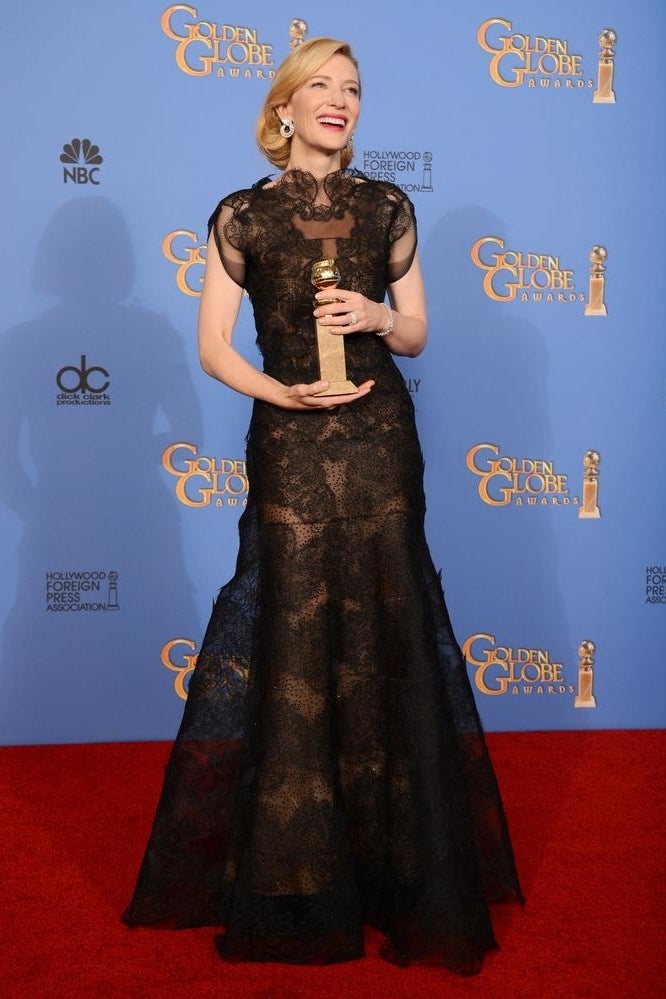 She'd look stunning in this gold Naeem Khan number.
Odds she'll wear it: 34 to 1 (Cate Blanchett's worn gold before and looked ah-mazing in it. Let's hope she does it again.)
2.
Sandra Bullock wore Prabal Gurung to the 2014 Golden Globes.
It was fiiiine. She'd look way better in this Elie Saab beaded and belted gown.
Odds she'll wear it: 67 to 1 (The silhouette of this Elie Saab is similar to her Prabal Gurung gown, which works in its favor. The intricate beading and lace would really take Sandra's fashion game up a notch.)
3.
Jessica Chastain wore a custom Armani Privé gown to last year's Academy Awards.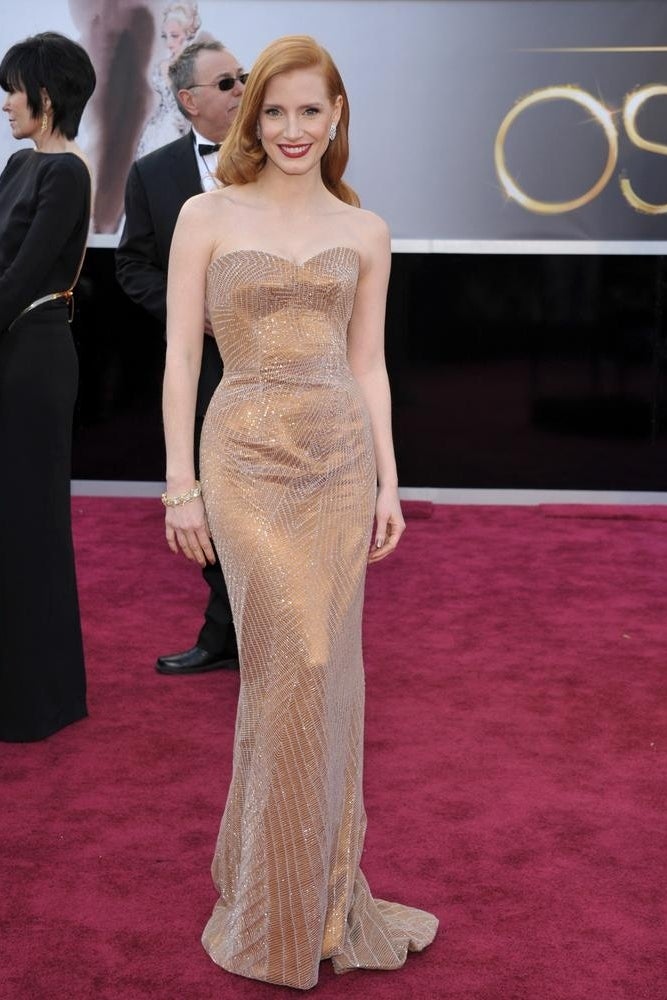 This blue Bouchra Jarrar gown would really make Chastain's red hair pop. Yowza!
Odds she'll wear it: 1,100 to 1 (The style isn't at all what Chastain typically goes for on the red carpet—it's not form-fitting or classic Old Hollywood, but it's gorgeous all the same.)
4.
At the 2014 BAFTAs, Amy Adams wore Victoria Beckham.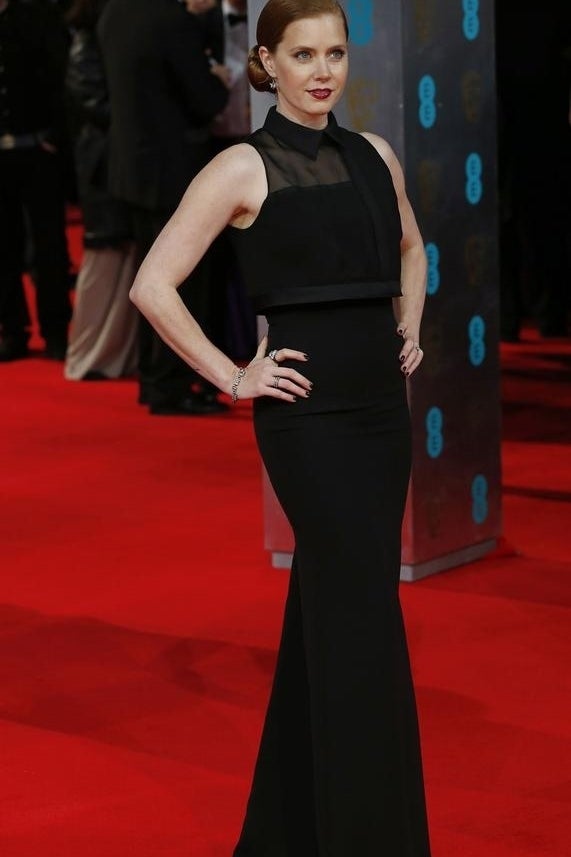 She'd look great in this plunging white Alexis Mabille couture gown.
Odds she'll wear it: 97 to 1 (This dress is reminiscent of some of the costumes Adams wore for American Hustle. We're banking on her style being influenced by the movie. If she wants to shock and awe on the red carpet, this is just the dress to do it in.)
5.
Anne Hathaway wore Prada to last year's Oscars.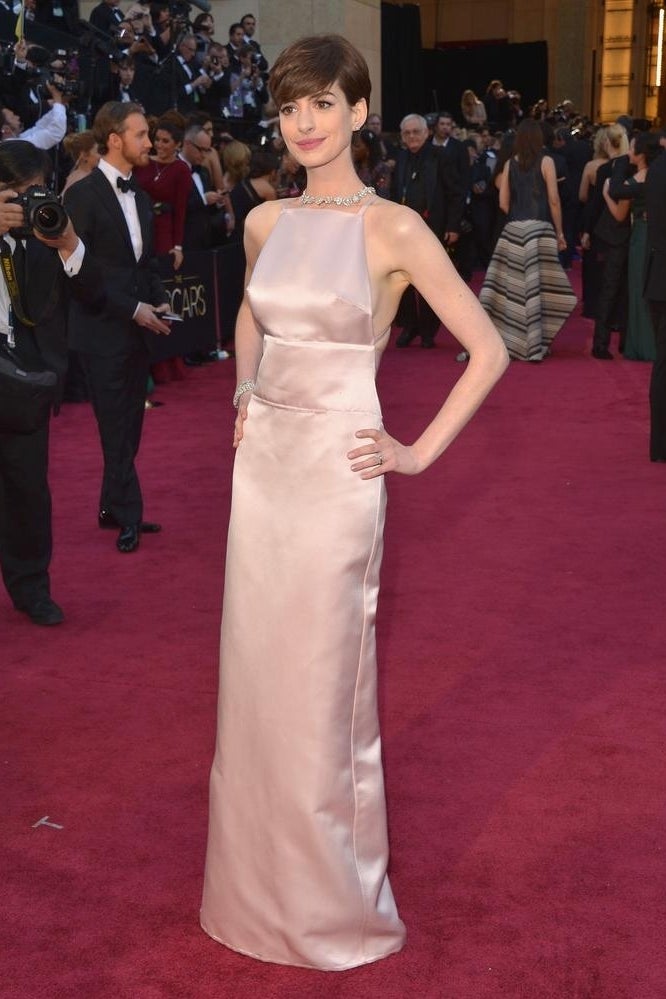 Her gamine, short haircut would make this Zuhair Murad dress feel fresh and modern.

Odds she'll wear it: 18 to 1 (Anne does love a classic, romantic style. This dress could definitely be in her wheelhouse.)
6.
Adorably pregnant Kerry Washington wore custom Balenciaga to the Golden Globes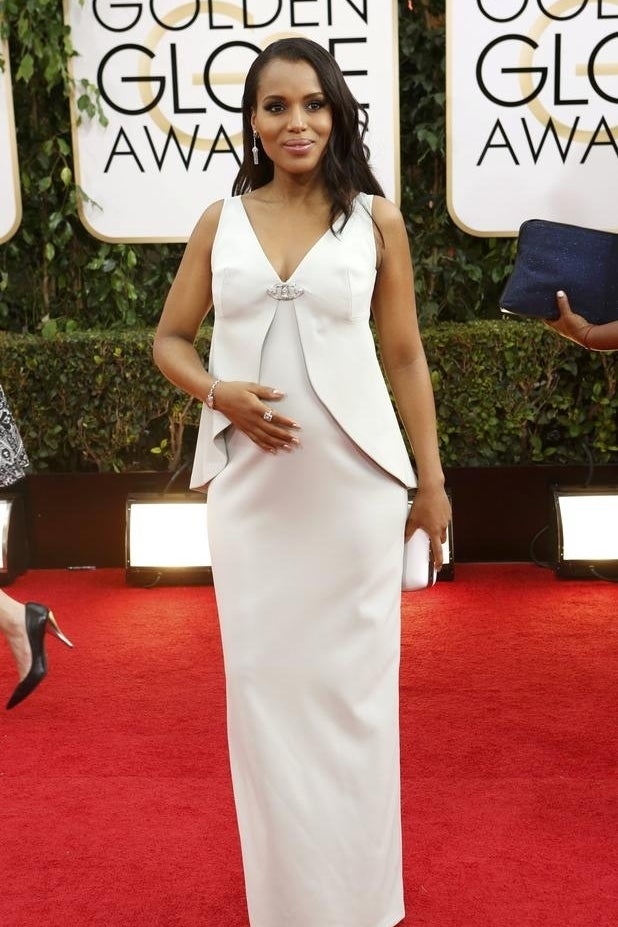 This Giambattista Valli could be customized into a gorgeous maternity gown.
Odds she'll wear it: 10 to 1 (This Giambattista Valli gown actually isn't too far off from the Balenciaga she wore to the Golden Globes, so it just might happen!)
7.
Penelope Cruz wore Temperly London to the premiere of "The Counselor."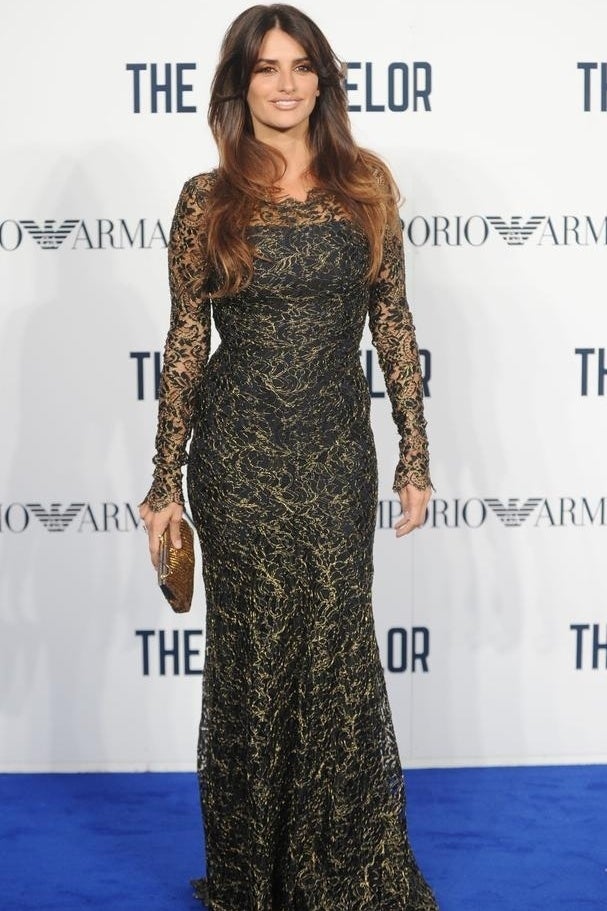 She'd look gorgeous in this stand-out Valentino couture gown. (IT'S GOT A TIGER ON IT!)
Odds she'll wear it: 700 to 1 (Penelope tends to favor Old Hollywood glamour over couture looks, so this might not appeal to her at all. Too bad, because the tiger is to die for.)
8.
Zoe Saldana proved she's fearless when it comes to fashion with this Prabal Gurung gown made specially for her.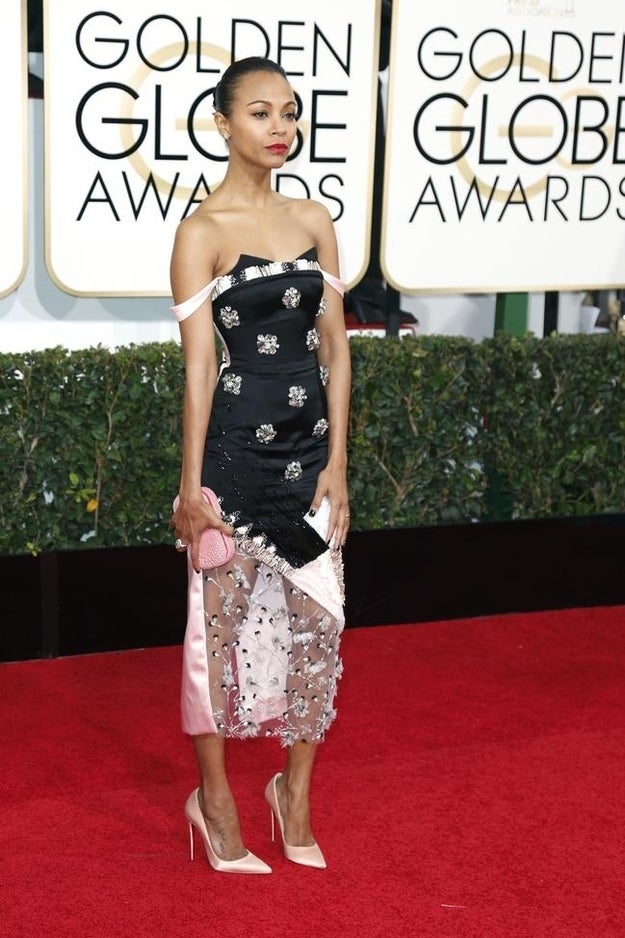 This Christian Dior couture gown is bold, but elegant.
Odds she'll wear it: 100 to 1 (Zoe is a wildcard! You never know what she'll do, but fingers crossed she wows us with something totally unique!)
9.
Emma Watson wore Dior Couture (over pants!) to the Golden Globes.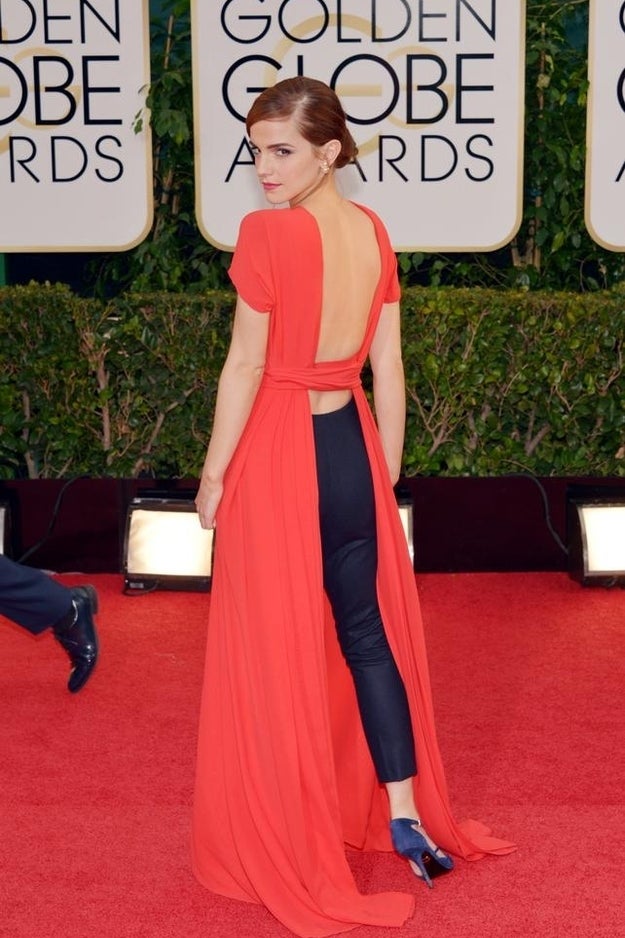 This beaded Naeem Khan dress would really take her style up a notch.

Odds she''ll wear it: 200 to 1 (This dress may be a bit too mature for Watson's youthful style.)
10.
Julia Roberts sported a Valentino jumpsuit to the 2014 Screen Actors Guild Awards.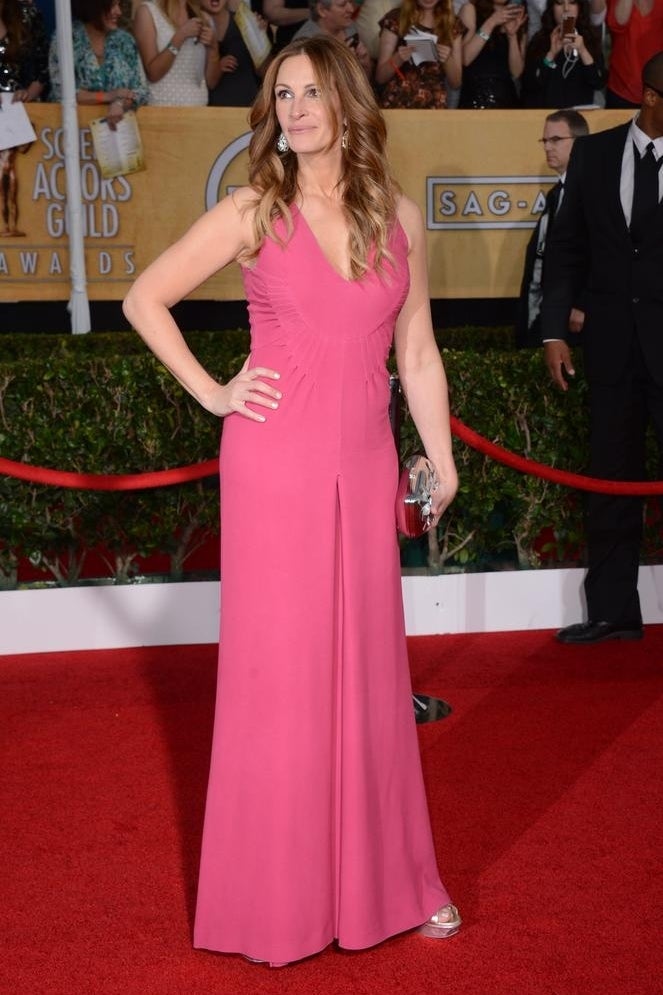 For the Oscars, we think she'd look great in this Valentino couture number. (No more jumpsuits, okay?)
Odds she'll wear it: 2,000 to 1 (Honestly? Julia Roberts just keeps making terrible fashion choices lately. This Valentino would look incredible on her, but it's a total longshot. Julia Roberts does what she wants.)
11.
Charlize Theron wore Dior to last year's Oscars.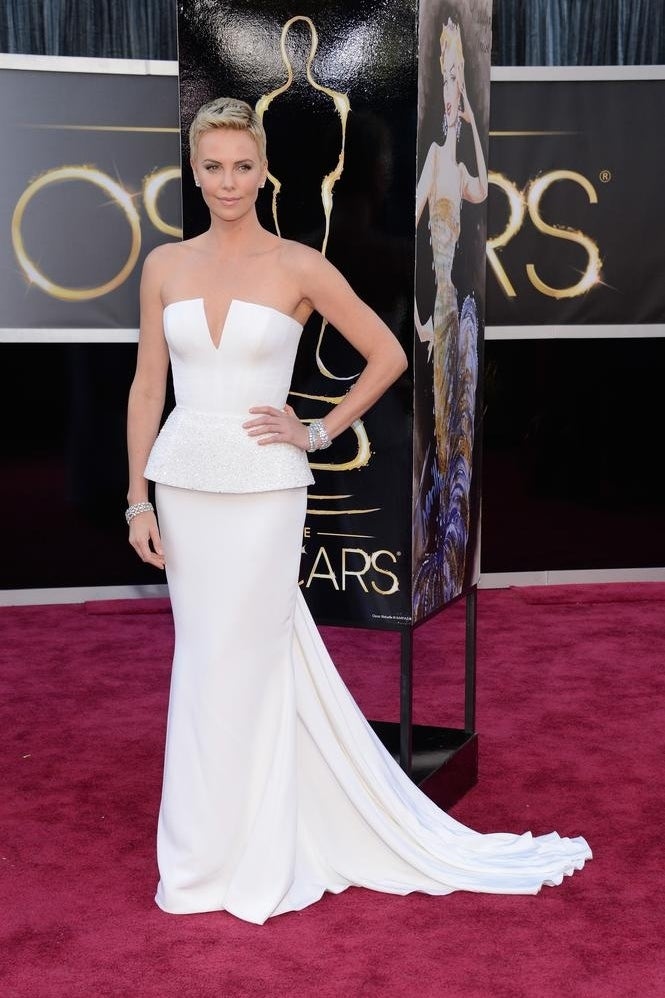 She could really kick up the sexy with this Emilio Pucci gown.
Odds she'll wear it: 75 to 1 (The Pucci feels like it channels Theron's sexy side in just the right way.)
12.
Jennifer Garner wore a super romantic Gucci dress to last year's Oscars.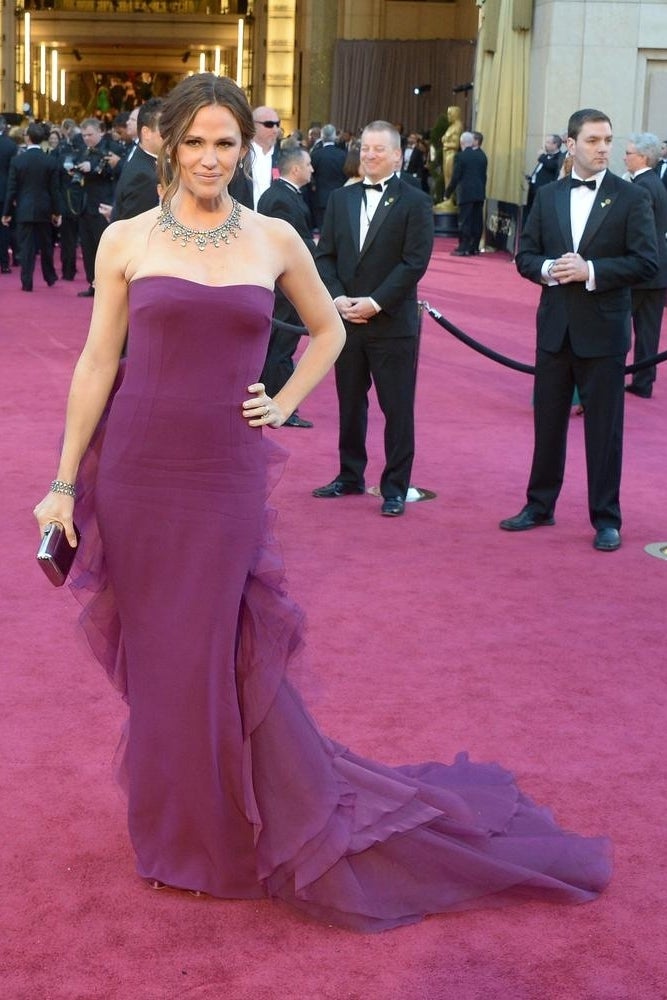 This Badgely Mischka dress is in the same color family but seems slighty more sophisticated (plus it has pockets!)

Odds she'll wear it: 30 to 1 (Jennifer Garner seems to love a strapless gown, so it has that in its favor, too.)
13.
Lupita Nyong'o blew everyone away when she wore this red Ralph Lauren gown to the Golden Globes.
14.
Jennifer Lawrence usually goes for voluminous Dior.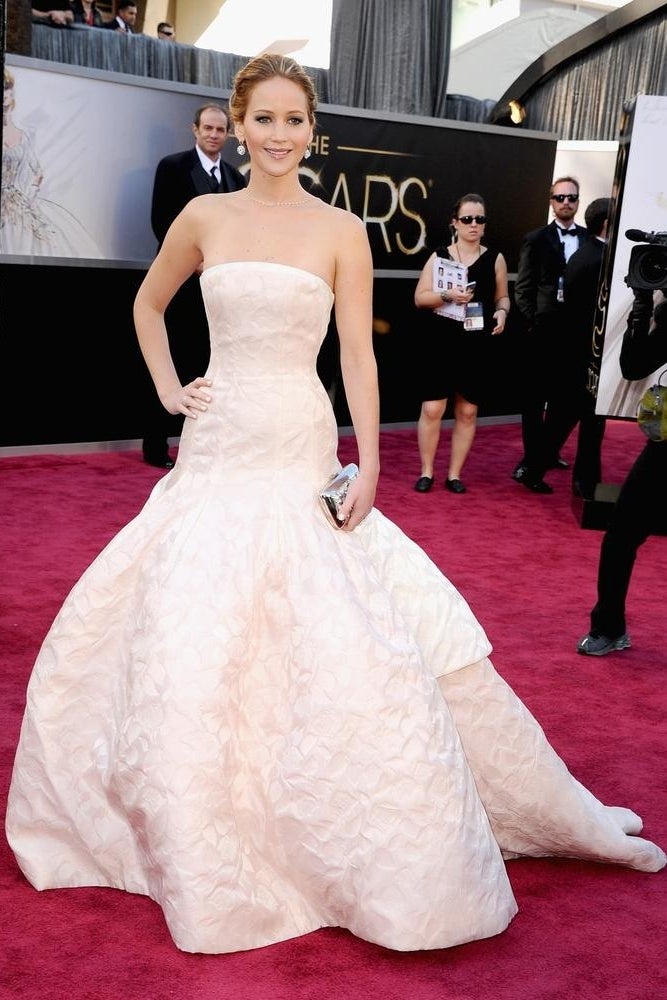 This streamlined Temperly London gown would be a nice change of pace.

Odds she'll wear it: 650 to 1 (Jennifer Lawrence reportedly just extended her ridiculously lucrative contract with Dior for another three years, so odds are we'll see her in another Dior gown on the red carpet. And chances are it'll be big and froofy.)
15.
Angelina Jolie wore a relaxed Saint Laurent suit to the BAFTAs.
Angelina definitely has a particular style, but it'd be nice to see her mix it up with this Giorgio Armani Privé soft violet gown.
Odds she'll wear it: 5,000 to 1 (Angelina hardly ever strays from black, so it would be highly shocking to see her pick such a romantic purple shade.)
16.
Naomi Watts wore Tom Ford to the Golden Globes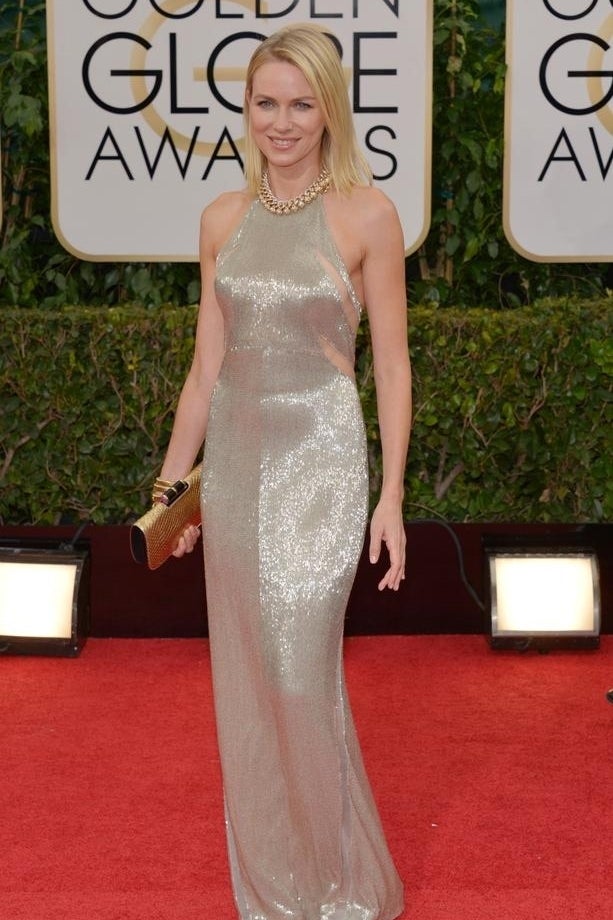 For the Oscars, this pale turquoise Badgley Mischka would really suit her.
Odds she'll wear it: 20 to 1 (Naomi's worn these kinds of sparkly, soft dresses before, so it wouldn't be a total leap.)