33 Clever Macca's Food Hacks I've Never Heard Of Before, But Are Seriously Drool-Worthy
If you're still ordering from the basic McDonald's menu, it's time to grow up.
I, like all good Australians, have a deep and unwavering affection for all things Macca's. But I must admit, I've always played it safe when it comes to my orders.
So I asked the good people of Australia to enlighten me with their very best Macca's hacks — and send me forth on a culinary adventure like no other.
1.
"Okay this sounds very pothead, but hear me out. Put nuggets in a quarter pounder with sweet and sour sauce — it's amazing."
—Bekki Yvonne Tyson
2.
"If you haven't added a McChicken patty in a quarter pounder (yes, meat plus chicken) then you're missing out."
—Yasmen Zreika
3.
"Double quarter pounder, no pickles, add lettuce, tomato bacon and Big Mac sauce. Best burger at Macca's."
—Courtney Fitton
4.
"Triple cheeseburger without buns and pickles, but add two hash browns with extra sauce and mustard."
—Nadia Rose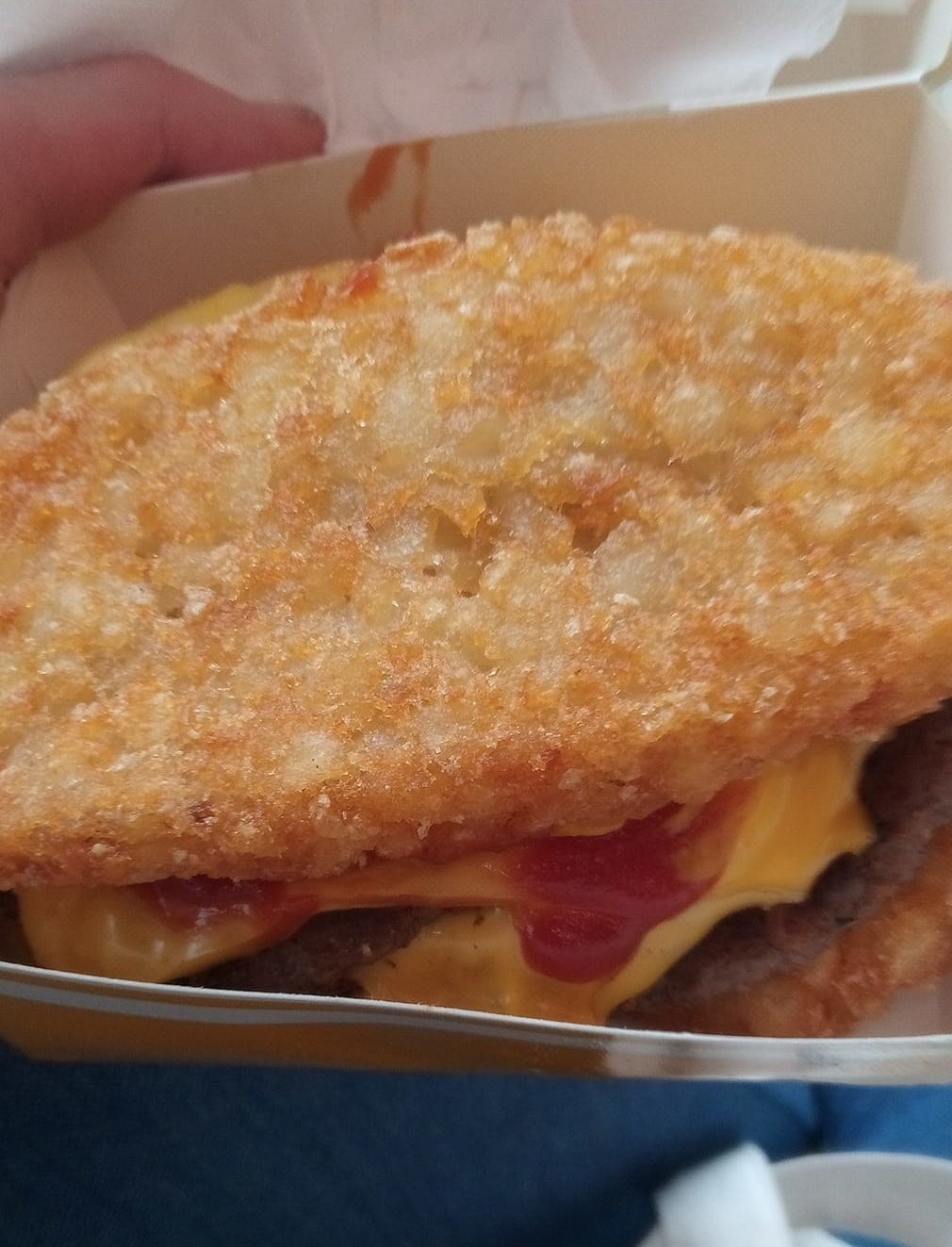 5.
"Crispy chicken patty, lettuce and Big Mac sauce. I used to make it for myself when I worked there years ago."
—Amanda Karli Hill
6.
"Hear me out — get the hotcakes, get a hash brown and a soft serve. Obviously maple syrup too. Put them all in and it's bloody fantastic. This is the ultimate comfort food."
—Tayla Preddey
7.
"Gluten-free hack — just replace the buns with two hash browns."
—Tom Grear
8.
"Chocolate frappe, blended with Oreos and ice cream instead of the whipped cream, add extra choc drizzle on top and around the cup."
—Wasila Bassal
9.
"McCafe cappuccino with a squirt of caramel sundae topping — not the caramel coffee syrup."
—Sarah King
10.
"Sausage and egg McMuffin without the bun, but add the tortilla. Tastes so much better that way! Found out about this hack from a customer while I was working at Macca's, absolute legend. You can also ask if you can add your hash brown to the wrap as well."
—Ashley Scott
11.
"Triple cheeseburger, add a McChicken patty, add bacon, take off ketchup and mustard and replace with McChicken sauce — get it with a steamed bun too."
—Sarah King
12.
"Iced choc or mocha with hazelnut syrup. It's so good, tastes like Nutella."
—Mia Maibach
13.
"Chocolate thick shake and shot of espresso!"
—Paras-Metika Jones
14.
"I invented the chicken Big Mac when I was like 10. I used to ask for a Big Mac with chicken patties, instead of beef — and they always looked at me like I was crazy."
—Carly Green
15.
"Hash brown, with tomato and onion chutney, on a sausage McMuffin."
—Bianca Bale
16.
"Big Mac, minus beef patties, add McChicken patties. It will give you heart palpitations but it's worth it."
—Em Dali
17.
"McChicken on a steamed bun, with a slice of cheese. Life changing."
—Krystal Santuccione
18.
"Soft serve in a lid with Oreos, it's a mini McFlurry! And less than $2."
—Dotti Wells
19.
"You can make your own affogato with just a soft serve and a shot of McCafe espresso."
—Georgia Sheen
20.
"Change out the mustard and tomato sauce with Big Mac sauce on a quarter pounder...then add a hash brown for extra pleasure."
—Timmy Dee & Ally Smith
21.
"Frozen Coke or Fanta with soft serve in the middle."
—Chloe Lane
22.
"French fries with Big Mac sauce, or put the Big Mac sauce on a double quarter pounder with the fries."
—Maree Saler
23.
"Dipping hash browns into hotcake syrup."
—Emily Christine
24.
"Put a lot of sweet 'n' sour sauce inside a Big Mac bun, put chips in and put the bun back on."
—Rachel Vaughan
25.
"Oreo McFlurry on a hashbrown."
—Sophie Mcdonald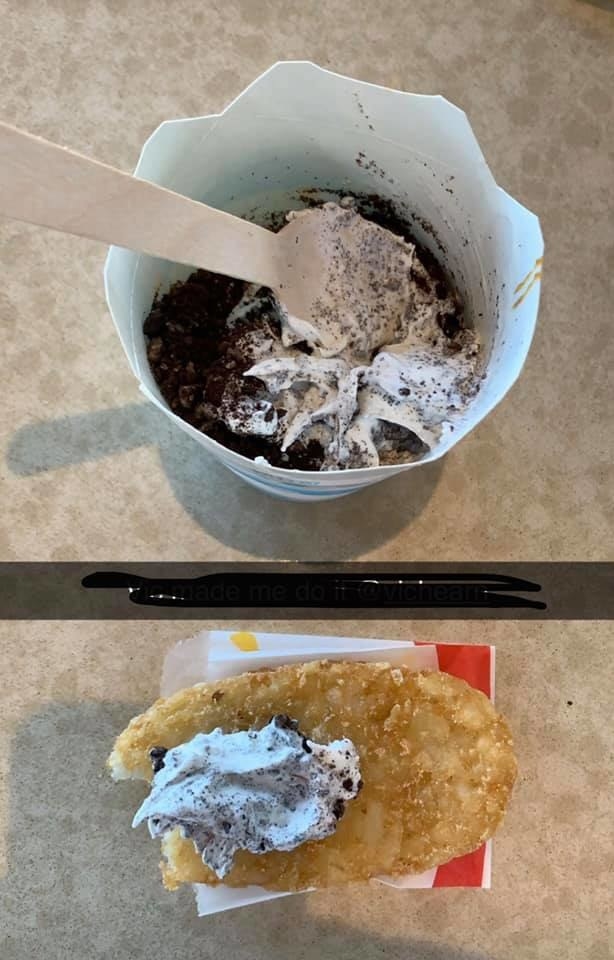 26.
"Double quarter with McChicken sauce, BBQ, salt and pepper and bacon. I've also been known to add a chicken patty to it."
—Kayse Elizabeth
27.
"I dip my fries into my soft serve. I also saw someone who got a plain McFlurry, plus a hot apple pie, then put them together."
—Bianca Lee Mary Sexton
28.
"Fish Mac — it's like a Big Mac, but with fish patties instead of beef. It's good."
—Hannah Harajuku
29.
"Get a fuckin' McChicken with cheese, bacon and a hashbrown — it's hectic."
—Tristan Mount
30.
"Cheeseburger, but with three nuggets in the middle, it's INCREDIBLE."
—Simone Elise
31.
"Get a DIY spider by ordering a frozen coke and a soft serve cone. Then just dump it on top, trust me."
—Rachel Lee
32.
"I always put my hash brown in my sausage and egg muffin."
—Nikki Fox
33.
And finally, "Chuck a slice of beetroot in the Big Mac and you've got yourself a McOz."
—Judy Rodriguez