Because humanity will never be satisfied with the variety of Oreos, a new flavor is now available. It is...drumroll please...
This is what they look like IRL: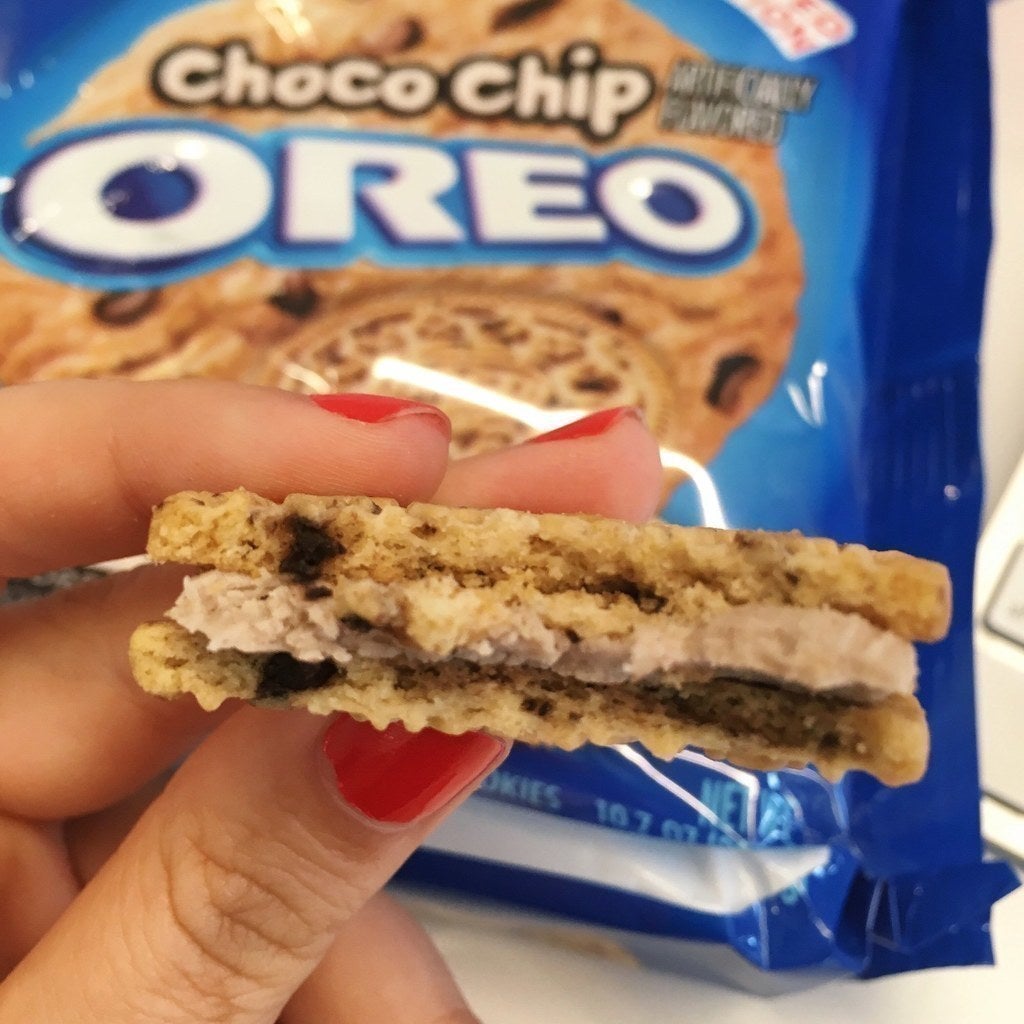 They look a lot like Golden Oreos, but with some good ol' chocolatey speckles throughout.
The BuzzFeed staff got an ~exclusive~ first taste of the Choco Chip Oreos. Here's what we thought.
Most people really liked them:
"I thought that this was one of the best-tasting Oreos I've had in a while. I'd definitely buy these and probably eat an entire pack in one night." —Kevin Smith
"I'm not a even a big sweets fan, but these Oreos are THE SHIIIIIIT! Soooo good." —Essence Gant
"LOVED IT! The taste kind of reminded me of Cookie Crisps cereal (which is *always* a good thing)." —Ashley McGetrick
Though a few were slightly disappointed.
"It's good, but there's not enough chocolate and it tastes like birthday cake. I'm offended that the word chocolate is even in the name of this Oreo." —Christina Lan
A few got ~nostalgic vibes~ from it:
"These sort of taste like nothing, in a comforting way. If I wanted an Oreo and I had one of these, I would be disappointed. If I wanted a chocolate chip cookie and I had one of these, I would be disappointed. But if I wanted to snack mindlessly on something sweet, I could absolutely put away an entire row of these without thinking. Or blinking." —Terri Pous
"It tastes remarkably like a snack cookie sandwich of my youth. What where those called? SnackWell's? Something like that. It gives me slight Dunkaroo vibes. When discussing the "chocolate chippiness" of it all, I would say this is a chocolate chip cookie in the way that a piece of Cookie Crisp is." —Emma Tyler
Overall, almost everyone looked back on the Choco Chip Oreo taste test as a positive experience.
"At first I wasn't that big of a fan, but as I look back on the time I spent with the cookie, I'm starting to like it more and more. Overall, it tasted like an Oreo and all Oreos are good. You can quote me on that." —Dave Stopera
Want to try them yourself? Choco Chip Oreos are now in stores.