It all started with this tweet: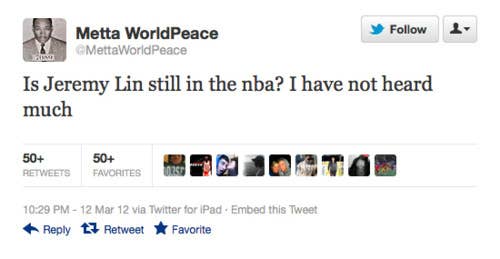 I am so disappointed in Ron Artest Metta World Peace. There are literally only three reasons that his current presence in the NBA is even slightly worthwhile at this point:
1. He says outrageous, ridiculous things, and is unafraid of the consequences.
2. Every so often he'll stop playing terribly for a moment and regain his old form. It's mesmerizing. He goes from washed-up crazy person, to All-Star crazy person in the blink of an eye, only to immediately forget how to play basketball all over again. In many ways he's like watching a mature version of JaVale McGee*.
3. HE CHANGED HIS NAME TO METTA WORLD PEACE. IT SAYS "WORLD PEACE" ON THE BACK OF HIS JERSEY.
*The fact that Metta World Peace is the mature version of anyone is terrifying.
That's it. There's nothing else. So when he made fun of Jeremy Lin on Twitter last night, I was ecstatic. It was awesome. What could be more Metta World Peace than one player attacking another who is statistically better than he is in almost every single category? That's an Artest-level move. But then World Peace deleted the tweet**.
**I'm so glad he changed his name, if only so this sentence could exist.
This is an outrage Ron (I'm calling you Ron, right now, because I know Kobe does that and I'm sure you listen to Kobe). Don't grow up. Don't be afraid to say ridiculous things. We love that you say ridiculous things. Make fun of Jeremy Lin. Make fun of LeBron James. Hell, make fun of Barack Obama. I want to be able to say "Oh that's just Metta being Metta," and I can't do that if you're being sensible.
I can't believe I'm saying this, but I miss Ron. He never would have backed down. He would have released a rap record about it.
Jeremy Lin and Metta World Peace's 2011-2012 Stats: