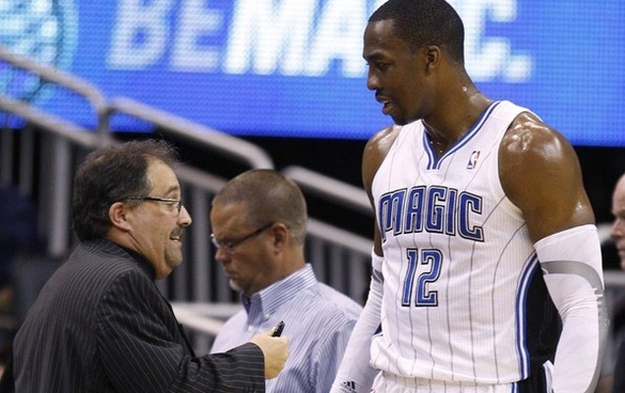 Dwight Howard's back has decided that it hates Stan Van Gundy too. Dwight will be sidelined for the rest of the season (as well as the playoffs and the Olympics) after he has surgery to repair a herniated disk.
On some level you have to feel bad for a guy who is missing that much time with a serious injury, so I do. But on another, much more prominent level, you have to laugh in Dwight's face for having had his douchebaggery rewarded thusly. In fact he's handled this season so poorly, that my (and I assume many people's) first thought upon hearing this news is that Dwight was faking this to make the eventual Stan Van firing more defensible by management, without having Dwight damage his brand by continuing to throw basketball gamesnot playing to the best of his abilities. After all, if the Magic went to the playoffs and Dwight kept turning in these "LeBron James 2010 Cavs-Celtics" shitty performances, people might keep "disliking" Dwight. And that's not okay. You must like Dwight. Dwight hates being disliked almost as much as Stan Van Gundy hates Dwight
So this summer the Magic will fire Van Gundy. Dwight will pick a coach. And then he'll leave the team in shambles in a year. That's how this story goes. Sorry Magic fans. You deserve better.
I will say that the Stan Van Clippers will be fun to watch.