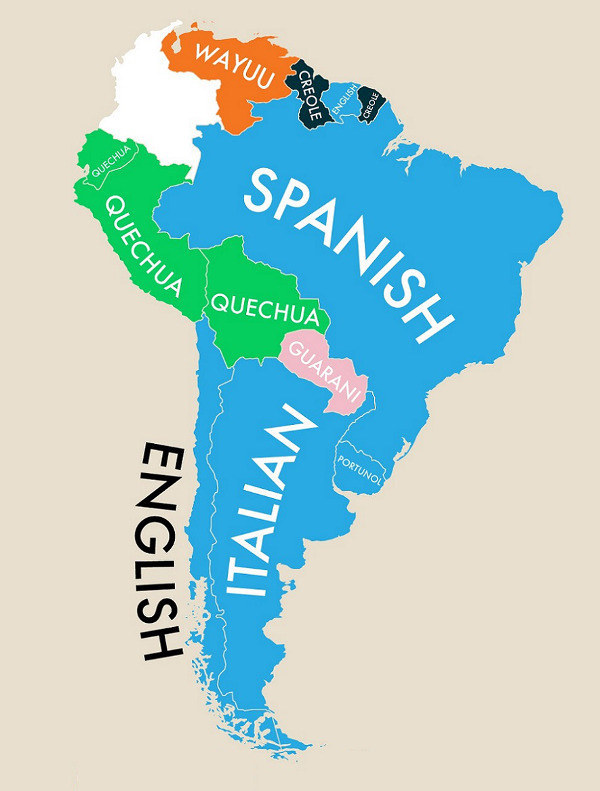 En Argentina se parla italiano
No hay otro país latinoamericano donde una sola inmigración (además de la española, claro), sea tan importante. La mitad de la población argentina (alrededor de 27 millones de personas) son descendientes italianos y palabras como "laburo" (trabajo) reemplazan a las de origen hispano en el día a día.
El quechua domina en Bolivia, Ecuador y Perú
También se encuentra en Colombia, Argentina y Chile, pero sólo en Bolivia, Ecuador y Perú supera a otras lenguas indígenas y europeas. En todo el continente, alrededor de diez millones de personas hablan quechua, idioma que alguna vez fue el oficial del imperio Inca.
Español en Brasil y portunhol en Uruguay
Por su origen latino, obviamente son lenguas muy similares. En Brasil, muchos colegios ofrecen el español como segunda lengua y desde 2005, su enseñanza es obligatoria por ley al menos por tres años. Se espera que, dentro de una década, 50 millones de brasileños lo hablen.
El caso del portunhol en Uruguay es distinto. Esta mezcla de los dos idiomas es antigua (tiene 250 años de antigüedad, al menos) y muchas personas en la frontera con Brasil y en los puertos suelen hablarlo.
Guaraní, uno de los idiomas oficiales de Paraguay
Ocho millones de personas hablan esta lengua originaria que, desde 1992, es el segundo idioma oficial de Paraguay. A pesar de que históricamente sufrió persecuciones, también fue muy importante en las guerras que peleó Paraguay, ya que pocos de sus enemigos lo entendían. Hoy es una lengua sumamente viva en ese país.
Chile habla inglés
A pesar de que en el siglo XIX Chile tuvo una fuerte inmigración británica, lo del inglés en Chile es principalmente funcional. Como idioma, se enseña en los colegios y en las universidades, aunque todavía hay muchas críticas a la calidad de éste. En cuanto a los lenguajes originarios, el mapudungún es hablado por alrededor de 140 mil personas e incluso ha sido tomado como lengua oficial en algunas localidades.
Venezuela y Colombia guajiras
El wayú o guajiro es es segundo idioma más hablado tanto en Venezuela como en Colombia. Se calcula que 400 mil personas lo utilizan, principalmente en dos regiones en la costa caribeña: La Guajira (Colombia) y Zulia (Venezuela).
¿Y en el resto del mundo?
El sitio Movehub hizo este mapa que muestra casi todos los segundos idiomas del mundo. En México, por ejemplo, está el nahuatl. En Estados Unidos es, por supuesto, el español. Pero otros países no son tan obvios: en Gran Bretaña es el polaco y en Australia el mandarín. Pero mejor míralo tú mismo:
This post was created by a member of BuzzFeed Community, where anyone can post awesome lists and creations.
Learn more
or
post your buzz!