Blue Ivy Carter is only eight years old, but she's already narrated her first audiobook — and what's more special is the message behind it.
Blue lent her voice to "Hair Love," which is all about embracing Black hair and depicting the love and bond between Black dads and their children. Her contribution to the audiobook was revealed when Matthew A. Cherry, the writer of Hair Love, made the announcement on Instagram.
The audiobook stems from the Oscar-winning short film, Hair Love, which tells the story of a Black father doing his daughter's hair for the first time. Even though he encounters many problems, he ends up doing a great job.
At the 2020 Oscars, Matthew said he created the film to "change the conversation" about black men being "deadbeat" fathers.
In the short clip of the audiobook, fans can hear Beyoncé and Jay-Z's daughter reading the book title and the name of its creator.
Of course, when everyone learned Blue Ivy was a part of this project, they could barely contain their joy.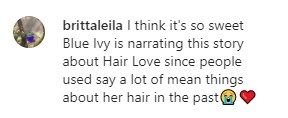 Blue Ivy's résumé is already impressive for someone not even a decade old, but this job is the most special one yet.