Hey America, This Is Why Australia And New Zealand Are Fighting Right Now
Australia's second highest-ranking politician turned out to be a Kiwi, and apparently it's a cunning NZ plot.
This is Australia's deputy prime minister Barnaby Joyce, a surprise citizen of New Zealand.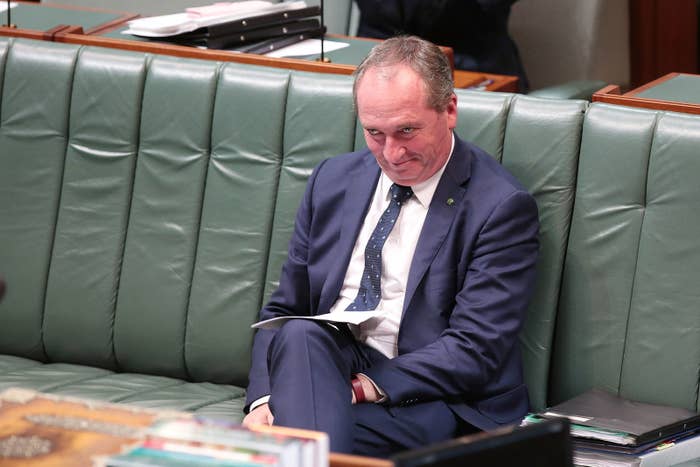 Australia's second-highest ranking politician was, until this week, a citizen of New Zealand, unbeknownst even to him.
The way that fact was uncovered has caused the government to accuse the opposition Labor Party in Oz of treachery for allegedly conspiring with its Labour counterpart in New Zealand (also in opposition) to bring down the Australian government.
This allegation is based on the fact that if Barnaby Joyce lost his seat, his Coalition's one-seat majority would evaporate and it could cost it the government. Joyce sits in the lower house of parliament in Australia, and whichever party has the majority in the lower house forms government.
And New Zealand is very much going "uhh, you what, bro?"

Let's rewind to the innocent, heady days of mid-July.
Not one but two senators from minority party the Australian Greens suddenly and shockingly up and resigned from the Senate (the upper house in Australian parliament) after they discovered that they were ineligible to be elected to parliament because they had failed to renounce their citizenships for the countries they were both born in: Canada and New Zealand.

This is due to a clause in the Australian Constitution stating that a person is disqualified from seeking elected office if they have "any acknowledgement of allegiance, obedience, or adherence to a foreign power, or is subject or a citizen or entitled to the rights or privileges of a subject or a citizen of a foreign power".

This means that anyone who has citizenship of a foreign nation, or is entitled to one, is likely ineligible to be elected to the Australian parliament.
It extends far beyond just those born overseas, as entitlement to citizenship can extend from parents, spouses, and even grandparents, depending on the country.
The wording in the constitution is complicated and confusing, and it was written so long ago that a lot of people are wondering whether it needs tweaking. But them's the rules, and it's up to the High Court to interpret the law as it exists today.
The controversy over the eligibility of politicians to be elected to the Australian parliament snowballed as the cases of Green senators Scott Ludlam and Larissa Waters first needed to be referred to the High Court by the Senate.
However, as they resigned during the winter break, when parliament doesn't sit for six weeks, it meant the Senate couldn't refer the matter to the court until last week, after parliament resumed.
Australian politics was therefore stuck in limbo where everyone started looking into the citizenships of the federally-elected representatives before the High Court could clarify it all.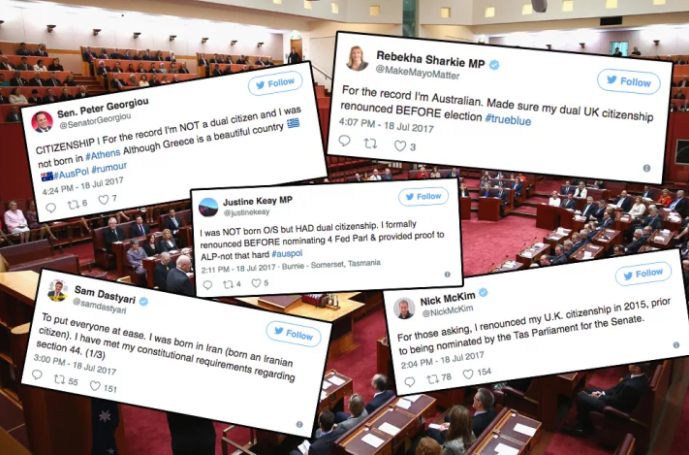 Since then, it was discovered that the government's resources minister Matt Canavan was bestowed Italian citizenship by his mother (he says without his knowledge) and he also had to get his case sent to the High Court, and resigned from the ministry in the meantime.
An investigation by BuzzFeed News also forced the One Nation party to refer one of its senators, Malcolm Roberts, to the High Court over questions surrounding his British citizenship at the time of the last election in 2016. So the High Court currently has four citizenship cases to deal with.
Enter Barnaby Joyce: the Australian politician best known in foreign lands for threatening to kill Amber Heard's dogs, and forcing both Heard and Johnny Depp into an awkward apology video for not respecting Australia's biosecurity law.
Before his own heritage became headline news, Joyce said ignorance of one's own citizenship "was not an excuse", but as he uttered those words, blogger William Summers was raising questions about whether Joyce was a Kiwi via his father.
Fairfax Media had also been questioning the deputy PM about it over the past week, and before it could get a story up, Joyce stood in parliament on Monday morning and declared he was a New Zealand citizen.
"New Zealand High Commission contacted me to advise that, on the basis of preliminary advice from their Department of Internal Affairs, which had received inquiries from the New Zealand Labour Party, they considered that I may be a citizen by descent of New Zealand. Needless to say, I was shocked to receive this information. I've always been an Australian citizen, born in Tamworth, just as my mother and my grandmother were born there 100 years earlier."
By now, you know the drill....off to the High Court, Barnaby!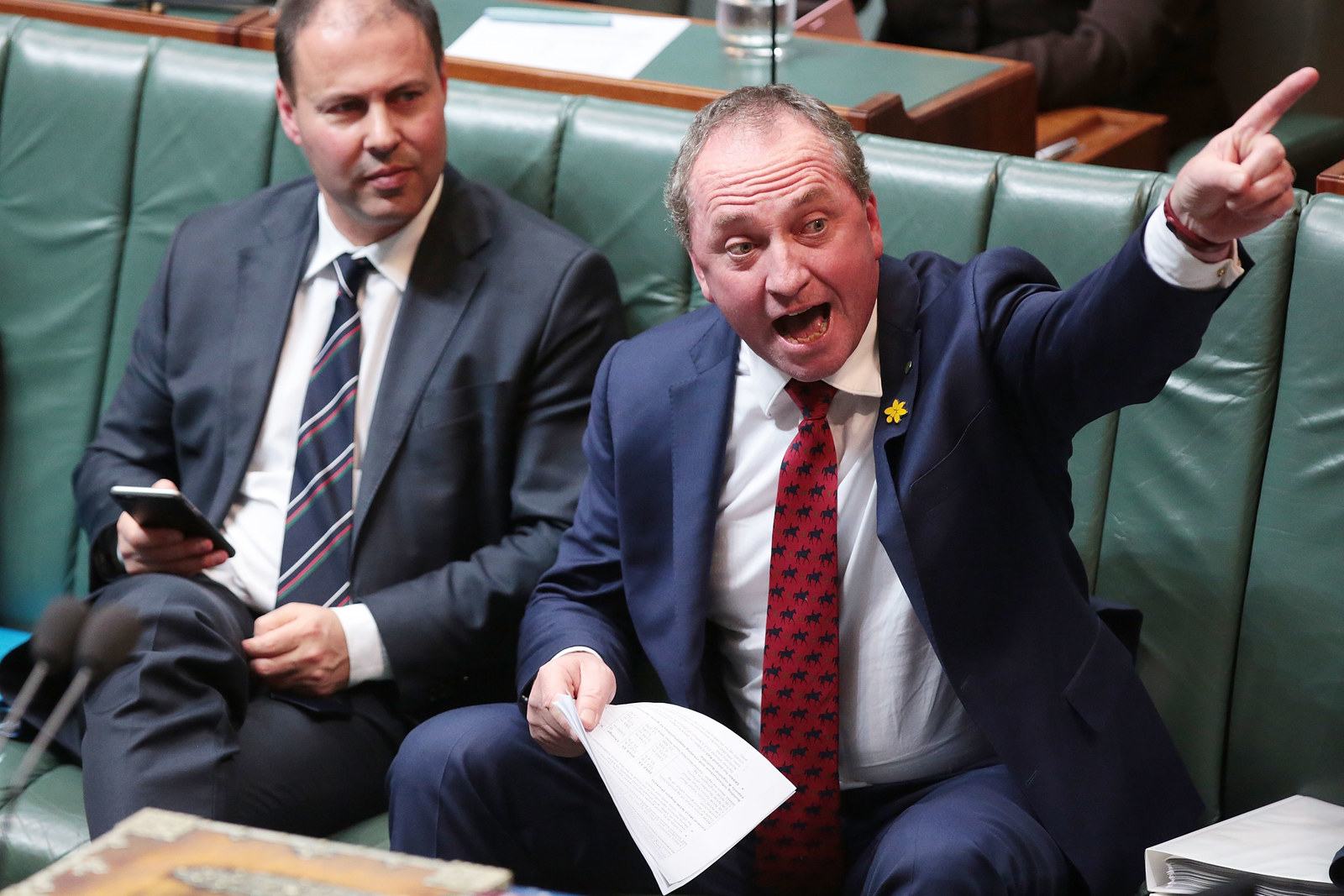 But unlike the other politicians, Joyce is remaining in his job and in the parliament because, according to him, the government's legal advice suggests he will be fine.
The Labor opposition, however, has called on him to stand down before the High Court hears the case later this month.
Of course, it has an interest in Joyce stepping down, as if Joyce goes, the whole thing may come crumbling down.
While bloggers and journalists were making inquiries about Joyce's Kiwi links, the Australian Coalition government claimed that it was the result of inquiries from the NZ Labour Party that resulted in it examining Joyce's citizenship.

Over in New Zealand, NZ Labour MP Chris Hipkins submitted questions to the minister for internal affairs Peter Dunne on Wednesday last week.
It was these questions, the Australian government claims, that encouraged the Kiwi government to look into Joyce's situation.
In a combative press conference on Tuesday, Australian foreign minister Julie Bishop claimed NZ Labour leader Jacinda Ardern had "revealed that [Australian Labor leader] Bill Shorten sought to use the New Zealand parliament to undermine the Australian government", and said it was "treacherous behaviour".
"Bill Shorten has sought to use a foreign political party to raise serious allegations in a foreign parliament designed to undermine confidence in the Australian government."

She also suggested that if NZ Labour wins the upcoming election, she would find it "very hard to build trust" with the new Kiwi government.
Meanwhile, Dunne said it was the media, not Hipkins, that prompted the NZ government to investigate Joyce.
And Ardern was all WTF, Julie? Call Me Pls.
"This issue was primarily pursued by the Australian media and that is the cause ... of Mr Joyce referring this situation to the High Court," she said. "I wanted to make clear as well, I am happy to have a conversation directly with Ms Julie Bishop on this issue."
But then Fairfax Media discovered that the chief of staff for Labor's shadow foreign minister Penny Wong, Marcus Ganley (a Kiwi), had in fact been chatting to Hipkins about the issue.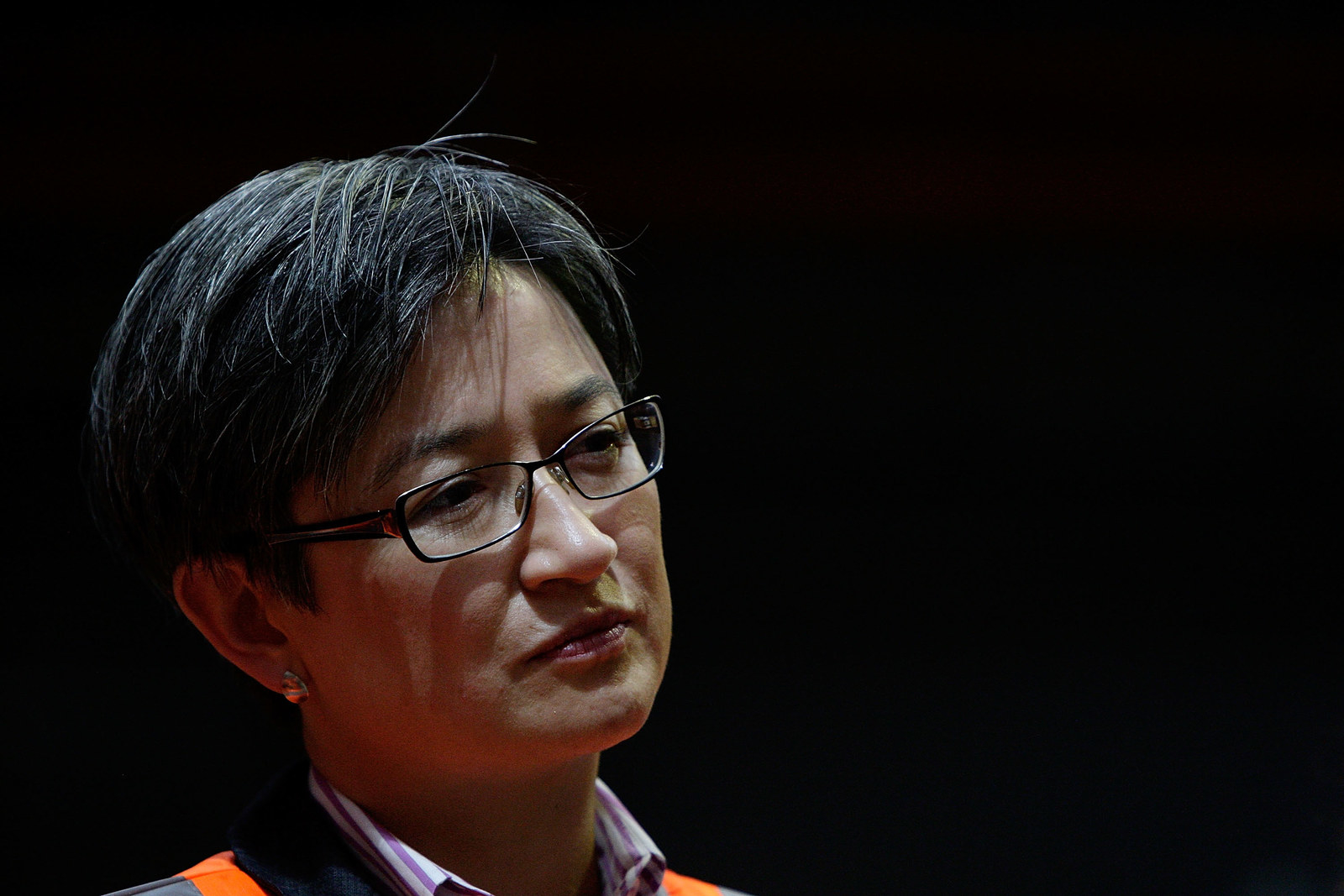 So Bishop doubled down on Wednesday.
"And this wrong, unacceptable conduct that should never have happened was instigated by Penny Wong using a New Zealand member of parliament to ask questions in the New Zealand parliament clearly designed to undermine the deputy prime minister of Australia and undermine confidence in the Australian government," she said on Sky News.
Meanwhile, New Zealand was generally just getting pretty annoyed with the whole saga.
New Zealand's version of the TV show The Project (which is adapted from the Australian version) had enough of all this bullying from Australia.
Host Jesse Mulligan said on Tuesday night that for the past few years Aussies had been "basically treating us like dirt", as there was no access to unemployment benefits, subsidised education and easier access to citizenship for Kiwis living in Australia, whereas Australians get all those benefits living in New Zealand.
He also said that the Australian government was now "rounding up" Kiwis in Australia with criminal records and deporting them to New Zealand.
"Australia is basically a bully."
Ouch!