Barnaby Joyce Is 100% A Confirmed New Zealand Citizen And Oh My God What Is Going On
He is, in fact, a Kiwi.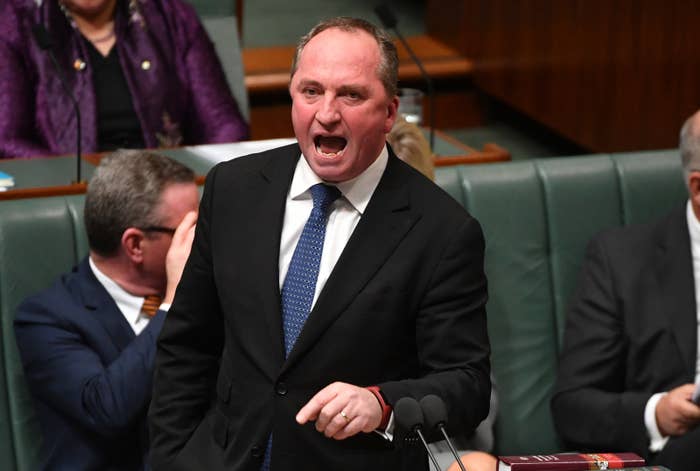 Australian deputy prime minister Barnaby Joyce has been confirmed as a New Zealand citizen, hours after announcing he would refer himself to the High Court over the possibility.

The New Zealand Crown Law office released advice that under the Citizenship Act of 1948, Joyce holds dual citizenship by descent as his father was born across the ditch.
Joyce told the parliament on Monday morning that he had been informed by the New Zealand High Commission that he was a New Zealand citizen last week.

"Last Thursday afternoon the New Zealand High Commission contacted me to advise that on the basis of preliminary advice from their department of internal affairs, which had receiving inquiries from the New Zealand Labour party, they considered that I may be be a citizen by descent from New Zealand," he said.
"Needless to say I was shocked. I've always been an Australian citizen, born in Tamworth. Just as my mother and my great grandmother was born there 100 years earlier. Neither I, nor my parents, have ever had any reason to believe that I was a citizen of any other country."
Joyce was first elected as a senator of Queensland in 2004, before moving to the lower house as the MP for New England in 2013.
He told the parliament the government had received legal advice that he was in the clear, but has referred himself to be on the safe side.

"Neither my parents nor I have ever applied to register me as a NZ citizen," he said.
"NZ government has no register recognising me as a NZ citizen. The government has taken legal advice from the solicitor general.

"On basis of the solicitor-general's advice, the government is of the firm view [that I] would not be found to be disqualified by the operation of Section 44.1 of the constitution from serving as the member for New England.
"However to provide clarification to this very important area of the law, for this and future parliaments, I have asked the government to refer the matter."

Joyce told Parliament on Monday morning that he would not step down as deputy prime minister while the High Court considers his eligibility to sit in the parliament. This was before the NZ government confirmed his citizenship.
Labor has called on the deputy prime minister to step down.
Prime minister Malcolm Turnbull has written to Labor leader Bill Shorten, encouraging him to nominate any Labor MPs who have may hold dual citizenships.
Joyce is the fifth politician to have his citizenship called into question since former Greens senator Scott Ludlam resigned last month after discovering he was a dual citizen with New Zealand.

Shortly after Ludlam's resignation, former Greens senator Larissa Waters discovered she was a dual citizen with Canada.
The following week, senator Matt Canavan stepped down from his role as resources minister after discovering that his mother had signed him up as a dual citizen with Italy.
Last week, One Nation senator Malcolm Roberts was referred to the High Court by his own party after revelations that he was a dual British citizen.