The Uniting Church Just Started Holding Same-Sex Weddings. Soon It Could All End Again
All same-sex marriages conducted within the Uniting Church would remain legal, even if the church stopped performing them.
by
,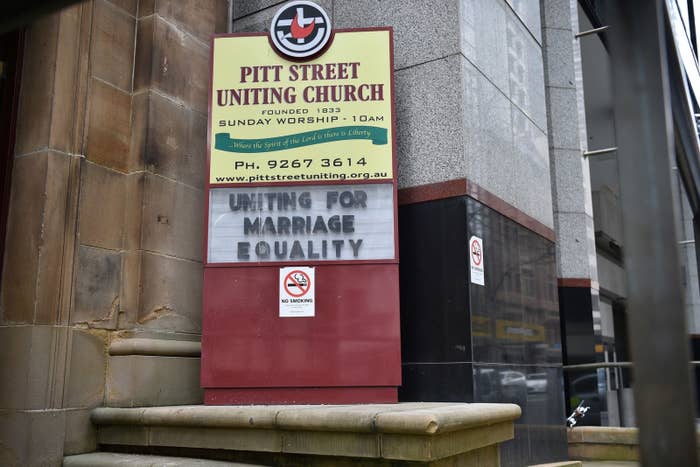 Same-sex couples planning to wed in the Uniting Church in coming months might be forced to make alternative plans, after the general secretary warned that all same-sex weddings could be paused from November.

In July this year the Uniting Church's national assembly met and agreed to give ministers the right to decide whether they would marry same-sex couples.
The assembly approved two definitions of marriage: one between a man and a woman, and between two people as reflected by Australian law.
Ministers who believed only in the former, would not be required to marry people under the latter definition.
Ministers were allowed to start marrying same-sex couples from last month, and sources within the church say nearly a dozen have taken place.
But future weddings could soon be under threat.
Under the church's constitution, within six months of a decision being made at the assembly, if 50% of the presbyteries (local bodies) in 50% of the synods (state bodies) lodge an objection and say there was not enough consultation for a decision, it has to be paused until there can be another vote.
BuzzFeed News has learnt that a letter has been sent out to ministers from the church warning that this target might soon be reached.
"If this does happen, from the time the president notifies the church that the decision is suspended, no same-gender marriages will be able to be performed by Uniting Church celebrants, nor can the newly-approved marriage rite or statement on marriage be used, until further consultation occurs and the assembly meets again to determine whether to affirm, vary or revoke the original decision," assembly general secretary Colleen Geyer said in the letter, seen by BuzzFeed News.
"As this is a time of uncertainty for our church, please be assured that any information with respect to this issue will be communicated to you and the church with clarity and expediency."
The threshold has already been met in in Northern (covering north Queensland, parts of Western Australia and northern South Australia and the Northern Territory), and is almost there in Queensland with 3 out of 8 presbyteries lodging objections.
There are fears that another one in Queensland and then in South Australia, which is said to be the most conservative within the church, might get to the 50% mark and force a pause on same-sex weddings.
There is one presbytery and one synod in South Australia, and the meeting to decide a position is being held in November.
People in same-sex relationships who have already been married in the church would not have their marriage invalidated if the decision is ultimately reversed.

Reverend Margaret Mayman, a minister at the Pitt St Uniting Church in Sydney, which has been holding same-sex weddings, told BuzzFeed News she had already officiated two weddings and found it deeply disappointing and frustrating that future weddings were now under threat.
"I have to have conversations with the couples involved and try to think ways through this. Plans about marriages don't happen overnight and I think we will just have to wait and see."

Mayman said that if necessary her church could revert back to what happened before the change, were she attended weddings for couples in the church but was not able to officiate as a marriage celebrant.
That would be heartbreaking, she said.
"For some of these people it was really important that they be able to be married by the minister in their church," she said. Those who were fighting against the decision that had been made by the "overwhelming majority of the assembly" in July didn't understand the impact it would have on same-sex couples planning to wed, she said.
"It's an issue for them that is outside their world because their world view makes it impossible for them to understand what it means."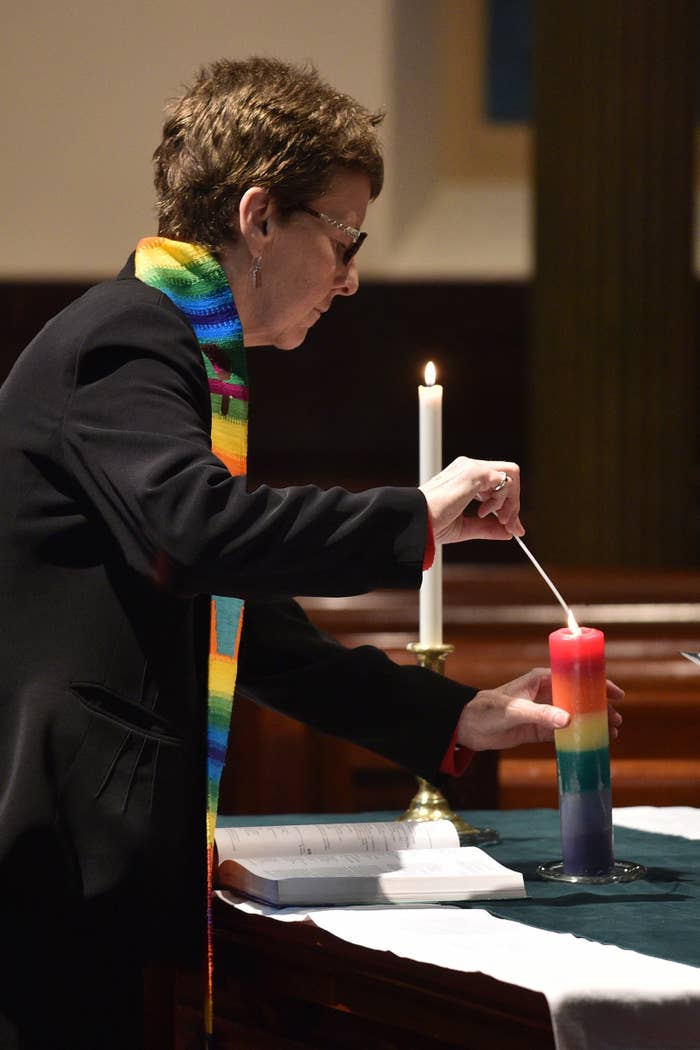 If the threshold is reached there will need to be another assembly held where the matter would be voted on again.

If the threshold is not reached by early January, and no new assembly is called, then the decision stands.

Uniting Church in Australia president Dr Deidre Palmer said she understood it might cause distress to people who welcomed this decision.
"So I would like to emphasise our commitment and the work of many people to be an inclusive church that embraces LGBTIQ people as full members of our church community," she said in a statement.
"I'd like to assure church members that we are absolutely committed that further consultation and reconsideration, if required, will be conducted according to the processes of our church, in the same prayerful and loving community."

Mayman remains hopeful that there is enough of a broad diversity of people in the church willing to make space for same-sex marriage to keep the decision.
CORRECTION
Three out of eight presbyteries have lodged complaints about the decision. An earlier version of this post misstated the number.