This is Kevin Andrews, the Liberal MP for the seat of Menzies since 1991, former cabinet minister and current resident of the back bench in the House of Representatives.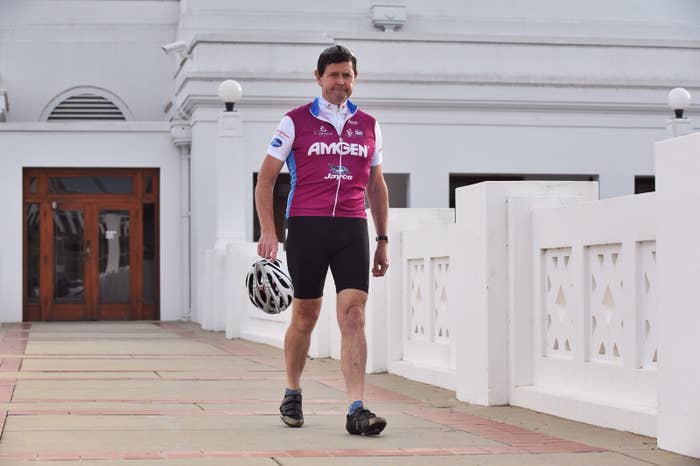 He is a long-time opponent of same-sex marriage. He was named "Natural Family Man of the Year" by the anti-marriage equality group the World Congress of Families in 2014.
He is also a keen cyclist, raising funds for charities each year as part of the annual Pollie Pedal.
This morning on Sky News, the former minister compared people in same-sex romantic relationships to the relationships he has with his cycling buddies.
"Yes, there are all kinds of affectionate relationships ... I have an affectionate relationship with my cycling mates who we go (sic) cycling on the weekends, but that's not marriage. Why doesn't the law have a place in those sort of relationships?
"It doesn't because the law has a place traditionally, historically, across cultures and civilisations because it is there about the protection of the vulnerable and it shouldn't go beyond that."
Andrews insisted he wasn't comparing his cycling bromance to the loving same-sex relationships of some of his own Liberal party colleagues, including Liberal MP for Goldstein Tim Wilson, but still persisted.
"I have commitments to friends, and affectionate relationships with friends as well."
"Tim Wilson's partner isn't his friend," Sky News political reporter Samantha Maiden said in response.
"I hope he is his friend, as well as his partner, if you understand what I'm saying," Andrews said.
Tim Wilson declined to comment when BuzzFeed News asked for a response.
Andrews also argued that passing same-sex marriage legislation could lead to polygamous marriage and more Safe Schools teaching on gender fluidity.
Day five in the marriage postal survey debate.