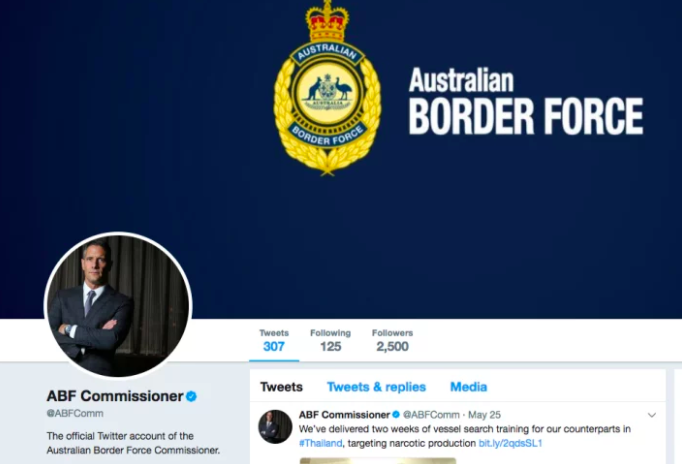 The Department of Home Affairs has no idea who liked a porn tweet using the official account of the Australian Border Force Commissioner, but it definitely wasn't the commissioner himself, officials have said.
In September, the Daily Mail reported that in July the @ABFComm Twitter account for the Australian Border Force Commissioner, Roman Quaedvlieg, had liked a tweet containing a pornographic clip from a porn account under the name of Lady Mystique.

Neither Quaedvlieg or the six staff who have access to the account admitted to liking – accidentally or otherwise – the porn tweet, and the department referred the tweet to the Australian Commission for Law Enforcement Integrity (ACLEI) for investigation.
However, ACLEI could not find out who actually liked the tweet, according to department deputy secretary Rachel Noble told Senate Estimates on Monday.
"ACLEI have advised that they found no evidence that Mr Quaedvlieg had used the ABF Commissioner's official Twitter account to like a tweet containing a pornographic clip from an account under the name of Lady Mystique," Noble said.
"ACLEI also found no evidence of who had liked the tweet or whether it was accidental or intentional."
Labor senator Louise Pratt said that was not the same as ruling out that the account had been hacked.
"It's not possible to rule out the possibility that the account was hacked," Noble responded. "I think what ACLEI have told us is that they have no evidence one way or another."
It's a mystery!
Quaedvlieg is on paid leave pending the outcome of a separate ACLEI investigation over the appointment of his girlfriend in the department. He has picked up $500,000 from the taxpayer while on leave.

At last reporting the Australian Federal Police was still investigating embarrassing Twitter likes by both health minister Greg Hunt and Australian US ambassador Joe Hockey.

Looks like there are no comments yet.
Be the first to comment!