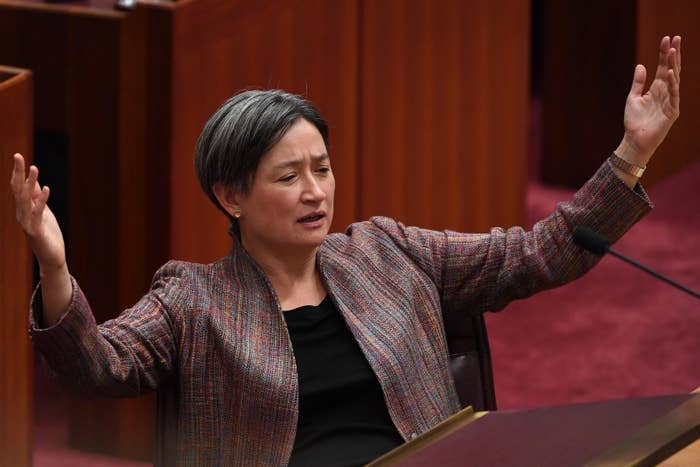 The Victorian Department of Premier and Cabinet has launched an investigation into who in the department is editing the Wikipedia page of Labor's leader in the Senate, Penny Wong.

Wong has two daughters with her partner Sophie Allouache. Under South Australian law, two women have been able to register as the coparents of children since June 2011.
The change made to Penny Wong's Wikipedia page several times over the past three months removes mention of Wong's partner giving birth to "their children", meaning Wong's and Allouache's children, and replaces it with "her children" for just Allouache. Some of the edits also mention that Wong "has no children".
The changes were captured by a Twitter account devoted to tracking anonymous Wikipedia edits from Australian government IP addresses.
The changes were either quickly caught and changed back by registered Wikipedia editors or IP addresses within Australian Parliament House.

The edits to remove Wong's parenthood from her Wikipedia page claim that they are "correcting inaccuracies", despite Wong being legally recognised as the parent of her two children.
The Victorian Department of Premier and Cabinet told BuzzFeed News it was aware of the edits and, while not against the department's acceptable use policy for internet use by staff, it might be in breach of the public service code of conduct.
"These edits are not endorsed by the Department of Premier and Cabinet," a spokesperson said. "The department has an internet use policy for staff that allows for reasonable personal use (not illegal, interfere with work productivity, excessive downloads etc).
"While the examples provided do not breach the reasonable use policy, they may be in breach of the Victorian Public Sector Code of Conduct."
The spokesperson said an investigation had been launched into who was editing the page.
BuzzFeed News has sought comment from Wong. In the debate against the legislation for the same-sex marriage plebiscite (before the eventual postal survey) Wong spoke against Australia Christian Lobby managing director – and now Australian Conservatives spokesperson – Lyle Shelton, referring to the children of same-sex couples as "the stolen generation".
"We love our children, and I object – as does every person who cares about children and as do all those same-sex couples in this country who have kids – to being told that our children are a 'stolen generation'."