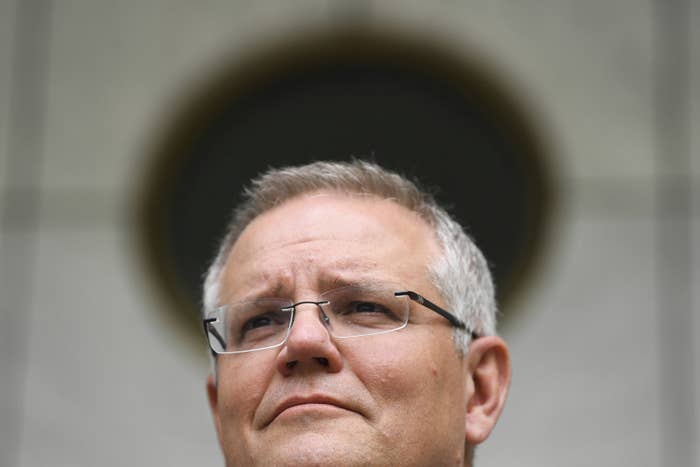 People couldn't be turned away from an event on the basis of their religion, but religious schools could turn away hosting same-sex wedding events, under new laws announced by prime minister Scott Morrison.
The proposed laws were developed in response to the former Liberal minister Philip Ruddock-led review into religious freedom, which was handed to the government in May and released on Thursday.
The report was commissioned last year when the Australian parliament legislated to allow same-sex couples to marry.
In the government's response to the 20 recommendations, the government will introduce an "omnibus" bill to amend several pieces of legislation, including the Marriage Act.
Under the changes religious organisations that register as charities would not be disqualified from charity status if they oppose same-sex marriage, and religious schools would not be required to host same-sex weddings.
Outdated blasphemy laws would be updated, including in the Maritime Act, which bans ships from having blasphemous names.
The new laws would see a dedicated religious commissioner at the Australian Human Rights Commission, and the government would develop a Religious Discrimination Bill that would make it against the law to discriminate against people based on their religion. Attorney-general Christian Porter told journalists on Thursday that someone's faith should be treated like any other protected attribute.
"In Australia at the moment if you're invited to a function at parliament and at entry to the room of that function you were denied entry because of the fact that you had a disability, or because of your race, or because of your age, or because of your sex — that would be unlawful. But if you were turned away from that same room because of your religion, that would not be unlawful in Australia."
Morrison said migrants who came to Australia to escape religious persecution felt under threat in Australia.
"For those who think that Australians of religious faith don't feel that the walls have been closing in on them for a while, they're clearly not talking to many people in religious communities or multicultural communities in Australia," he said.
"I remember a conversation I had with one such community in Western Sydney and they said they left where they came from to come to Australia because of religious persecution in the countries they were living in. Only now, they feel, to be potentially facing the same sort of limitations to how they practice their religion in this country.
"And that made me incredibly sad."
Labor's shadow minister for climate and energy told the ABC on Thursday before the release of the report that Labor had no opposition in principle to a separate religious discrimination act.

Greens senators Janet Rice and Nick McKim said that the law should not override state-based anti-discrimination law, or expand discrimination allowed against LGBT students.
"Discriminating against someone because they are LGBTQ+ is not religious freedom, it's discrimination. Plain and simple," Rice said in a statement.
But LGBT school kids and teachers will have to wait
Before parliament finished for the year, Labor attempted to legislate to protect LGBT students from being kicked out of religious schools. The government thwarted the attempt to legislate in the Senate, and Morrison produced his own legislation that he said would not only protect students but allow religious schools to "teach their faith".
He said he would introduce the legislation on the condition Labor would have a conscience vote on it. Labor refused.
Morrison said on Thursday he is still willing to pass that legislation when parliament resumes in February, but said that in the meantime, he will kick the proposed changes to protect staff and students to the Australian Law Reform Commission to report back in the second half of 2019, after the next federal election.
Opponents of removing exemptions that allow discrimination against LGBTI staff and students have claimed that schools do not use these exemptions and do not force out staff and students, but the Ruddock review panel heard from both staff and students who had left schools.
"The panel heard reports of religious schools terminating the employment of staff on the basis of their sexuality, despite the staff not openly discussing those issues in the school," the report stated.

"LGBTI communities spoke of the stress and mental health pressures placed on teachers and other staff who felt compelled to hide important aspects of their identity from colleagues and students, and who felt they were prevented from full participation in the school community."
The report said staff "edited" how they presented themselves at work, while in some religious schools, the panel found that the school was fully supportive of LGBT staff.
Although the panel reported most schools said they did not kick out LGBT students, some students reported otherwise.
"The panel also heard that some instances of discrimination did occur against students in schools and that students were forced to leave as the school was not supportive of them coming out," the report stated.
Others said their school's stance on sexuality had a negative affect on people coming out.
"The panel heard accounts of LGBTI youth who felt bullied and unsupported at religious schools, particularly where schools adopted a stance that was less accepting of homosexual relationships generally."