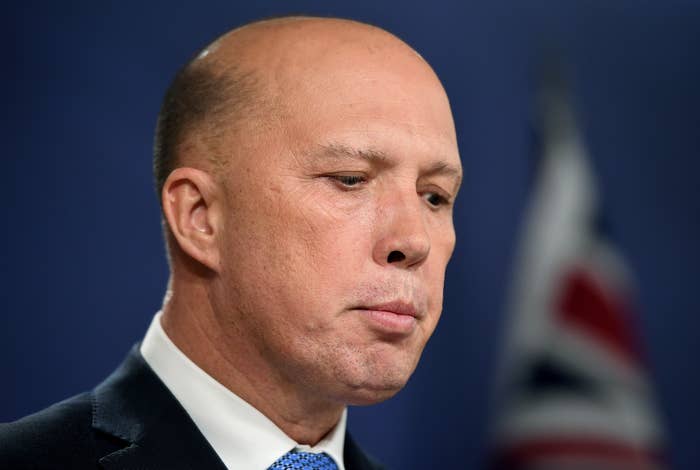 Home affairs minister Peter Dutton is looking increasingly like he won't get new laws passed at the end of next week to allow law enforcement access to encrypted communications, after Labor signalled it couldn't support the rushed legislation.
The legislation would require tech companies to help law enforcement access the encrypted communications people are making on their platforms or devices, if those people are being investigated for serious crimes, including but not limited to terrorism offences.
The bill was brought to parliament in September, and is currently being reviewed by the Joint Standing Committee on Intelligence and Security. The committee held three hearings this week, but was urged by Dutton to rush to report.
In the letter to committee chair, Andrew Hastie, Dutton urged Hastie to be hasty.
"The situation has become more urgent in light of the recent fatal terrorist attack in Melbourne, and the subsequent disruption of alleged planning for a mass casualty terrorist attack by three individuals," he wrote.
"I have been advised the individuals in both of these circumstances made extensive use of encrypted communications."
Dutton said he was worried agencies could not rule out the possibility of an attack over Christmas if the legislation had not passed before then.
Labor's shadow attorney-general Mark Dreyfus said in a letter to attorney-general Christian Porter, seen by BuzzFeed News, that Labor would pass an interim bill while the larger bill was assessed by the parliament, but this was rejected by the government.
"Your government's refusal to even work with this offer – despite written assurances of support – is extremely disappointing," Dreyfus said. "To be clear, this would have clearly met the stated needs of the security agencies, while allowing the committee to identify deficiencies in this rushed legislation, which could only result in recommendations to strengthen it, not weaken it."
Dreyfus said that the committee had heard the legislation would greatly expand the powers given to law enforcement already, and potentially weaken Australia's national security by creating weaknesses in encrypted communications systems.
"The potential implications this has for weakening online security for all Australians, conducting legitimate, everyday business are profound, and surely warrant further consideration," he said.
Dreyfus said the bill had significant flaws that need to be resolved, and the party would not be forced into passing a bill that is "unworkable and potentially weakens Australia's security".
Dutton and Porter said Dreyfus was "pandering to the left wing" of the Labor party in refusing to pass the bill, and said Labor-proposed amendments to exclude some crimes and apps from the legislation would "render the bill ineffective".
The government still plans to attempt to pass the legislation next week.
The committee heard from law enforcement agencies on Monday, and was told that apart from the usual increased threat at Christmas, the situation had not changed.
"There is a general heightening of security over Christmas, but there is nothing specific to indicate there is an attack coming that would therefore warrant an increase in the threat level," ASIO director general Duncan Lewis said.
"I'm of the view that it would be helpful, it would be beneficial and it would be of assistance to my organisation if this legislation were passed as quickly as it can be. Whether that is before Christmas or after Christmas or whenever is really a matter, I think, for the parliament and for the government to engage with the parliament to decide. I really don't have a position on that."
Tech companies and civil rights groups have warned that the legislation would ultimately weaken security for everyone using encryption, and have urged the parliament not to rush to pass the legislation before Christmas.
"The bill ... will not make Australia safer; on the contrary it may make Australia less safe and could create a range of deeply negative consequences in and for Australia by making the online experience of Australians less safe," Digital Industry Group Inc.(DIGI) said in a submission this week. DIGI represents tech companies including Google, Facebook and Amazon.