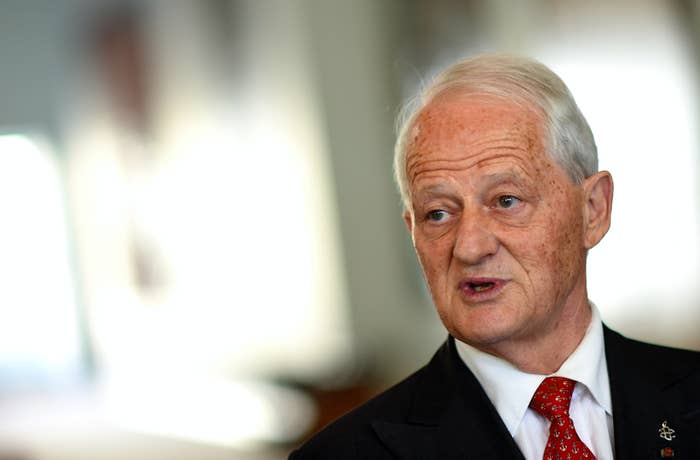 Religious groups haven't raised concerns about being prevented from offering "pray away the gay" services as part of the Philip Ruddock-led review of religious freedom, despite some Liberal Party members in Victoria being keen to halt a crackdown on the practice.
Ruddock, the former Liberal government minister, and chair of the government's religious freedom inquiry, told BuzzFeed News in a statement on Wednesday that the only groups that had raised issues about gay conversion therapy in the religious freedom consultations were LGBT advocates.
"During its consultation meetings, the panel heard from a number of LGBT advocates about the incidence and impact of gay conversion therapy," he said. "The issue was not raised by other stakeholders with whom the panel consulted."
Despite this, a Liberal branch in linked to federal MP Kevin Andrews is attempting to have the state party debate at its conference this month overturning restrictions on gay conversion therapy to allow the practice in Victoria again.
The motion called for the opposition party to support "amending the Health Complaints Act to ensure that health practitioners can offer counselling out of same sex attraction or gender transitioning to patients who request it".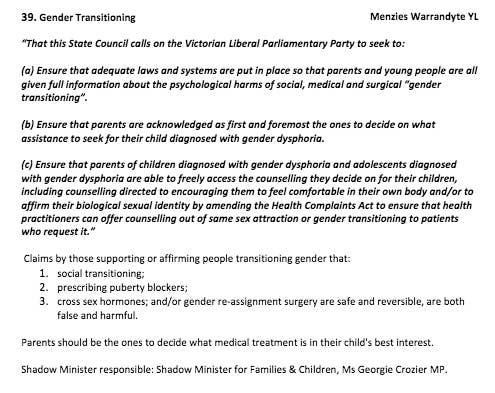 After reports about the motion were published last week, state party president Michael Kroger had the motion pulled from debate.

The practice is not as common as it was in the past, but still exists in some parts of Australia. Many of those that previously practiced conversion therapy now encourage same-sex attracted people to live celibate lives instead.

When asked on ABC's Radio National to condemn his own party's motion, health minister Greg Hunt said he didn't support the motion, and that it wouldn't become federal policy, but argued for the right to debate the issue.
Labor's 2015 national platform supports a policy to ban the practice, and in a submission to a Senate inquiry last year, the Australian Christian Lobby (ACL) said that the platform making it "unlawful for certain discouragements of homosexual behaviour by parents in their children" was a "cause for concern".
When asked about this by BuzzFeed News last year, then managing director of the ACL Lyle Shelton said parents should have the right to send their children to conversion therapy.
The hearings held as part of the Ruddock review were not made public, and no recordings of the meetings were released. Some of the over 16,000 submissions to the review have been published, with the rest to be published when the panel reports back to the government at the end of May.