"For the national result: Yes responses, seven million, eight hundred and 17 thousand and 247, representing 61.6%. That's 61.6% of clear responses were Yes," ABS chief statistician David Kalisch said one year ago today.

Kalisch had only been speaking for about four minutes when he arrived at this announcement, but it seemed to have taken forever.

As Kalisch outlined the way in which Australians had voted in support of same-sex marriage, cheers erupted at events across the country. In Sydney's Prince Alfred Park, people cried tears of relief, and John Paul Young sang Love Is in the Air. In Melbourne, at the State Library, there was a sea of colour falling over the crowd as people hugged and celebrated.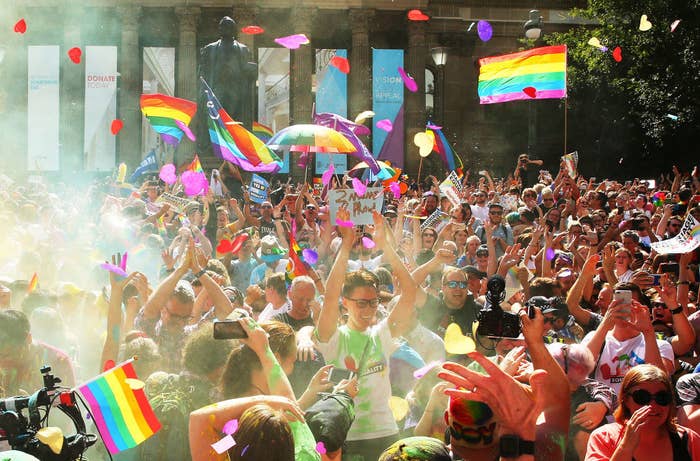 Parties went well into the night, and Sydney's gay strip Oxford St was as busy as it is during Mardi Gras.

One year on, and many Australians are still coming to terms with being put through three months of debate about same-sex relationships.

"I don't ever feel like some politicians and political commentators really understood the day-to-day toll of feeling like wherever you walked for those three months, every grownup you saw had either voted for or against your right to be with the person you love," Rainbow Families Victoria's Felicity Marlowe told BuzzFeed News.

For six months after the campaign, Marlowe says she was reminded of the experience when she went past houses she had door-knocked, or heard particular songs.

"But I think [in] the second half of this year I've just knuckled down a bit and gone 'Well look, I just have to get over that feeling of it all'," she said.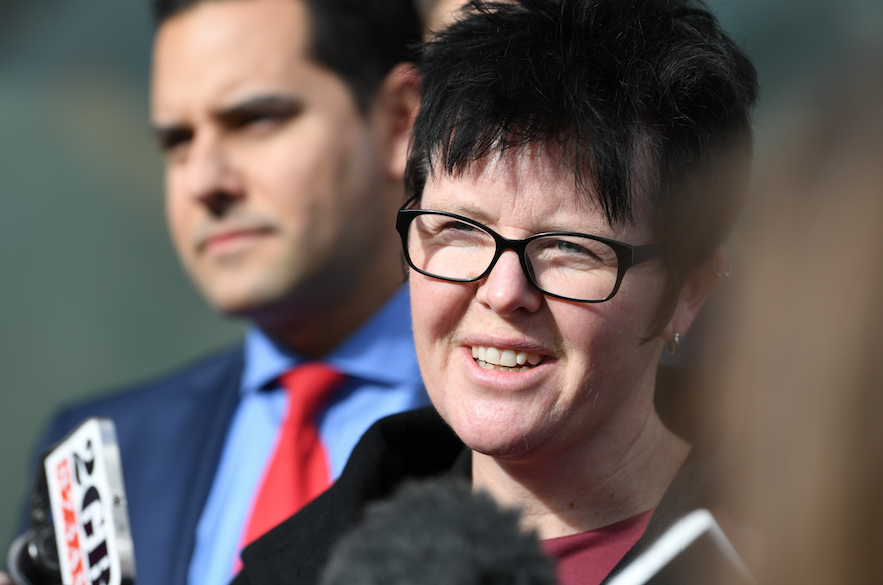 Australian Marriage Equality co-founder and just.equal campaigner Rodney Croome looks back at the postal survey as "a completely unnecessary and destructive exercise".

"It felt almost like the far right wing in Australia was saying 'We can't stop you eventually getting married. We know it is going to happen, but we are going to make you pay. We are going to punish you for the victory you will eventually win'."

Kalisch's announcement in the ABS' Belconnen office in the ACT marked not only the end of three months of the postal survey on same-sex marriage, but the end of over a decade of pushing for marriage equality, which began when the Howard government teamed up with Labor to ban SSM in 2004.

Within a matter of weeks same-sex marriage became legal in Australia, and now over 5,000 same-sex couples have tied the knot in the country.

Last week on ABC's Q&A, former prime minister Malcolm Turnbull listed marriage equality as one of his greatest achievements, but LGBTI people argue that forcing them into a national public debate on the worth of their relationship meant Turnbull has lost any claim to credit.

The postal survey was cooked up by then immigration minister Peter Dutton as a way for the Coalition to have a public vote on same-sex marriage, as former PM Tony Abbott had promised in 2015, without the need to pass legislation for it through the Senate.

Abbott had only come up with the plebiscite idea once it became clear there were enough votes in the parliament to make marriage equality law. Turnbull was opposed to the plebiscite until he became PM, and needed it as part of the agreement with the right of his party and the Nationals to stay in power.

LGBTI groups unanimously lined up against the plebiscite. Labor, the Greens, and enough of the Senate crossbench locked in to ensure it could never go ahead.

Some of those in favour of marriage equality within the Coalition believed some form of plebiscite was the only way to resolve the issue, but LGBTI groups were clear: They'd rather wait until after the next election, and the possibility of a Labor government that would legislate it within 100 days, than go through a public debate.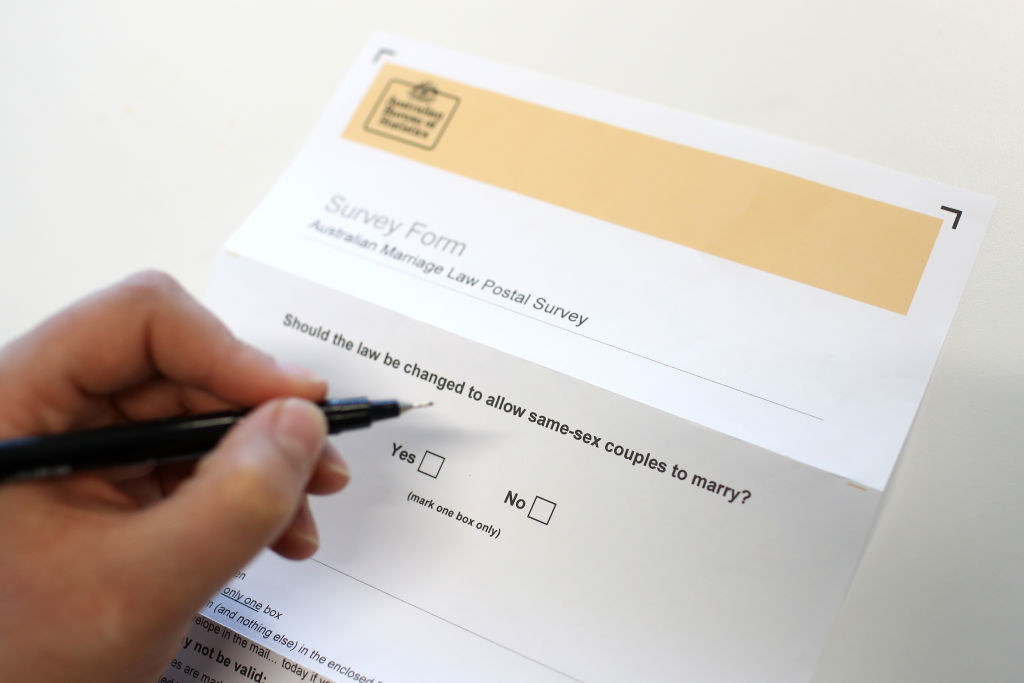 At a Coalition partyroom meeting in August 2017, the postal survey became policy. The High Court upheld the government's right to undertake the survey, and shortly after, survey letters began being sent out to every registered Australia voter asking, "Should the law be changed to allow same-sex couples to marry?"

"There's 10 years of advocacy in a fucking envelope," Australian Marriage Equality co-convenor Alex Greenwich said to himself when his yellow postal survey envelope arrived in the mail in mid-September 2017.
In September this year Greenwich reposted an image of him mailing back the envelope. His campaign had focused on the positive, yet he shared a common sense of dread, as he awaited his fellow citizens' judgement on the value of the relationships of LGBTI Australians.

"I knew how hard people were working to make sure we won, but I also knew how unnecessary the whole bloody process was in first place," Greenwich told BuzzFeed News.

The "no" campaign's arguments rarely focused on the issue of two people getting married, and were more about what was perceived to be the consequences of changing the law. The Coalition for Marriage often adopted US campaigning tactics of focusing on transgender issues, for example.

Jo Hirst's 2015 children's book on trans kids, The Gender Fairy, was featured in one of the "no" campaign's ads as a warning of one of the "consequences" of same-sex marriage.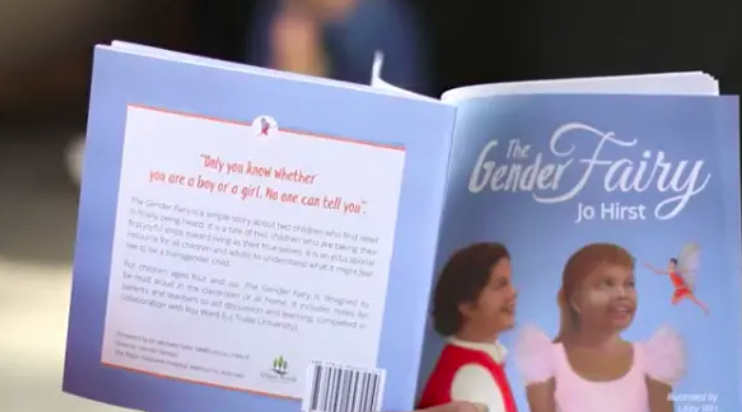 Throughout the campaign, the "no" side referred to The Gender Fairy in an effort to stoke fear. Hirst received a robocall during the postal survey from Cory Bernardi warning about the book.

Hirst told BuzzFeed News that trans children were targeted by the campaign because people are less aware of trans issues.

"What the [postal survey] did was allow the voices of hate to collect a lot of money and develop really strong platforms to spread a lot of misinformation and hate about very young transgender children, because the reality is that they're the ones not a lot is known about," she said. "So that's their target."

She said the three-month campaign was responsible for introducing her transgender son to transphobia.

"If you can try and imagine what it's like to be a 6-year-old child and have that happen, that someone puts an ad on television saying you're a bad person [and then for] people to talk about you at school, is something negative and horrible," she said.
The high turnout rate for a non-compulsory survey was a good sign for marriage equality advocates, as was consistent polling showing Australians were in favour of same-sex marriage. In the face of this, the "no" side campaigned on the idea of an upset victory, Australia's very own Brexit or Trump.

History shows the "yes" side's fears were unfounded.

Marlowe says she was "terrified" about the result, but that "once it was yes, it was pure relief". In the past year she has been able to approach councils in electorates that returned a high "yes" result to campaign for better support for LGBT families in those areas.

Croome said he was relieved not because the result was unexpected, but because "we were scared that a platform was given to the other side to roll back our existing achievement of bringing Australia as far as it [has come]".

"It was a process that seemed like it was designed to cause maximum stress and anxiety for LGBTI Australians at every step," he said.
A year since the survey and almost two years since he publicly split with Australian Marriage Equality, Croome believes the "yes" side ran a small target campaign and by doing so threw some of those targeted by the "no" side thrown under the bus.

It's why, he said, there was so much controversy today over issues such as LGBTI staff and students, which were pushed into a Philip Ruddock–led review on religious freedom during the parliamentary debate on same-sex marriage legislation.
"If the Equality Campaign with all its resources had been engaged constructively, with the fear mongering campaigns on schools, on transgender rights and on religious freedom, we would be further down the track on those issues now," he said.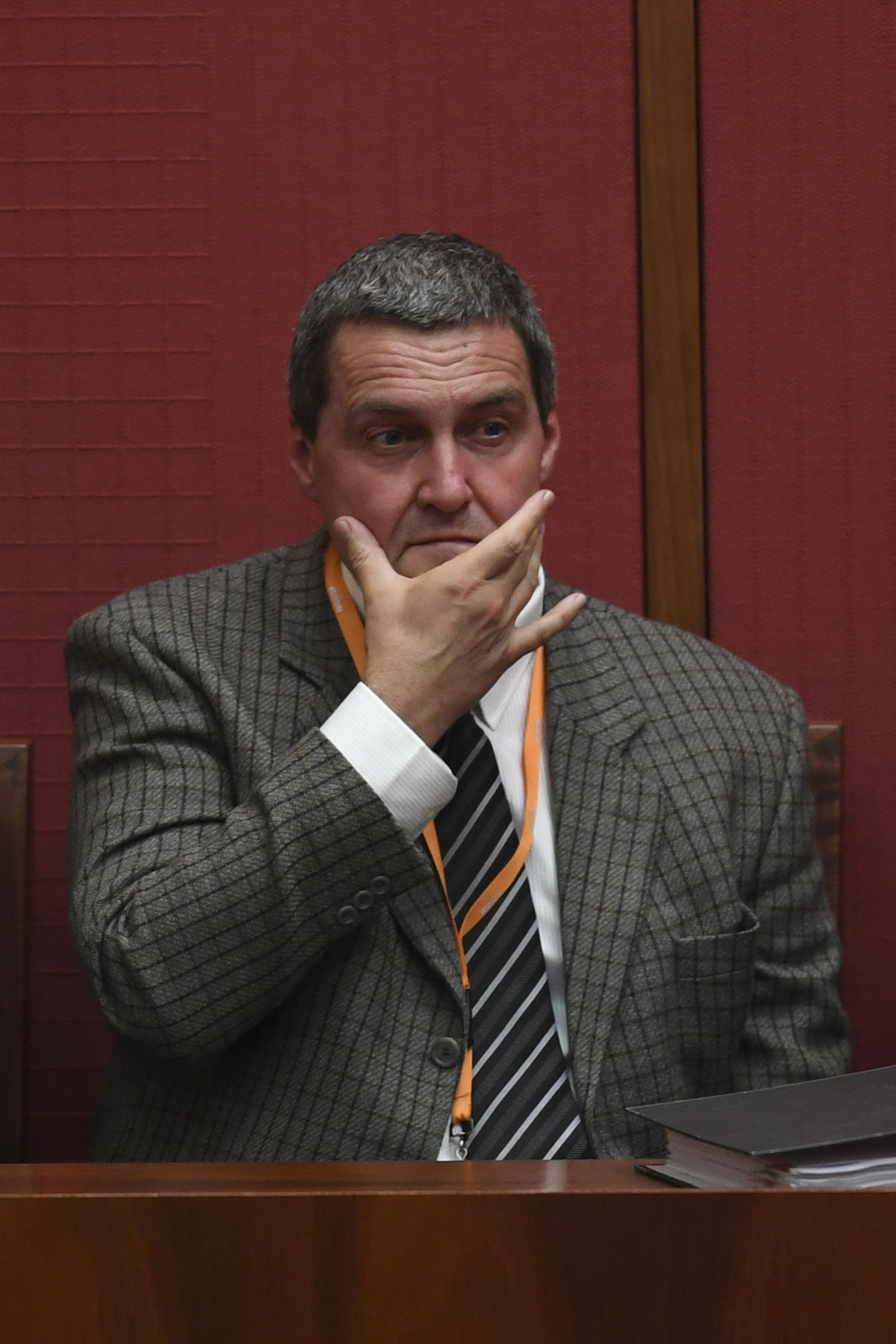 "Strategically it was a mistake, and morally it was a mistake in the sense that people that were directly affected by that fear mongering - transgender, gender-diverse people, LGBTI students, LGBTI people of faith, many of them felt like they were thrown under the marriage equality bus."

"At that moment they were directly and personally attacked, they weren't defended."
Hirst feels personal responsibility, and said nothing was done to counteract some of the arguments the "no" campaign had advanced about her book and trans children.
"I kind of have regrets I didn't do more… I didn't want to make too much of a fuss because I realised what [the 'no' campaign] was trying to do was to change the focus away from marriage equality onto our kids and try and confuse people, and I didn't want to derail marriage equality," she said. "I think it was the wrong thing to do because whether we got marriage equality or not, was it really worth what our kids are still suffering [through] today?"
Greenwich said that the "yes" campaign did in fact engage in many of the arguments thrown up by the "no" side, including in a high profile TV ad from now recently-elected MP for Wentworth Kerryn Phelps at the start of the campaign.
"If you have a look at things we did and said during the campaign, we were consistently and strongly arguing against all discrimination against the LGBTI community. We were in the halls of parliament and town hall forums across the country refuting these things," he said. "Yes, in mainstream media they kept the focus on marriage, but in other forums we were out there arguing against removing all this discrimination."
Greenwich said to suggest otherwise was "a complete rewriting of history" and the focus should not be on the "friendly fire" between the pro-marriage equality camps, but everyone who helped achieve marriage equality.
"This wasn't a small target campaign. It was a campaign that empowered Australians across the country to make a difference in their communities that delivered 135 electorates voting yes," he said.
"We had over 15,000 volunteers, we had 1 million phone calls made. To them, this wasn't a small target campaign. This was coming together and making history."