Netflix Isn't Keen On Small Films Anymore, John Cameron Mitchell Says
John Cameron Mitchell said the streaming service turned down buying Shortbus because Netflix is more focused on original content.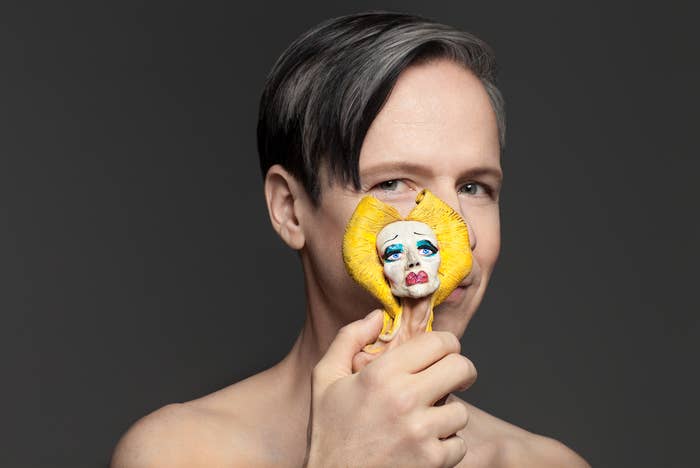 The demise of the video store, and streaming services turning towards creating their own content, has meant some films are being forgotten, Hedwig and the Angry Inch creator John Cameron Mitchell has told BuzzFeed News.

Shortbus, Mitchell's second film as a writer/director, was released in 2006 and grossed a modest $5.4 million, from a $2 million budget. The comedy-drama about a wide variety of relationships in New York City got mixed reviews, in part due to the sexually explicit scenes in the film.
The company that owned the rights to the film went into bankruptcy, and Mitchell only recently regained the rights to his film. He told BuzzFeed News in an interview that he recently tried to get Netflix to put the film on its platform, but said the company wasn't interested.
"We offered it to Netflix for streaming and they're like, 'Oh we're not really buying small films anymore, and we have the ones we already have'," he said. "So Netflix doesn't want Shortbus because it's not in their game plan.... The death of the video store is kind of burying a lot of old films, the ones that you want to discover, and it's weird."
Mitchell said he believed it was just a temporary thing and streaming companies would come back, but for now, due to the popularity of streaming services, the companies were increasingly only looking for new content that appeals to mass markets.
"They're going for pop stuff, they're going for big numbers which is what happens when people get popular."
BuzzFeed News sought comment from Netflix.

At the same time, Mitchell said, the internet has spawned new ways for people to create art. In addition to a film, How To Talk To Girls At Parties, due out later this year, Mitchell is also creating a musical podcast called Anthem.
The internet has allowed many people to discover his work, in particular the 2001 queer drag cult rock musical classic Hedwig and the Angry Inch in places where people may not have otherwise discovered it, including in the Philippines, Somalia, and Korea.
"Clearly someone as unusual as Hedwig has managed to be empathised with by a lot of different kinds of people ... you know they find it [and] that's the one good thing about the internet," he said. "You can find things if you seek them out in countries where my films have been banned."
Mitchell is bringing Hedwig, well at least Hedwig's songs, to Australia for the first time in June and July for shows in Sydney, Brisbane, Melbourne, and Adelaide.
The show was on Broadway a few years ago in New York City with a variety of people in the role including Neil Patrick Harris, Michael C. Hall, Taye Diggs, and Mitchell himself.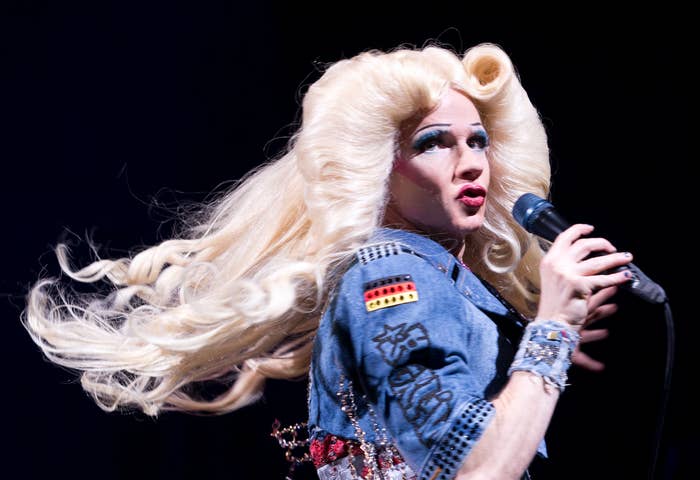 Mitchell said he isn't performing as Hedwig in Australia, but the wig will make an appearance.

"It's kind of more me reminiscing, telling stories, doing the songs and doing new songs too," he said. "And it was very hard to physically get back, but then once I was doing it I loved it, and being older brought a lot more colours to it, and it kind of got darker and weirder. The character can age with me."
In the story, Hedwig is forced to undergo surgery to become female in order to escape from East Berlin during the Cold War.
"Hedwig was forced into kind of an accidental trans state by political and by patriarchal pressures," Mitchell said.
Mitchell doesn't see Hedwig as a trans character, and in a time when there is more of a push for LGBTI actors to play LGBTI characters, Mitchell said Hedwig was always designed to be played by anybody.
"I've seen trans people do it, I've seen female people do it, and once it's known as a quantity, I think it's kind of cool that the males started it out, but then the metaphor gets extended and maybe becomes a mask, and a mask where the feelings and the ideas are more important than the attributes of the person playing it physically or age-wise."
"The metaphor gets extended and maybe becomes a mask, and a mask where the feelings and the ideas are more important than the attributes of the person playing it physically or age-wise."
The success of LGBTI films, the Oscar-winning Call Me By Your Name, and Fox's teen romcom Love, Simon has many suggesting queer cinema is now, at long last, becoming mainstream. But Mitchell said the two films are "weak tea" and an example of growing conformity.

"There's room for that, a lot of people want to be just like everyone else," he said. "And that's an understandable thing. It comes out of comfort and a bit of a fear.
"It's still only 0.1% of straight people, of queer people, of any people, who are going to be risk takers, iconoclasts and interesting."
Mitchell said he didn't mind things being safe or conforming, but he loved people who took risks in what they do.
"That doesn't mean fuck you. That means emotional risks, that means risk in form, risks in idea and risk in casting," he said.
"Tell me a story you haven't heard before."
John Cameron Mitchell will perform at the Adelaide Cabaret Festival, the Sydney Opera House, Arts Centre Melbourne, and QPAC Brisbane, in June and July.