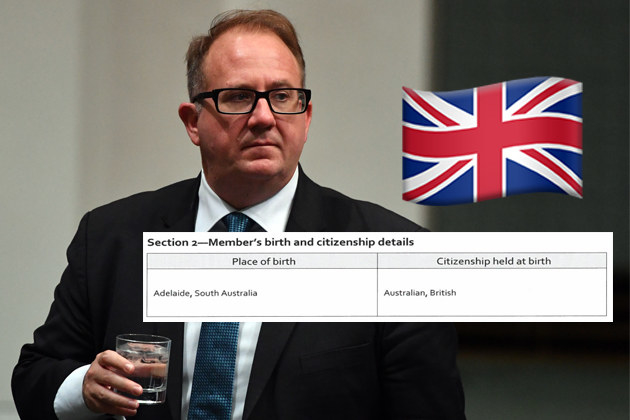 Labor MP for Batman David Feeney has been referred to the High Court by his own party.
There were dramatic scenes in the House of Representatives on Wednesday as nine MPs, Feeney included, faced being sent to the High Court over citizenship issues.
Labor and five cross bench MPs teamed up to attempt to pass a motion in the House of Representatives to refer four Labor, four Liberal, and one cross bench MP to the High Court.
With the vote tied at 73-73, speaker Tony Smith cast the deciding vote (in line with precedent) to shoot down the motion.
Those that were flagged in the Labor motion to be headed for the High Court were Labor MPs David Feeney, Josh Wilson, Justine Keay and Susan Lamb; Liberal MPs Nola Marino, Alex Hawke, Jason Falinski and Julia Banks; and NXT MP Rebekha Sharkie.
All had questions raised about their eligibility to sit in parliament due to concerns they might have been dual citizens at the time of nomination for the 2016 election, and therefore ineligible to sit in parliament under Section 44 of the Australian Constitution.
The government did not support referring its own members to the High Court, with the prime minister arguing that the paperwork published on the citizenship register showed that the government MPs did not have citizenship of the countries Labor had alleged.
Australian Greens MP Adam Bandt and independent MP Andrew Wilkie expressed frustration that the fight between the two major parties was taking up time when parliament could be passing marriage equality law.
Katter's Australia Party MP Bob Katter said that he had been talking to the public and they were sick of the fiasco.
"Every Australian wants this to stop," he said.

Sharkie, one of the MPs that was to be referred under the Labor motion, said she had asked for her name to be added to the list in order to show full transparency and to get the matter dealt with: "We will all hang individually if we don't hang together."
After the motion failed, the leader of the government in the lower house, Christopher Pyne, passed a motion to extend the sitting of the House of Representatives until debate on the marriage equality bill finishes, stating he expected the remaining speeches to conclude at 9.30pm AEDT tonight.
The debate on amendments would be on Thursday and would continue until the legislation was finally voted on sometime on Thursday evening.