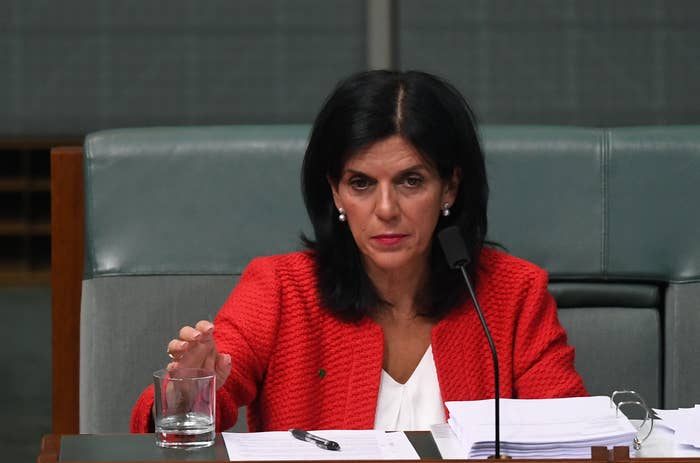 Prime minister Scott Morrison has lost yet another number in his minority government, with Liberal MP Julia Banks quitting and announcing she will sit on the crossbench.

Banks, the member for Chisholm, had previously told parliament that following the leadership spill in August, she would not run as a Liberal MP at the next election. Today she told parliament she intended to sit as an independent.
Banks said the "reactionary right" in the Liberal party led the "coup" against former PM Malcolm Turnbull for their own power and personal ambition and not for the Australian people.
At the urging of her constituents, Banks said she had decided to stay on in parliament as an independent MP, saying the Liberal Party had changed since she was elected.
"My sensible centrist values, belief in economic responsibility and focus on always putting the people first and acting in the nation's interest have not changed," she said. "The Liberal party has changed. Largely due to the actions of the reactionary and regressive right wing who talk to themselves rather than listening to the people.
"To continue to put the people before the party and act in the nation's interest authentically and constructively — effective immediately I will serve as a Member of the House of Representatives as an independent representative."

Banks said she would not vote for motions of no confidence, or against supply bills that would threaten the government's position.
The Coalition government now has only 74 members out of 150 in the House of Representatives, following Turnbull's seat of Wentworth going to independent MP Kerryn Phelps, who was sworn in yesterday.
Banks' blow to the government's majority in the lower house came as Morrison was announcing that the next budget will be on April 2, 2019, meaning a possible early-May election.
Morrison has until May 18, 2019, to hold the election to avoid the need to hold split elections for the House of Representatives and half of the Senate.

"Before we go to the next election, we will be handing down a budget and it will be a surplus budget," Morrison said.

A budget surplus would be the first in a decade. Treasurer Josh Frydenberg said the government would deliver its mid-year economic and fiscal outlook (MYEFO) on December 17.
The government's ability to command a majority in the lower house is likely to be tested by Labor and the crossbench this week. Yesterday the government allowed a motion calling for a federal integrity commission to pass through the lower house.

Labor has also indicated that home affairs minister Peter Dutton should be referred to the High Court over constitutional concerns regarding stakes in childcare centres that receive government funding. Dutton has injured his arm and is missing from parliament this week.