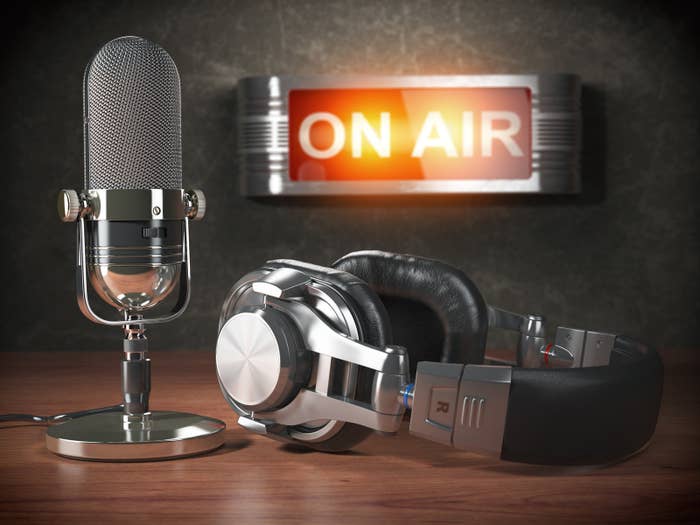 Australia's LGBTI community radio station, JOY 94.9 FM, is in turmoil as a growing number of members of the community broadcaster attempt to throw out the board over its response to complaints about the work environment, allegations of bullying and presenters being forced to leave.

The station has had a community radio broadcast licence since 2001, and operates out of the Melbourne CBD, with over 300 volunteers.
A letter sent to JOY members in March, signed by 28 members, called for the radio station's board of directors to be sacked and replaced with a temporary board.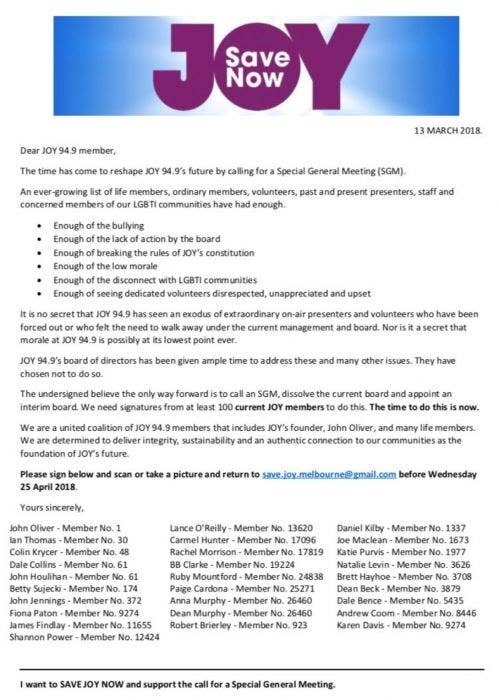 "It is no secret that JOY 94.9 has seen an exodus of extraordinary on-air presenters and volunteers who have been forced out or who felt the need to walk away under the current management and board," the letter read. "Nor is it a secret that morale at JOY 94.9 is possibly at its lowest point ever."
Those who signed the letter included JOY founder John Oliver, and the group is aiming to get 100 signatures to its petition in order to call a special general meeting (SGM) to sack the board.
When the letter went public last week, JOY management suggested to Fairfax Media that Joy's membership database was stolen by the group, and Victoria Police would be called in to investigate.
In response, the Save JOY group has denied it stole the membership database, and welcomed a Victoria Police investigation. The group also suggested it was seeking legal counsel to investigate a defamation case for the claim.
Many of those who claim to have been bullied, or have been forced out of the station, have been reluctant to go public, but BuzzFeed News understands several ex-presenters have been unhappy about the board's response to allegations of bullying and mismanagement.
In a letter issued on Monday from JOY founders John Oliver, and John Jennings, the pair say they have no confidence in JOY CEO Tennille Moisel, and said "JOY would not be facing the battle that is about to occur, if the board had listened".
Oliver and Jennings said contrary to the claims the membership database had been stolen, many of those involved in Save JOY have extensive lists of personal contacts they have drawn upon for this petition.
Although not one of those volunteers who made allegations of bullying at JOY, Amy and Beck, who spoke on the condition of their surnames being withheld, have been members of JOY for nine years. They told BuzzFeed News they would sign the petition on Monday after a prize they won following the same-sex marriage postal survey – the services of a marriage celebrant – was not supplied.
"When we contacted JOY...they heard us out, and heard the story, but didn't really say they could really do anything," Amy said.

She said that days after she had complained to the station, the celebrant's ads were still running on JOY.
The pair had begun planning their wedding around having the celebrant services for free and have now had to pay for it themselves.
"We don't expect JOY to find us a celebrant and offer to pay for it, but they did offer us this. It was a very emotional time for us. We'd won it and called all our familiies, they had booked flights ... and now we're still getting married, but it's very tight."
In an update sent to members last week, Save JOY said that a letter was sent to the board at the start of February about the concerns, followed up by a meeting with the board in late February. The group says that the board then sent a letter in response but the group was not satisfied.
"Our issues have either been dismissed, unsatisfactorily addressed or buried and denied," the group said.
JOY president Melinda Rich said on the radio station on Saturday that morale among volunteers was "quite good", according to the last survey JOY conducted in 2017.
Rich said she wished there were other things JOY could focus on, but said that if the group meets the requirements to call the SGM, then the board would bring it on.

BuzzFeed News understands that the group is closing in on the required number of signatures (5% of the membership) to call the SGM.
BuzzFeed News has sought comment from the board of JOY and Moisel, but did not hear back at the time of publishing.