Clive Palmer Is Texting People To Tell Them He'll Stop Political Parties Texting People
The businessman and political party leader has sent millions of unsolicited text messages to Australians in the past week.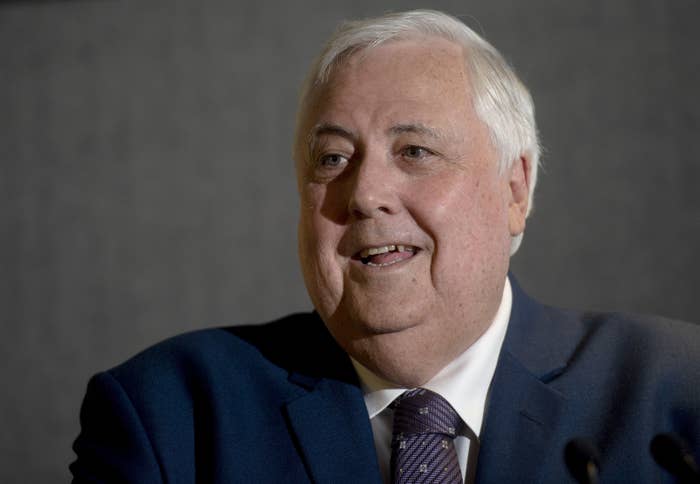 The leader of the United Australia Party, Clive Palmer, has sent unsolicited text messages to Australians to tell them he would, if elected, make sure political parties are no longer be able to do that.

Palmer, who has been flooding the airwaves on TV and radio with adverts, and putting up billboards around the country, is vying to return to parliament at the upcoming federal election. He previously served a single term between 2013 and 2016.
Last week, Palmer sent over five million unsolicited text messages to people across Australia stating he would "Make Australia Great" and claiming his party would bring fast trains to particular cities where the message was received.
At the time, Palmer pointed out that there was an exemption in the Privacy Act to allow political parties to spam Australians without them signing up for a service, and with no way to unsubscribe.
He claimed that the texts drove 265,000 people to his party's website, and just 3,000 people had complained about the texts.

Then, people began reporting on Wednesday and Thursday that Palmer had sent them yet another unsolicited text message.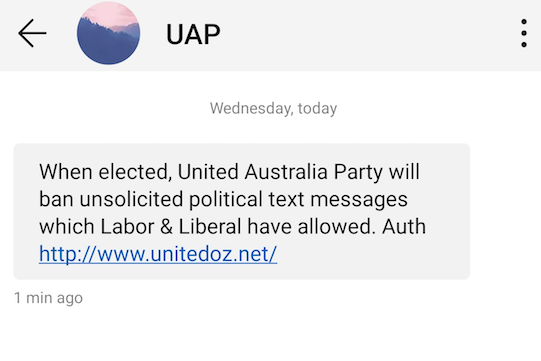 This time Palmer promised his party "when elected" would ban "unsolicited political text messages".
The text links back to a website with the authorisation of the party, in line with Australian Electoral Commission guidelines. The website's domain name information reveals it is registered in the name of United Australia Party's national director, James McDonald.
The last time Australians got this mad about an unsolicited text message was when Australian Marriage Equality sent one out during the postal survey on same-sex marriage. In that scenario, the campaign just used a number randomiser to send out text messages.
Palmer has not said how he obtained people's phone numbers, or whether he is using the same method.
The businessman this week also launched a game app, while reportedly claiming it was "fake news" that hundreds of workers from his collapsed company Queensland Nickel were owed unpaid wages. A new trial seeking to recover money owed to liquidators will be held later this year.