Peter Dutton Wants An Online Database Of Child Sex Offenders
People would be able to look up the names, photos, and crimes of convicted child sex offenders in their suburb under the proposal.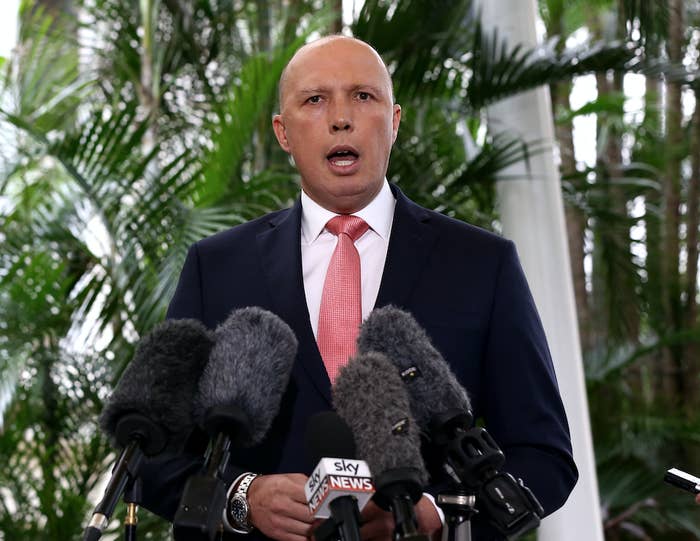 Home Affairs minister Peter Dutton wants people to be able to find out via an online database, the names, photos and crimes of convicted child sex offenders in their suburbs.
Dutton announced on Wednesday that the federal government had begun consultations with state and territory governments and law enforcement agencies for a national online database for convicted child sex offenders.
Dutton said it would be similar to the register introduced in the United States in the 1990s, but would not provide the addresses of offenders, just the postcode they live in.
"This is not a silver bullet, but it is the latest step in the government's fight to keep kids safe," he told journalists. "And we know that Bill Clinton in the 1990s introduced a register and we know that it operates in different ways in the United States, and there's split opinion in the community around whether or not a register will be effective, but if it saves one child, if it prevents one child from falling prey to a paedophile in our country, then it is something that is worth pursuing."
Some states and territories in Australia already release information about child sex offenders, Dutton said, but the register would cover the entire country.
Dutton said the proposal would be discussed with governments and stakeholders including the Law Council of Australia, and Bravehearts. Both organisations on Wednesday raised concern about the proposal.
The Law Council of Australia president Arthur Moses said in a statement that the only people on the register should be the ones who pose a "demonstrated risk to children".
"Inclusion brings onerous reporting obligations like ongoing police monitoring of, and involvement in a person's activities, the risk of adverse community attention, and vigilantism. Therefore, only offenders posing a demonstrated risk should be required to register," he said.

"Sentencing courts should be granted a discretion to take into account the individual circumstances of the offence and offender in determining whether an eligible person should be required to register and report."
Moses also warned that the laws should not create "negative unintended consequences".
Hetty Johnston, chair and founder of child protection foundation Bravehearts said that the announcement was a "political ploy".
"The bottom line is that all dangerous and repeat sex offenders should not be on a register, they should be in jail. No offender should be released until the risk they pose is of a level that can be managed in the community. A register will not keep children safe," she said in a statement.
"Government assertions that this policy is based on their desire for the best protection possible for our children' is just wrong. This is about votes."

Johnston pointed out that 85% to 95% of all child sex offenders commit crimes against children or family who are known to them, and would likely not be on the register in order to protect the identity of the victim.
The announcement does have the support of the family of Daniel Morcombe, who was abducted and murdered by convicted child sex offender Brett Cowan in 2003.
"This is a great leap forward, albeit only an announcement at this stage, but a very positive one," Daniel's father Bruce told 2GB radio.