A Nigerian Man Ran A $3 Million Email Scam Out Of Villawood Detention Centre, Police Allege
Police seized 16 mobile phones, multiple SIM cards, and digital storage devices from the immigration detention centre on Thursday.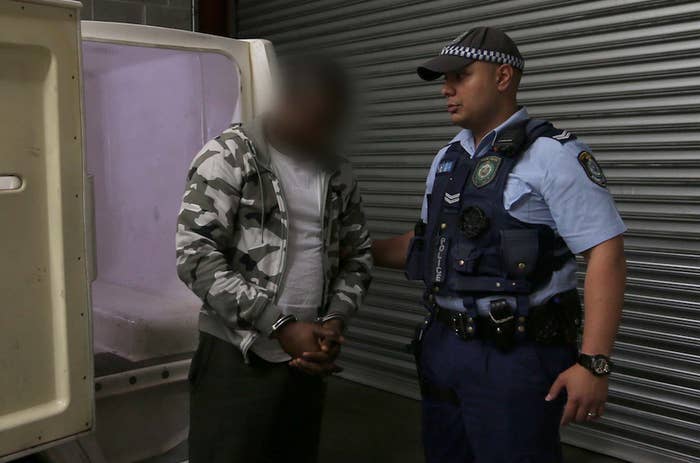 New South Wales police arrested a 43-year-old Nigerian man in the Villawood Immigration Detention Centre over an alleged $3 million email scam.

The man was one of five arrested in the past two weeks in association with the alleged scams.
New South Wales police investigators, part of Strike Force Woolana, executed search warrants with Australian Border Force (ABF) at the detention centre on Thursday morning, and seized 16 mobile phones, a number of SIM cards, ID information, and digital storage devices.
The man was taken from the centre and charged at Bankstown Police Station ahead of a court appearance on Friday.
Police charged him with directing a criminal group, two counts of dealing with the proceeds of crime, and possessing identity information to commit an indictable offence. Police will allege in court that the man was in charge of a business email scam group that had managed to extract over $3 million out of unsuspecting victims.
NSW police cybercrime squad commander, detective superintendent Arthur Katsogiannis, indicated that the scam worked by preying on businesses that receive email requests for funds transfers, or requests to change account details. These emails are then "spoofed" to make fake requests look real, ultimately resulting in the alleged scammers being able to take money from the businesses involved.
"In this day and age, most companies use electronic accounting systems and pay accounts electronically, which can make them susceptible to business email compromise scams," he said in a statement.
"We would encourage all businesses to develop systems to combat against scams, including scrutiny of email requests to transfer funds or change account details, and standard procedures to follow to protect against business email compromises."
In some cases, he said, perpetrators can spoof emails to appear to be sent from corporate executives or employee email accounts that request money to be paid via electronic funds transfer.
"Staff should be suspicious about these types of requests, and if they take the time to verify the authenticity of the email, whether it be via phone or a fresh email, they can potentially prevent the compromise," Katsogiannis said.

ABF detention operations commander Bill Ries argued that the case showed why ABF should be given more powers to seize phones from people held in immigration detention centres.
"We know phones can be used to coordinate escape efforts, as a commodity of exchange, to facilitate the movement of contraband, to convey threats and, in this case, to organise significant criminal activity outside our centres," he said.

For many people in immigration detention, including in offshore detention centres such as Manus and Nauru, mobile phones are the only means of communicating with the outside world.
The Federal Court ruled in June that ABF could not mandatorily confiscate property, including mobile phones, from people in detention.
As part of the investigation into the syndicate, NSW police arrested a 36-year-old woman in Sydney on September 4 and charged her with 11 counts of knowingly dealing with the proceeds of crime. It is alleged she had laundered more than $480,000 as part of the scam.
The woman will appear in court on November 1.
On the same day police raided a property in the Western Sydney suburb of Kingswood, seizing computers, phones, SIM cards and documents. On September 5 police conducted further raids at two homes in Chester Hill and Granville, seizing similar items, plus methamphetamine.
Two people – a 20-year-old man and a 20-year-old woman – were arrested at the Chester Hill property, and a different 36-year-old woman was arrested at the Granville property.
The man has been charged with seven counts of recklessly dealing with the proceeds of crime, possessing drug implement, and possessing ID information with intent to commit an indictable offence. Police will allege he was involved in laundering $90,000.
The 20-year-old woman was allegedly involved with laundering $17,000, police say. The 36-year-old woman was charged with drug possession.
All three will appear in court on October 2.
The NSW police investigation is ongoing.