Before I get into it, I want to make something very clear: this is not my first time watching Friends. I have seen a handful of episodes in syndication and I vaguely know what happens in the end because how could I not. After being aggressively told to watch the entire series by basically everyone I've ever met, I have now decided to jump into it. So, let's get started!
1. Why is this called "The One Where Monica Gets a Roommate"? I kind of just assumed all six of them live there since they're all constantly in that one apartment
2. THEY'RE ALL SO YOUNG.
3. Wow, these laugh tracks are coming in STRONG. That may take some getting used to.
4. Does he eat chalk is a GREAT question. Phoebe is my early favourite.
5. All of these characters already seem mentally unwell. Especially Ross. I want to give him a friendly, sympathetic pat on the back.
6. Chandler needs to see a therapist about his dreams. A$ap Rocky.
7. Sometimes I wish I was a lesbian too, Chandler.
8. Is Joey a greaser? Joey is a greaser.
9. THEY'RE ALL SO YOUNG
10. Sorry, why is Rachel wearing a wedding dress and is very jumpy and was directed to the coffee shop by a "man with a hammer"?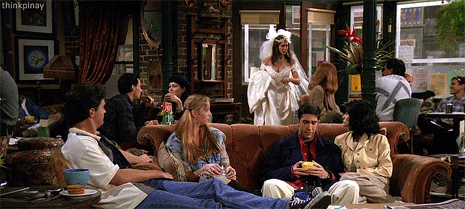 11. I don't know what Barry looks like but I agree with Rachel that he looks like Mr. Potato Head.
12. Loving this "shoe" metaphor, Rachel.
13. Who is Paul The Wine Guy? I thought the Friends only knew each other?
14. Everyone's hair looks like a different kind of mop head.
15. THEY'RE ALL SOOO YOUNG.
16. I relate to Phoebe on such a deep level. She's so relatable. She says all the things I wish I could.
17. If the hair, outfits, and slang didn't give it away that it was the 90's, the lovingly watching Happy Days rerun just did.
18. What does Monica do for a living that she can afford this apartment?
19. Slept with a hanger in her mouth, that was a good one Rachel.
20. Is Rachel low-key the funny one? I always thought it was Chandler.
21. Or is it Monica?
22. Or is it supposed to be all of them?
23. Oh, Monica is a chef. Do chefs make that kind of money? Does anyone?
24. Is the name of the restaurant Monica works at Iridium? That is not a normal name.
25. ALERT PAUL THE WINE GUY IS ACTUALLY PAUL THE LIE GUY AKA THE 90'S EQUIVALENT TO A FUCKBOY.
26. Oh my god Phoebe has had the roughest life.
27. Why is no one concerned with Phoebe's hardships?
28. I feel like I've definitely heard that "welcome to the real world" quote before.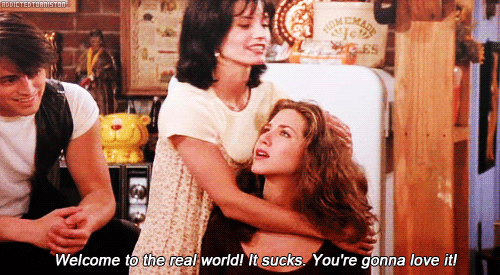 29. THEY. ARE. ALL. SO. YOUNG. Aging, am I right?
30. Does anyone else find Ross and Monica a little close? They are siblings, right?
31. You better STOMP on that watch, Monica, get it.
32. Ooh, Ross got the bad side of the Oreo he split with Rachel. That is already true love.
33. Does Rachel work at Central Perk now or is she just being a good samaritan?
34. Chandler needs to see a therapist about his dreams. Big time.
35. And that's the end! Conclusion: not the best episode of television I've ever seen, but I can see the seeds of how it became the phenomenon we know and love today. Also, Phoebe was the underrated MVP of the episode. 1 episode down, 2023948953092 to go!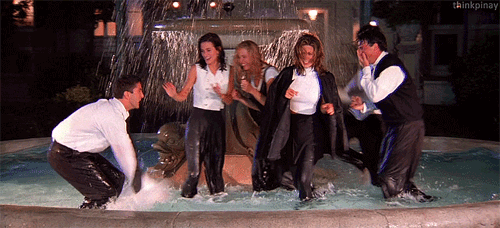 This post was created by a member of BuzzFeed Community, where anyone can post awesome lists and creations.
Learn more
or
post your buzz!