The Most Decadent Vegan Chocolate Cake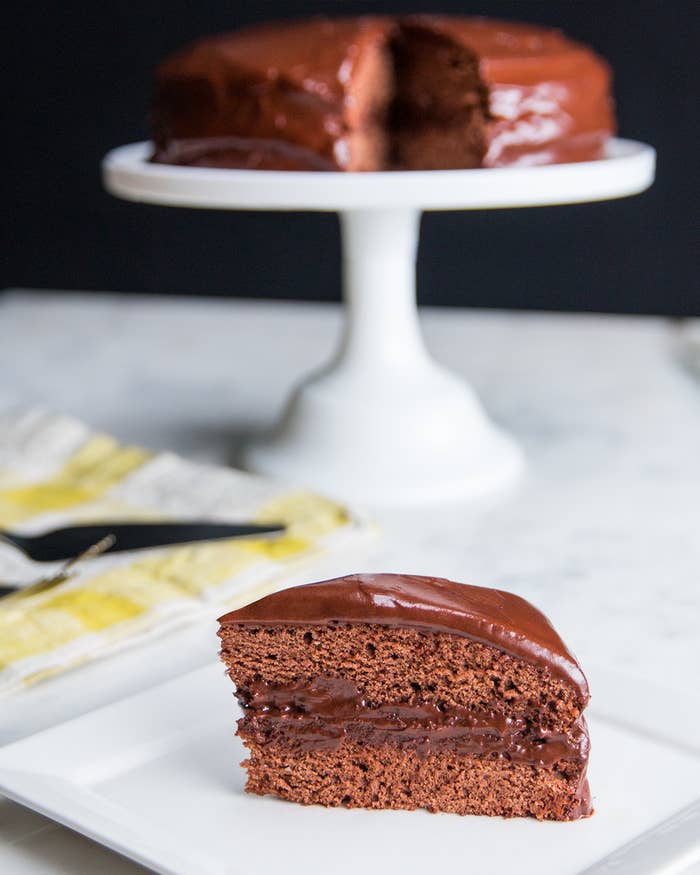 INGREDIENTS
Cake
3 cups all-purpose flour
2 cups sugar
½ cup cocoa powder
1 teaspoon salt
1 tablespoon baking powder
½ cup coconut oil
½ cup maple syrup
1 ½ cups almond milk or milk substitute
2 teaspoons cocoa powder
Frosting
1 cup vegan butter or vegetable shortening
2 cups powdered sugar
1 cup cocoa powder
1 teaspoon vanilla extract
¼ cup almond milk or milk substitute
PREPARATION
1. Preheat oven to 375˚F (190˚C).
2. Add flour, sugar, cocoa powder, salt, and baking powder to a large mixing bowl and whisk to thoroughly incorporate, making sure there are no lumps.
3. Once, the dry ingredients are thoroughly mixed together, create a small well in the middle and add in the coconut oil, maple syrup, and almond milk. Continue to whisk until a thick and lumpy batter forms.
4. Grease the inside of two 9-inch cake tins with coconut oil or nonstick baking spray, and add about 1 teaspoon of cocoa powder to dust the inside of the pan.
5. Pour half of the batter into each of the cake tins and bake them for 25-30 minutes, or until a toothpick comes out clean.
6. Once cakes are finished, transfer them or a cooking rack for 5-10 minutes before removing the finished cakes from their tins.
7. While the cakes cool prepare the frosting. Add vegan butter, powdered sugar, cocoa powder, and vanilla extract to a mixing bowl and whisk using an electric hand-mixer until a smooth and glossy frosting forms. Add almond milk and continue to mix until incorporated.
8. Choose which of the cakes will be the bottom of your finished cake and carefully level it off. Place a small amount of the icing in the middle of your serving dish and place the cake on top.
9. Using about a cup of the icing, generously coat the bottom layer of the cake using a spatula. Once the icing is spread out evenly, place the second cake on top and continue to frost the cake using the rest of the icing.
10. Refrigerate the cake for 30 minutes before serving.
11. Enjoy!