You probably already know that Taylor Swift is in the middle of a big legal fight with a DJ who she claims sexually assaulted her. He had initially sued her, alleging that she falsely accused him and cost him his career.
After Taylor took the stand on Thursday, celebrities began to offer their support for the singer on Twitter:
1.
Jaime King, whose son is Taylor's godchild, called the singer "FUCKING BRAVE."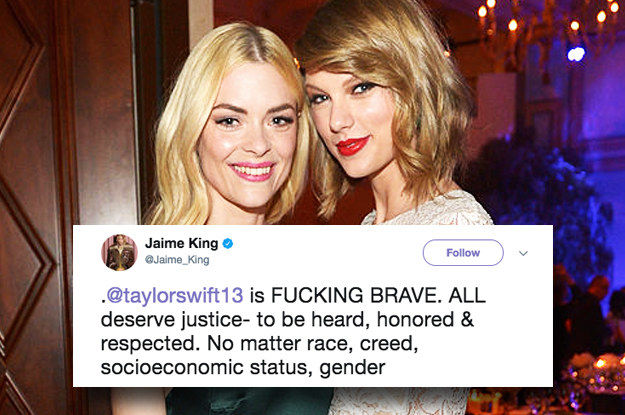 2.
Rachel Platten let Taylor know she's loved and supported.
3.
And Shonda Rhimes praised Taylor's "feminist badassery."
4.
Nelly Furtado applauded Taylor for championing women's safety at work.
5.
And Taylor's pal Lena Dunham commended her "refusal to settle for being treated like property."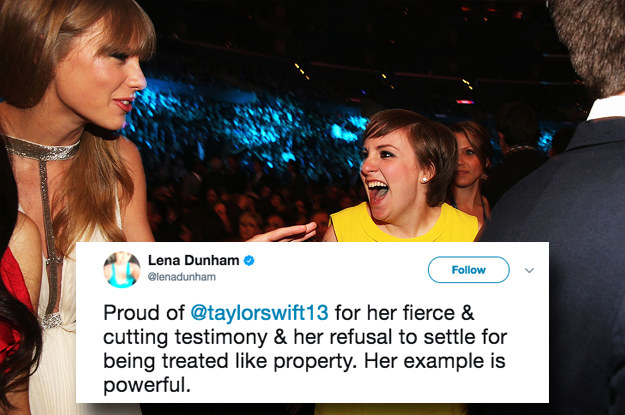 6.
Ashley Judd used the hashtag #igotyourback to stand in solidarity.
7.
George Takei called her simply "fearless."
8.
Gretchen Carlson, a news anchor who sued Fox News Chairman Roger Ailes in 2016 for sexual harassment, thanked Taylor for speaking up.
9.
Montel Williams called her a "powerful example."
10.
Amber Heard saluted Taylor's strength during the trial.
11.
And Lenny Jacobson praised Taylor's testimony on Thursday.
Looks like there are no comments yet.
Be the first to comment!