1.
A two-sided travel cup because two beverages are better than one, especially when you can hold them both in one hand! Simply fill each totally separate compartment with the drinks of your choice, and say goodbye to juggling your iced coffee, water, seltzer, iced tea, and other bevvies in separate containers!
Check it out on TikTok here!

Promising review: "You NEED this. This product is AMAZING. When I run errands, I hate bringing both a water bottle and coffee tumbler. This product solves that issue. I ran it through my dishwasher to clean it, and the plastic didn't morph at all. 10/10 recommend!" —Megan Huffman
Get it from Amazon for $14.99 (available in three colors). 
2.
A two-pack of reusable mop pads for anyone who's sick of repeatedly wasting money on single-use, disposable pads. Plus, these are made with extra-thick microfiber, making them even more absorbent!
They're compatible with the original Swiffer Sweeper!
Turbo Mops is a family-run small business that wants to help you live (and clean) more sustainably.
Promising review: "The Velcro closure alone is worth the purchase. It was really easy to put on (no more pinched fingers), and the hold is very strong. No more having to handle the dirty, drippy sheets to try to reattach them in the middle of cleaning the floor. I noticed that my floors are cleaner because the microfiber absorbs more and doesn't just push the grime around the floor. Also, these can be washed in the washing machine for the next use." —Rosemary Patterson
Get a pack of two on Amazon for $12.06.
3.
Some Miracle-Gro indoor plant food spikes to ~miraculously~ nourish and save even the plants you thought were goners for sure.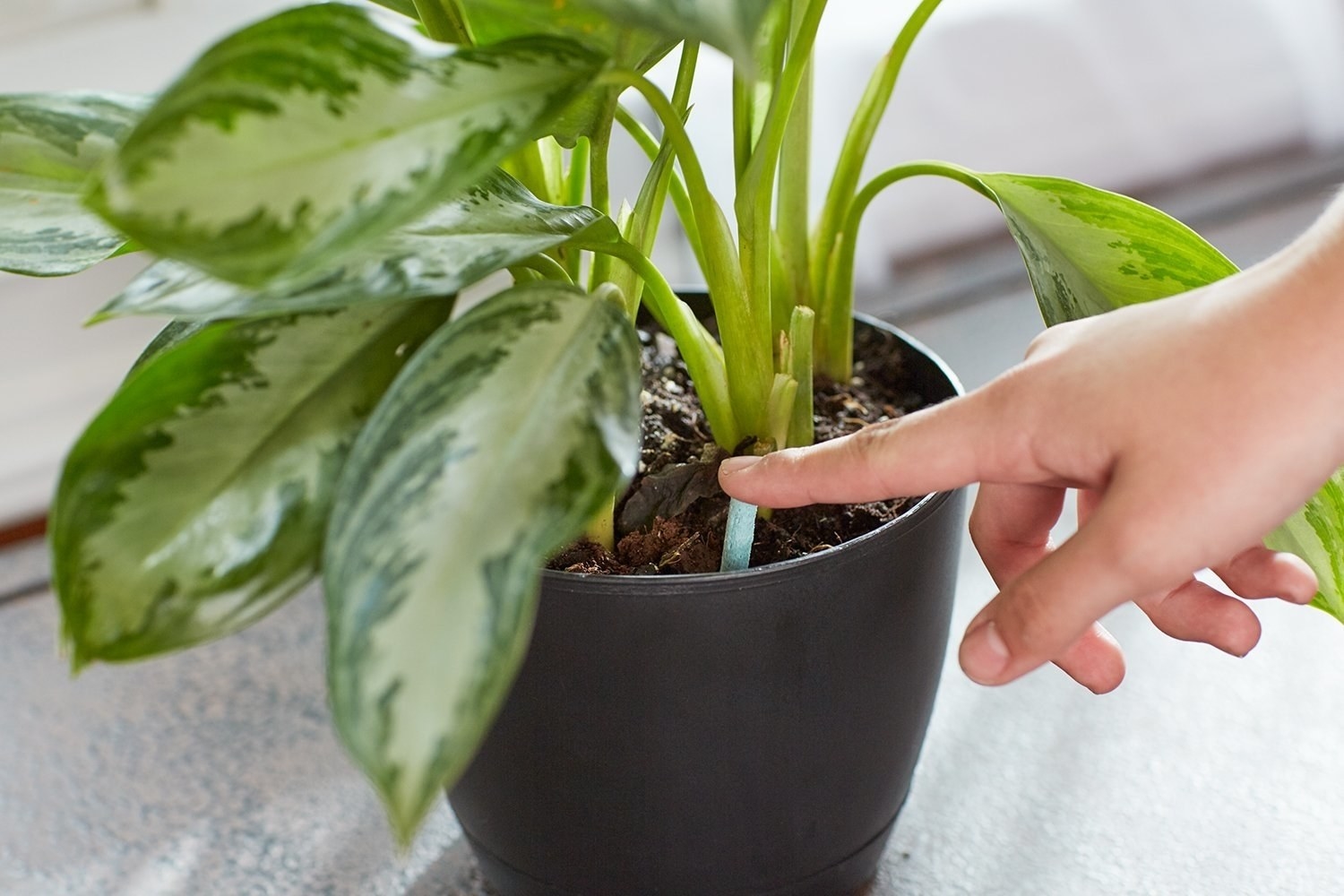 Each spike can be used for 30–60 days, depending on the season.
Promising review: "I always kill my plants but I decided to try again. I just bought five houseplants, and three of them were marked down because they were looking pretty puny. Since I tend to kill them anyway, I figured I would give them a try and save some money. I put one of these spikes in each plant and they all looked so much healthier and happier after just a couple of days. I also added one spike to the only houseplant that I've had for years without killing (I was beginning to think it was artificial) the leaves looked healthier almost immediately. I'm very happy with this product and it was a great price." —victoria
Get 48 spikes from Amazon for $5.69.
4.
An Apple AirTag so you can easily track your bag's location if the airline decides to send your checked luggage to Rome while you're headed to Paris. 

5.
A single-handed tape dispenser that'll make you wonder why you ever struggled with any other kind. Now, you can quickly and easily wrap gifts, seal up envelopes, and more while making them look *way* neater. Simply pull the trigger to release the tape, and let the trigger go to cut the tape — it's that simple!
Promising review: "My last tape dispenser was awful. Threading the tape through the mechanism was a PITA. The gears and springs would fall out when you opened the damn thing. Eventually, the tape started to cling to the roller and would rip the paper I was trying to tape. This design is great; the tape self threads itself when you put it on the rubber bands, the tape stays on the inside of the device until you press the trigger to release it, the tape self cuts when you let go of the trigger. Everything can be done with one hand. Wonderful!" —Billster

Get it from Amazon for $13.99 (available in four colors).

6.
A Souper Cubes freezer tray so you can store soup or sauce in convenient single-serving portions that make it easy to defrost *only* the amount you need! Each tray has four spaces that fit one cup of liquid each.
They're BPA-free, dishwasher-safe, and have fill lines on the side of the compartments for half and full cups. 
Promising review: "LOVE LOVE LOVE. My freezer is so much more organized now. Gone are the days of having to defrost an entire bag of chicken broth for one cup for a recipe. I now have perfectly portioned 1/2-cup and 1-cup blocks ready to go. They fit easily in freezer bags, take up less space, and make me incredibly happy. There was a lot of attention to detail put into the design and I particularly appreciate the wire inside the rim that holds everything steady — no more worrying about spilling all the liquid on the way to the freezer. Just a fantastic product all around. I purchased this and a cheaper version from another manufacturer at the same time but returned the other product. This one is definitely worth the added cost." —Kate
Get it from Amazon for $19.95 (available in three colors and multipacks).
7.
A versatile and super plush cat bed/tunnel combo your feline friends will love snoozing *and* playing around in. It can be assembled into a circle, S-shape, or a semi-circle, making it easy to fit into a variety of spaces — especially if you don't have room for both a bed and a separate play area for your cats.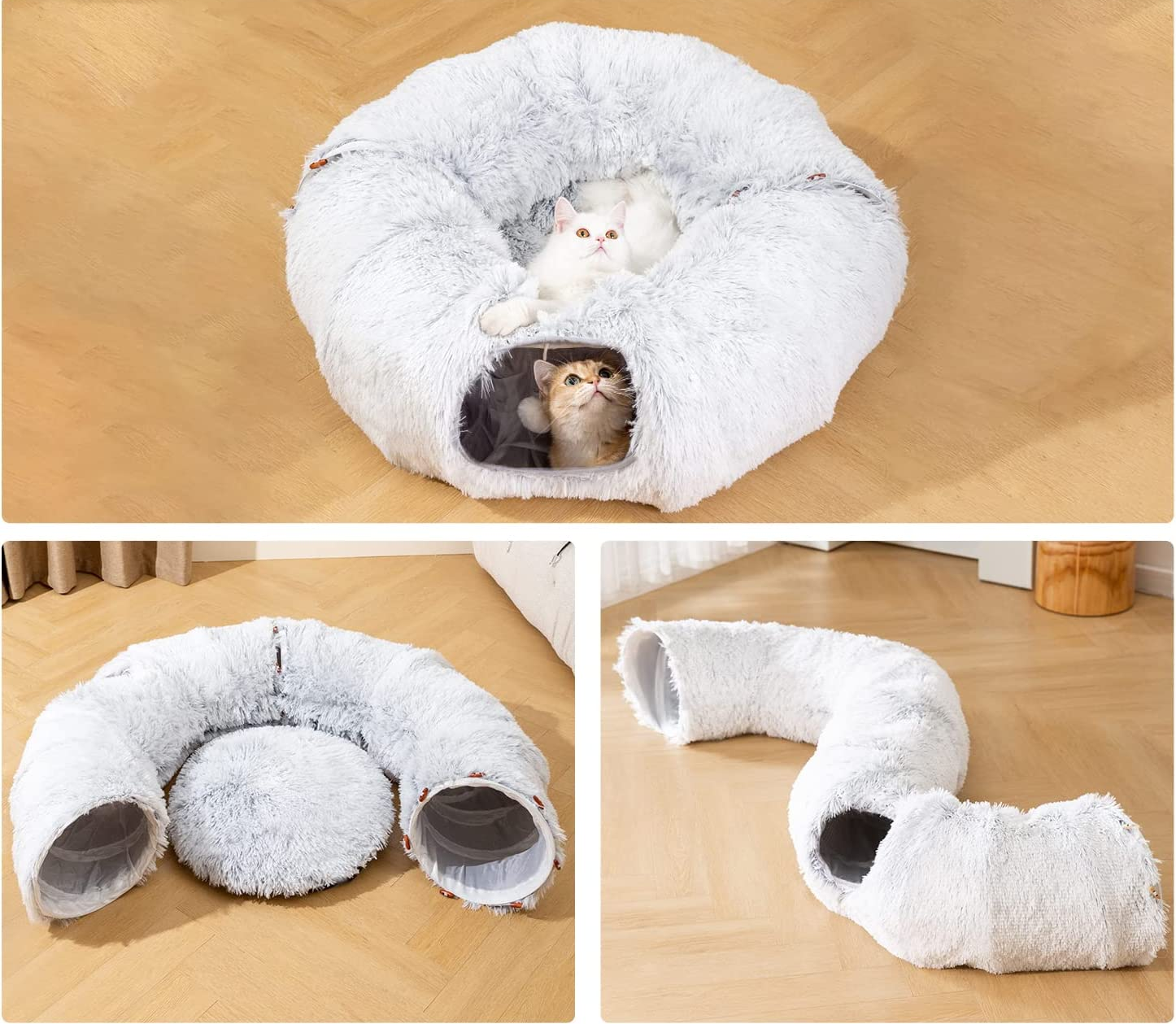 Promising review: "The fur babies are in love. It's so easy to put together, extra soft, and hands down the BEST cat toy I've ever gotten them. They love running through the inside and hiding from each other, or playing with the hanging ball. It keeps them busy for hours, and they love sleeping in the center part, which is very pillow-like. If you are debating this purchase, believe me when I say just buy it now." —Lp

Get it from Amazon for $39.99.
8.
A magnetic ironing pad you can simply snap directly onto your washer or dryer instead of having to store and drag out a bulky ironing board!
Promising review: "If you're like me and living in a space that doesn't have a ton of room let alone space for a big old ironing board, this is the perfect solution. This mat easily sticks with the magnets to the top of the dryer. It's a great space-saving solution. If you're looking to minimize, this is what you want!" —JD
Get it from Amazon for $13.87.
9.
A Crave Naturals Detangling Brush designed to glide through wet *or* dry hair while gently separating tangles (instead of tugging or ripping through them like other brushes) — all thanks to the firm but flexible bristles and unique cone shape that makes this brush a great option for kids *and* adults!
Promising review: "This is the BEST detangler EVER!!! Do not use on dry hair though if you have curly or wavy hair. It will straighten your hair and leave it frizzy. But, use this in the shower with your conditioner and you can finger comb your hair, air dry if possible, and your waves and curls will be the best ever!" —TDHokey
Get it from Amazon for $12.49+ (available in five colors).
10.
A pair of gardening gloves with claws  that'll give you *way* more digging power than you ever thought you'd possess. Reviewers love how much easier this makes digging holes for planting, digging up weeds, and even raking leaves! 
Promising review: "I laughed when I first saw the picture of this item. I thought, well if they don't work, I'll use them for a costume. But they are amazing at pulling weeds. I use mine for those pesky weeds in the rocks. One pull and you get root and all." —cynthia Williams
Get it from Amazon for $6.36+ (available in two colors and as a pack of two).
11.
And a padded kneeler to help anyone who gets sore after spending a long time on their knees while gardening (or hates their clothes getting all dirty). The handles can help make it easier to stand back up when you're done, and it even flips into a seat for when you need a little break! Stow your gardening tools in the side pockets, and you're ready to go!
Promising review: "This is perfect for when you need to pull weeds, plant or clean up flowerbeds, or pick berries. We are seniors, and it helps us get up off the ground. If we didn't have this, we would be sitting on the ground until one of us could pull the other up. It is the best item we have ever bought." —CSD

Get it from Amazon for $49.99+ (available in three colors and in two versions).
12.
A clip-on strainer that'll take the ~strain~ out of straining noodles. It's flexible, cleans up easy, and can be attached to cookware of almost any size!
Promising review: "Love, love, love this pasta strainer!!! My husband and I hate cleaning out the strainer, so I ordered this to make life easier. OMG, does it make life easier!!! If this ever breaks, I'll be ordering another! It's very sturdy and easy to use. Absolutely love it!" —ShylohsRedShadow

Get it from Amazon for $12.45+ (available in three colors). 
13.
A magnetic lash kit for anyone who hates struggling with falsies that require glue and are a hassle to put on. With these, all you have to do is apply the magnetic eyeliner just like any liquid eyeliner, and then place the magnetic eyelash right on top, where it'll instantly attach all by itself!
You'll get five differing styles of *reusable* lashes to meet your different needs, and two tubes of magnetic eyeliner.
Promising review: "They look beautiful. I am so impressed with these lashes. This is the first time I have tried magnetic eyelashes, and they work so well. I tend to wear them once a week or so. They are all fun and so easy to put on. I have had these for a couple of months, and they still work great! I suggest cleaning them after each use with makeup remover like Neutrogena (the one with the oil in it that you have to shake), and they come out beautiful and clean. When putting them on, I did discover with trial and error to first put the eyeliner on and then let it dry by doing other makeup or getting dressed. Then, after that is set, put them on. I have small eyes so I found putting them on too close to the inner corner of the eye can be irritating to me and bothersome when I blink. If I put them a tiny bit away from the inner eye, they work beautifully. I would definitely buy these again!" —Holly
Get an eight-piece set from Amazon for $17.99 (also available in larger set sizes).
14.
A pair of detergent cap trays if you're tired of your economy-sized containers dripping all over and making a mess of your laundry room. These trays will catch the drips *and* hold the cups, so you can stop having to wipe gobs of fabric softener off of the floor. 
Tidy Cup is a woman-owned and family-owned small business founded by Julie Reinhold. Her ingenious little drip catchers are made in the USA and can easily be cleaned by rinsing with warm water.
Promising review: "The Tidy Cup is so simple, and yet, I completely love it! I have spent years cleaning the drips from the top of my washing machine due to my super sized, side-sitting detergent dispensers. It's so time consuming to clean thick, soapy detergent off of the machines. So far, this has done the trick! It catches all the drips, and keeps track of the cup I usually keep losing. It's easy to pop back off to rinse in a sink. This is one of those completely silly, cheap doodads that you wish you had owned forever, and don't want to ever be without again." —R

Get a set of two from Amazon for $12 (also available as a pack of one).