1.
Some Sevích hairline shadow — it makes it easy to touch up graying roots and fill in thinning areas without the hassle of going to a salon or dying your hair at home. Simply dip the applicator into the powder and dab it into your hair for fuller-looking hair!
This stuff is cruelty-free and contains nontoxic plant fibers and beeswax so it's safe to use on your skin.
Promising review: "This product is AMAZING! If you have thinning hair or graying hair, this powder is a must-have. It even creates a bit of volume to my very thin hair. I've purchased many different hair products to conceal my thinning hair, most are ineffective, messy, or leave my hair feeling greasy. 
This is super easy to use; I even use it for my sparse eyebrows: I simply use a soft, small lip liner brush to fill in my brows for a natural look. I also love that it lasts till your next shampoo. At first I didn't like the built-in sponge, but I've grown to really like it. The powder sticks to the sponge, making it easy to apply to whatever area you want to cover up, and the powder doesn't come off on pillows if you leave it on overnight." —Amazon Customer
Get it from Amazon for $9.98 (available in 11 shades).
2.
A bottle of "Sizzle" extra virgin olive oil that, unlike most other EVOOs, is actually made for *cooking* thanks to its use of mid-harvest olives that give it a more mellow flavor perfect for drizzling *and* sizzling! Plus, it comes in an easy-to-use squeeze tube that'll make them wonder why all olive oil doesn't come like this.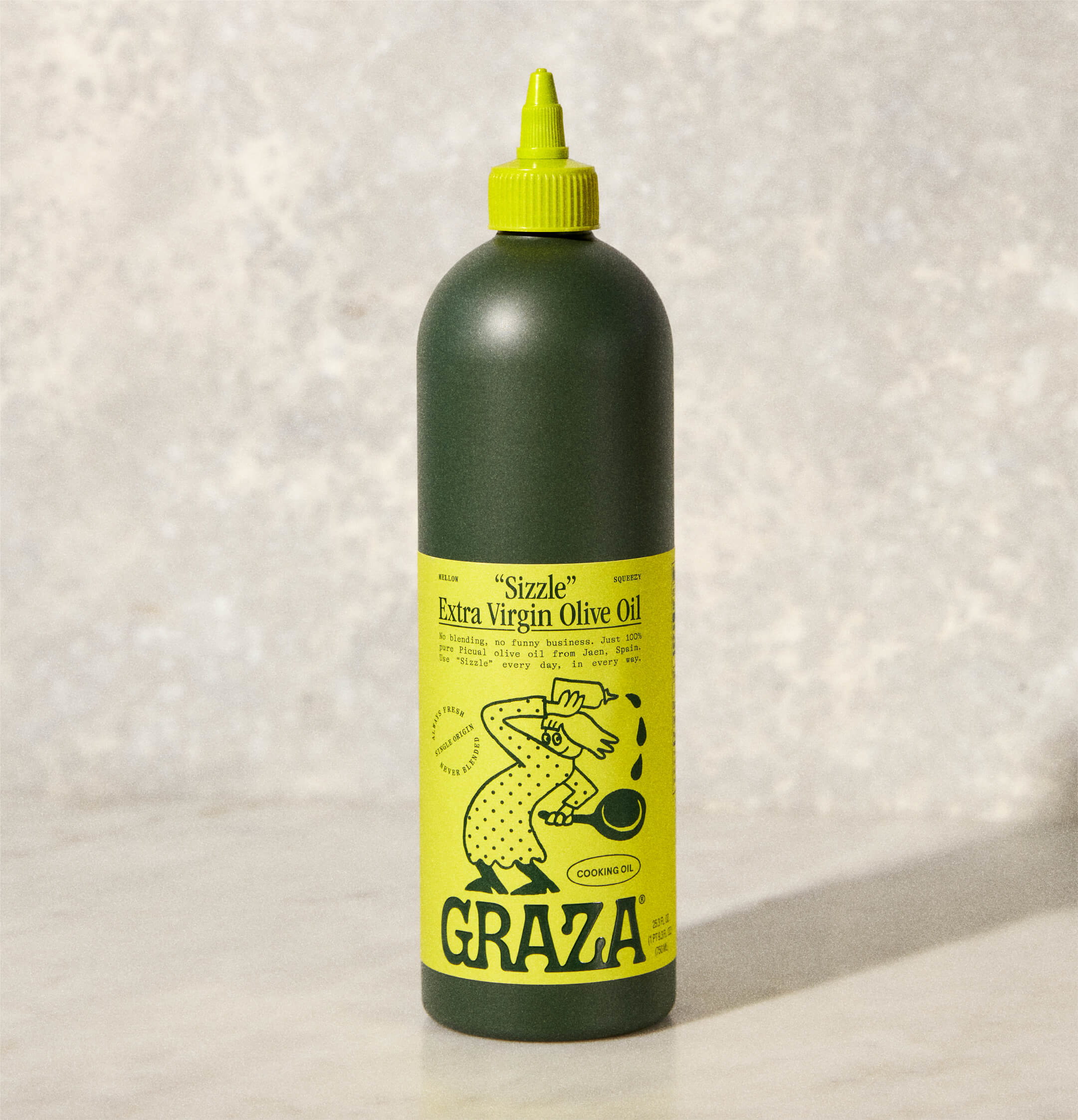 Promising review: "Delicious olive oil (still yummy enough to bake with, dunk bread, or drizzle on ice cream), but I love cooking with Sizzle! It's mild and the squeeze bottle has truly changed my life. I feel like I have so much more control over the amount of oil I'm using. I quickly used my first bottle and this was me stocking up! Graza is my new go-to :)" —Becky W
Get it from Graza for $15 (also available in multipacks and as a subscription).
3.
A tub of The Pink Stuff,  which has reached cult-favorite status for being great at removing stains, rust, discoloration, and other stubborn marks from metal, ceramic tiles, saucepans, barbecues, and much more without leaving behind any scratches!

Promising review: "Oh my gosh — this stuff is a life-changer! Used it to get my fiberglass shower totally clean. Nothing else would get it done and this stuff brought my shower back to near-new in one use. We've since cleaned a weird chalky film off our garage door, removed wall markings, and cleaned my storm door. We'll never be without a jar (or three) of this stuff. Worth every penny." —Nancy F.
Get it from Amazon for $5.97 (also available as a pack of six).
4.
A fabulous lip-plumping gloss set for anyone who wants seriously fuller looking, smoother, and softer lips *without* having to use needles. It comes with a day *and* night mask — simply put them on like normal lip gloss for instant results!

You'll get one lip plumper and one minty sleeping mask for your lips.
Promising review: "I loved this stuff, it was magic. The evening moisturizer was fabulous. It is the first plumper that actually works for me. Will be buying more for gifts!!!!!" —Alexandra

"I discovered this product from TikTok and I had to give it a try. I tried the day lip plumper and within a few seconds, there was a subtle tingling/burning that lasted for a few minutes but as it occurred, the plumping started to happen! It made a noticeable difference and made my lips look like I had filler! I'm obsessed!! —Amazon Customer

Get it from Amazon for $12.99.

5.
Dan-O's seasoning — it features a delicious blend of natural sea salt, citrus, dried herbs, granulated onion, and garlic that'll elevate pretty much anything you add it to. Plus, it has low sodium, zero carbs, and is all natural and gluten-free!
Dan-O's seasoning is a small business adored across TikTok for cooking tips and recipe ideas. Check out their full selection of seasoning, including original and spicy varieties, here.

Promising review: "I became interested in this product while watching TikToks. I have been adding it to so many things. I use it in spaghetti, on fish, and one of my favorites is to add it to popcorn. My husband had to ask why my popcorn smelled like steak. I love the fact that it is low sodium as well. I am not a fan of extra salt and most foods already have plenty of salt but need some seasoning. This should be your go to seasoning." —Heartcri
Get a pack of two (one original, one spicy) from Amazon for $13.90 (also available as a set of four).
6.
A first-of-its-kind, plant-based BYO Blush Oil that reacts to your skin's natural pH to instantly give you the perfect shade of natural flush that complements your skin tone. You can use it on its own or on top of foundation for a little extra vibrancy. Science is cool!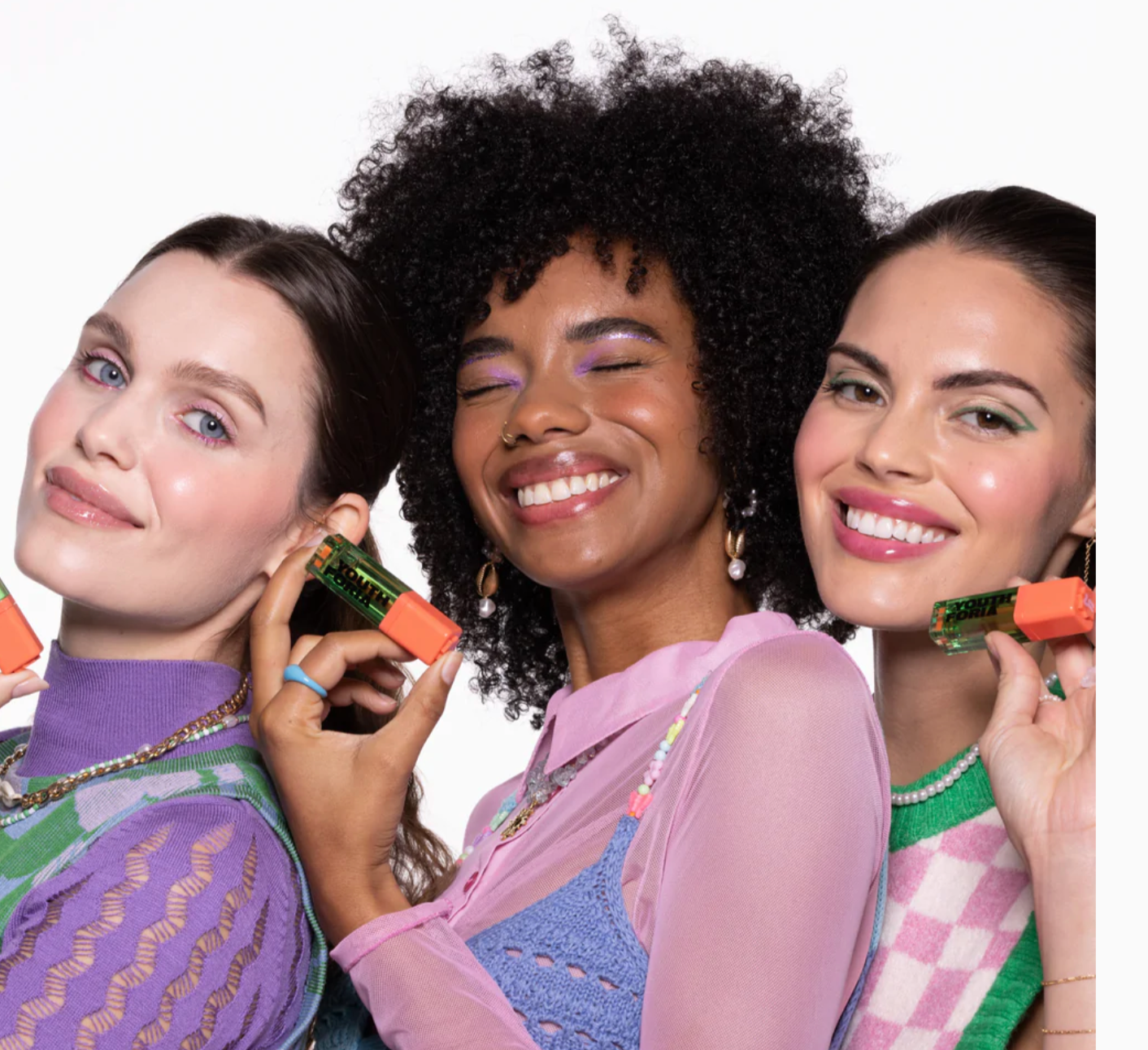 Youthforia is an Asian woman-owned small business established in 2020 that specializes in environmentally friendly, cruelty-free makeup made with at least 90% renewable ingredients. Plus, all of Youthforia's makeup is designed with ingredients that make it ok for your skin to sleep with it on!
Promising review: "Dewy and glowy. I tried it over makeup and it appeared as a strong pink shade but settled to a flushed, glowy color. I had my little sister try it too because I wanted to see the color change again and it lasted a really long time on her. The texture was smooth and it was easy to rub in and blend out." —Summer
Get it from Youthforia for Amazon for $36.
7.
Some shower steamers you can place in the corner of your shower to release calming fragrances while you unwind.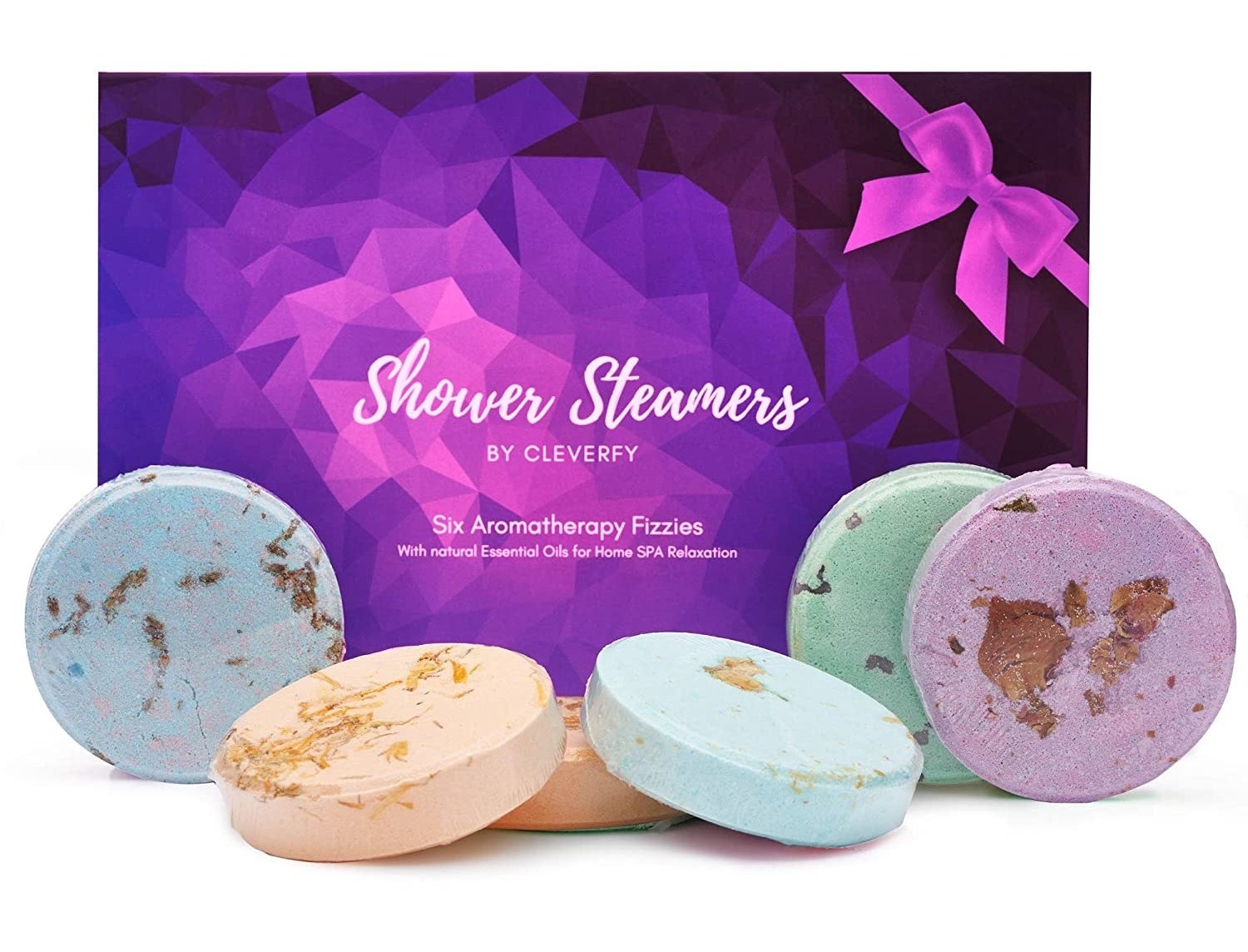 Promising review: "These are the best shower steamers I've ever tried. Usually they aren't strong enough or they melt too quickly to even enjoy. They are also bigger than what you can buy at the store. I'd say they are about a hockey puck size. One lasted my entire shower and still smelled amazing even after I was done. These are the best shower steamers hands-down. I would definitely buy these again." —Krista
Get a pack of six from Amazon for $15.29+ (aavailable in two styles and as a pack of 12 and 18).
8.
An authentic Japanese barbecue sauce that's good on basically everything! It's made from delicious ingredients, without any additives, preservatives, or flavoring, and is inspired by the sauce the founder's grandmother used to make!
Bachan's is an Asian and Japanese-owned small business founded by Justin Gill, who dreamed of turning his family's sauce into a business ever since he was a kid. Resisting advice to cut costs and water down this prized sauce that earned rave reviews from everyone who tried it, Gill prioritized maintaining its integrity and only using clean ingredients. Their sauce is proudly cold-filled, vegan, small-batch, non-GMO, BPA-free, and preservative-free, while remaining true to the recipe his family used to make over the holidays, inspired by their grandmother Judy Yokoyama.

I love this sauce! It's the perfect mix of savory, sweet, and spicy, and I've found that it works beautifully whether you're cooking with it or just using it as a last minute topping or dipping sauce.

Get it from Bachan's for $12.99.
9.
A pet urine stain–removing spray perfect for pet owners who are desperate for a borderline magical solution to remove spots and smells both old and new.
Rocco & Roxie Supply Company is a family-owned small business established in 2013 that specializes in pet odor eliminators, pet toys, pet snacks, and pet accessories.

Promising review: "I don't know how I ever survived without this. There's tons of 'pet stain/odor remover' products out there, but this by far is the absolute best. I cringed paying the $20 for it when others are between $5–$10, but I have NO ISSUES paying now. I foster dogs, some puppies, some older, some not housebroken, and every room in my house is carpeted except the kitchen, which means I have lots of accidents. 
I spray enough to saturate if it's a lot of urine, let it soak for 10 minutes, then wipe it up with a hand towel. Then I put a larger towel on top of it if it's in a high-traffic area until it's completely dry. It's taken out every stain and, more importantly, the odor is gone! I will never stop buying this product. I recommend it to everyone who has dogs!" —Shelley
Get it from Amazon for $19.97+ (available in two sizes).
10.
A pack of 24-karat gold cooling eye gels to help reduce dark circles, puffiness, and wrinkles in about 20–30 minutes while making you feel ultra-luxurious. Simply wear them while you're relaxing at night or getting ready in the morning, and enjoy the soothing effect that leaves your skin feeling nice and smooth.
Promising review: "Best eye masks ever!!! These gold collagen masks are awesome!! They have light subtle scent that I enjoy very much!! They're super easy to apply, and they actually stay put!! I have tried a lot of under eye masks that would just slide around. With these ones, I was able to relax and watch TV without having to lay back lol!! 
Slap them on in the morning or at night, and still be able to get stuff done! They made my under eyes feel so soft and moisturized!! I have only used them twice, but so far I am in LOVE and cannot wait to see how they work on my wrinkles!!!" —Kelsey
Get a pack of 20 pairs from Amazon for $17.97.
11.
Some Maldon sea salt flakes so you can be your own personal salt bae and give any dish a luxurious finishing touch.
Promising review: "Most casual cooks are completely unaware that there are so many different types of salts that are used for so many different functions in the kitchen and in the course of cooking. I classify Maldon salt as a 'finishing salt' in my kitchen. I don't use it to salt pasta water or preseason proteins, but rather use it at the very end to finish items, and it makes an enormous difference in what you put on the table and put into your mouth! They are glistening shards that look like glass that crumble easily between your fingers, so when you put it on top of your finished fish or chicken or steak or a top your vegetables, as it starts to melt, your dish absolutely GLISTENS and has a flavor unlike anything else — unlike what any other salt will impart to the dish that you serve to yourself or to your guests! I simply cannot imagine completing a dish without my box of Maldon salt!" —Lee
Get it from Amazon for $6.99.
12.
Some Wet & Forget shower cleaner — it makes it easy to keep your tub and shower nice and shiny. All you have to do is spray, let it sit, and rinse — and it'll clean and prevent scummy buildup all on its own. No scrubbing or wiping required — hooray!
Promising review: "This stuff is amazing! I had a horrible gray ring in the bottom of my shower that was impossible to remove. I had tried the Dawn dish soap method (with a lot of scrubbing) and had even used toilet bowl cleaner to try to remove the soap scum. My next step was to tear out and replace the shower pan and tile. I figured this was my last chance. I ordered the Wet & Forget spray and really coated the shower walls and floor pan and walked away. I CANNOT begin to tell you how happy I was to rinse down the walls sometime later and watch all that crud roll right down the drain!! This is the best product I have ever used in my life!! Works great and no toxic fumes!!" —Amazon Customer
Get it from Amazon for $20.52 (available in two scents and two sizes).

13.
L'Oreal's 8 Second Wonder Water — it'll give your hair the moisture, shine, and silkiness it's missing, with instant results visible after the first use. Use it on wet hair after shampoo for healthier-looking locks and a weightless feel that takes a mere *eight seconds* to achieve!
Promising review: "Why haven't I tried this sooner? This is hands down the absolute best product I have tried on my hair in years, maybe decades! I have very thick, coarse, highlighted hair that proves to be a challenge for any product that claims smoothing, frizz control, shine, etc. I have tried so many high end products that do not live up to their claims with my hair. Consequently, after so many disappointing products, my expectations were low when I tried this.
As soon as I removed the towel, I knew this product was a winner. My hair looked smoother than usual before I even started to blow dry. When I finished blow drying, it looked the way it does when I leave a salon. I am super impressed and immediately ordered more." —shopsalot
Get it from Amazon for $9.87.
14.
A jar of Matiz Sofrito that's ideal for making a next-level paella, but is also a fantastic sauce for meats, fish, pasta, eggs, and more! This sofrito is made from a family recipe using tomatoes that are slow-roasted in olive oil for over three hours, giving their dishes a rich, fresh flavor without having to spend a bunch of time in the kitchen.
Matiz works with the small family producer Estilo Kiki in Valencia, Spain, to produce this handmade sofrito.
Promising review: "Usually I make my own sofrito, but I was wondering if I could save time without compromising flavor. This is an awesome alternative! Delicious and expeditious." —Dot A
Get a 12.3 oz jar from Amazon for $11.99.
15.
A plant-based stainless-steel cleaner and polish that quickly dissolves fingerprints and smudges on kitchen appliances so keeping up with the carnage left behind by your little ones isn't such a chore.
Promising review: "This is hands-down the only product that has ever perfectly cleaned my stainless steel appliances. It deserves 10 stars because nothing else comes close to removing streaks and toddler finger prints as easily and completely as this. I have tried for years to get my appliances to look like new. Everyone who has stainless should own this." —Danielle
Get a bottle from Amazon for $19.95 (also available as a pack of two or six).