1.
A bottle of CND Essentials nail and cuticle oil that can help soften cuticles and strengthen nails when used daily.
Check it out in action on TikTok here!

Promising review: "I had peeling, weak nails for years. Tried everything. I bought this in February. This size of bottle lasted a bit more than a month religiously applying it two to three times a day. I was really seeing great improvement, so I bought another bottle in late March. By May, all the peeling had grown out and my nails were getting stronger every day. I then bought the big 4-ounce refill bottle because I never want to run out of it again! Cannot recommend this stuff enough!" —Diana
Get it from Amazon for $8.50+ (available in three sizes).
2.
A handheld milk frother to kick the coffee you make at home up a notch so you can feel less ~FOAM-O~ when you walk by your favorite coffee shop.
See it in action on TikTok here!

Promising review: "I love this frother, it's incredible! I have been using it every day since I received it. Makes great keto coffees and cappuccino. I even used it to make whipped cream for my iced coffee. Amazingly it only takes seconds. It's definitely worth every penny. I recommend this product highly. It even comes with batteries. The only drawback is it has no cover or stand. It's so cheap, who cares! I'm going to buy some as gifts for the holidays." —Amazon Customer
Get it from Amazon for $7.63+ (available in 11 colors).
3.
A jar of The Pink Stuff, which has reached cult-favorite status for being great at easily removing stains, rust, discoloration, and other stubborn marks from metal, ceramic tiles, saucepans, barbecues, and much more without leaving behind any scratches!
Check it out on TikTok to learn more!
Promising review: "Found this product on TikTok. I don't think I've ever seen value like I do this product! Literally use it on EVERYTHING!! Kids and teens have dirt, grime, and grease on their walls? ...This will make it look like a new paint job. Baseboards need some love? A pea-size amount of this makes them look brand new. Need a shoe cleaner? PERFECT for sneakers. I could name a million more uses, but I can ASSURE you this is worth every penny. What's more? You need such LITTLE of this product, it will last a VERY long time. Thank you, TikTok!!!" —Rachel in CLT

Get it from Amazon for $5.97.
4.
An adorable cloud-shaped magnetic key holder so you can stop tossing your keys onto the nearest surface and adding to the clutter. Wouldn't you rather let your new cloud friend hang onto them for you?
Check it out in action on TikTok here!
Promising review: "So, yes, TikTok made me buy this, but so far I really like it. It's obviously very adorable and offers a charming spot to keep my keys that works with my entryway. I'm really surprised by how strong the hold is for such a small object — I carry my car fob and a few keys and so far it's holding strong. I hung it with command strips to avoid any potential damage to the wall and I will say make sure it's level as the hold is not so good on an angle (but that was from the original in-hand testing). Definitely recommend and for the price, I'm very tempted to get one for my at-work office." —D. Carter 
Get it from Amazon for $5.98.
5.
A tube of Essence's Lash Princess mascara that defines and separates lashes to give you the bold look you usually need ~falsies~ for. Plus, it'll last all day — even in hot weather — without clumping, flaking, fading, or wearing.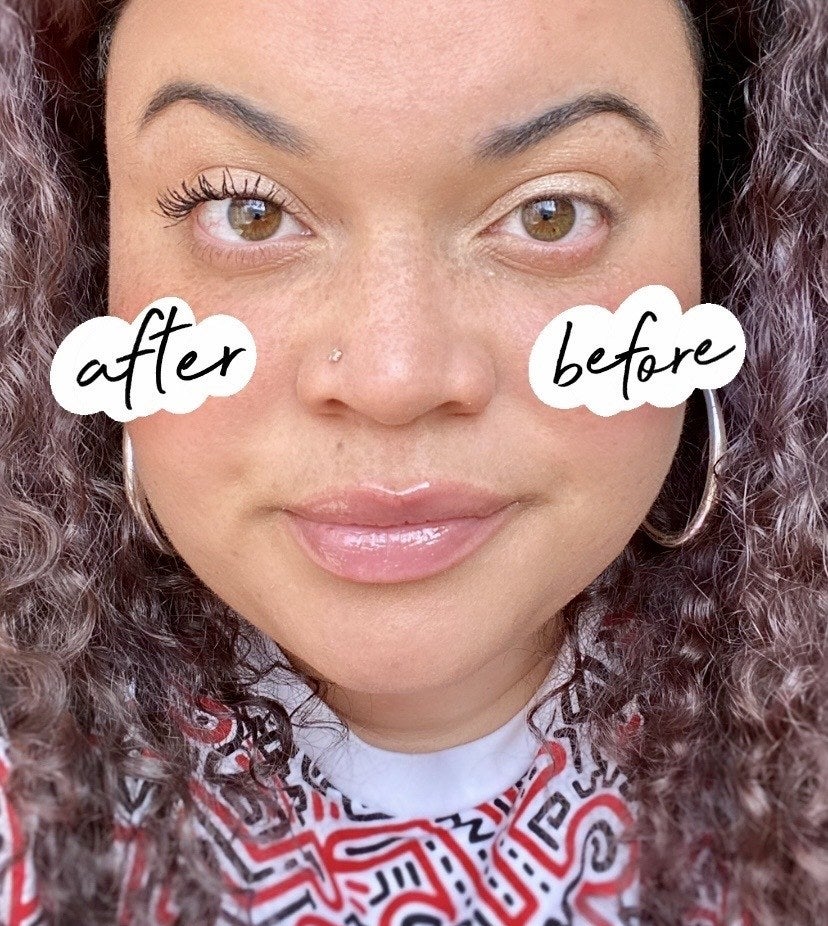 Here's what BuzzFeed editor Kayla Boyd has to say about these:
"As someone who isn't a big fan of false lashes (the glue irritates my eyes and I'm terrible at applying them) this budget-friendly holy grail does the trick for both lengthening and volumizing my lashes. After you've given it a minute to dry, it lasts all day long and doesn't smudge or fade. It seriously gives the effect of false lashes, without the discomfort." 
Promising review: "Best mascara I've used in a long time. This is amazing stuff. It makes my lashes look like I'm wearing fake ones for sure. I saw a recommendation for it on TikTok, and figured I'd take a look at the reviews. Everyone seems happy like I do. Five dollars a tube for amazing stuff. I have used expensive stuff, and this one works way better" —michelle nelson
Get it from Amazon for $4.99 (also available as a pack of three).
For more info and review pics, check out Kayla's full review of the Essence Lash Princess Mascara!
6.
A strangely fun-to-use universal cleaning putty to get to those nearly impossible-to-reach nooks and crannies in your keyboard, car vents, printer, and other appliances where dust and crumbs are steadily building up.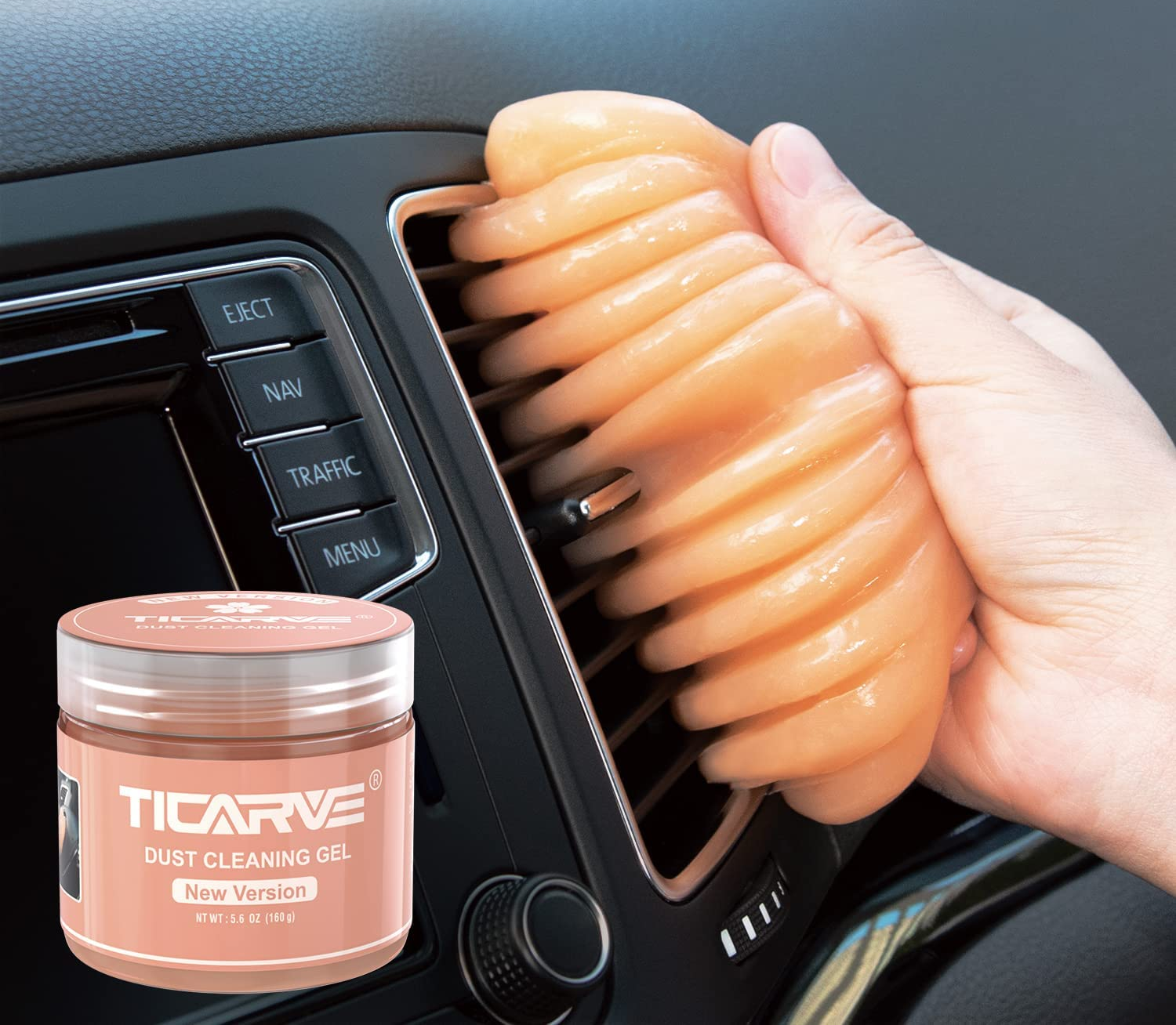 See it in use on TikTok!
Promising review: "This product does exactly what it says it does. I saw this product from TikTok. I was surprised at how easily it picks up dust and small debris, especially from inside of vents and cup holders. The only complaint is the very artificial smell when you use it. It doesn't last, just when it's out of the container!" —Loren

Get it from Amazon for $6.88.
7.
A reviewer-beloved veggie chopper that'll simplify your meal prepping and can often stand in for pricier food processors! Forget chopping your veggies one by one and having to clean a cutting board when you can just toss 'em in this device. And when you're done, just pop out the interchangeable blades and throw 'em in the dishwasher!
Fullstar is a small business established in 2017 that specializes in kitchen gadgets. 
Check out a TikTok of the veggie chopper in action. 
Promising review: "Surprisingly, this is a wonderful, sturdy kitchen tool. I bought it to use with onions but it works wonderfully with just about any veggie and fruit. My family loves chili, soups and stews this time of year. This cut the job of preparing to less than a third. It works on just about any veggie but beware the size. If you are cutting a really hard veggie, use smaller pieces for the machine. I would buy it again. It has actually taken the place of my much more expensive food processor. I wish I could return the much more expensive food processor, this does everything I wanted a food processor for." —E. M. Brooks
Get it from Amazon for $23.99+ (available in three colors). 
8.
A pair of exfoliating mitts here to astound you with how much dried skin they can lift away from your body. Use these reviewer-loved mitts to help unclog pores, remove spray tans, prevent ingrown hairs, and more!
See it in action on TikTok here.
Promising review: "I have very thin and light body hair so any form of removal (shaving, waxing, etc.) usually leaves me with a lot of ingrown hairs. I've tried body scrubs and washcloths and neither really do a great job. I saw this product recommended by a dermatologist on TikTok and thought I'd try it. It's amazing! I also have very sensitive skin and this mitt doesn't leave my skin irritated at all. However, absolutely do not use this mitt on your face, neck, or other sensitive areas; it would be way too harsh. I like to use this mitt first when I get in the shower, then use CeraVe SA body wash (a gentle chemical exfoliant) and follow up with Cetaphil body lotion for dry and sensitive skin. This whole routine is fragrance free and leaves my skin feeling very soft and moisturized." —Kat
Get them from Amazon for $12.99 (also available individually).
9.
A rapid egg cooker that'll make it way faster and easier to prepare a delicious and nutritious breakfast! This impressive lil' device can make hard-boiled, soft-boiled, poached, and scrambled eggs in just minutes! It can even make an omelet if you wanna feel fancy without the extra effort.
See it in action on TikTok here!
Promising review: "If you are on the fence about getting one of these, GET ONE. It really is as easy as it sounds to have a perfectly cooked egg, no guesswork. Soft-boiled eggs took me about 11 minutes to make. Just have an ice bath ready next to the cooker and let the eggs sit for a minute or two in there...peels come right off :) Makes healthy eating a breeze in the morning! Where has this been all my life!??!?" —rebecca
Get it from Amazon for $16.99+ (available in eight colors).
10.
A reusable Revlon volcanic stone face roller so you can stop buying wasteful oil-blotting sheets. This works the same way! Just roll it over your T-zone or other greasy areas, and soak up excess oil *without* messing up your carefully applied makeup.
To clean it, simply twist the roller's ring to unlock, and pull out the stone. Then wash with a gentle cleanser, rinse, and air-dry before locking it back in.

See it in action on TikTok here. 
Promising review: "First off, if you have extremely oily skin, this. is. it. I was so tired of getting blotting powder/wipes. It felt wasteful and always left residue on my face. I saw this on TikTok and NEEDED it. Not only is it affordable, but it's also washable, which helps you save money and be less wasteful. It felt like the holy grail had been delivered to my front doorstep. After my first use, I was in love. Now, it doesn't pick up everything but it does make it more matte and gives you a natural look. I am so excited this product exists and I already feel more confident." —Kelsey B.
Get it from Amazon for $13.28.
11.
A pumice stone toilet bowl scrubber because it makes removing stubborn toilet stains — no one's favorite job to begin with — a heck of a lot faster and easier so you can spend as little time face-to-face with your throne as humanly possible. It also works great on tubs, sinks, tile, and other porcelain and ceramic surfaces that are no fun to clean without this helpful tool.
Check out the pumice stone in action on TikTok here!
Promising review: "TikTok made me buy this. This thing literally scoured away hard-water stains that I have been trying to get rid of for years in less than 30 seconds. 10/10 recommend." —Tleary25
Get it from Amazon for $9.59 (also available as a pack of two).
12.
A spacious and delightfully designed book-shaped wallet featuring the cover of a classic novel, making it perfect for any bookworms out there who wanna store their cash, cards, and coins in something a little more fun.
13.
An over-the-sink dish drying rack, because it'll free up soooo much precious counter space that used to be occupied by piles of damp pots and pans.
Promising review: "I bought this because I saw it on TikTok and I'm so glad I did! I hate having things on my counters that don't belong. I have a dishwasher but I have some things (like most everyone) that aren't dishwasher safe. I love that I can just roll this out and dry my dishes over the sink. The fact that air is able to get to all sides allows dishes like cups and bowls to actually get dry. Prior to this I was using a drying mat next to my sink, but I was always having to towel dry items that had been sitting out 'drying' for hours. Even my husband is impressed. He has told me multiple times it was such a good buy!" —Sheri

Get it from Amazon for $8.89+ (available in eight sizes).