The Best Way To Grill Eggplant — With Crunchy Lamb Croutons
Today your summer grilling correspondent will focus on a vegetable, for a change. Of course, there's an optional meat garnish.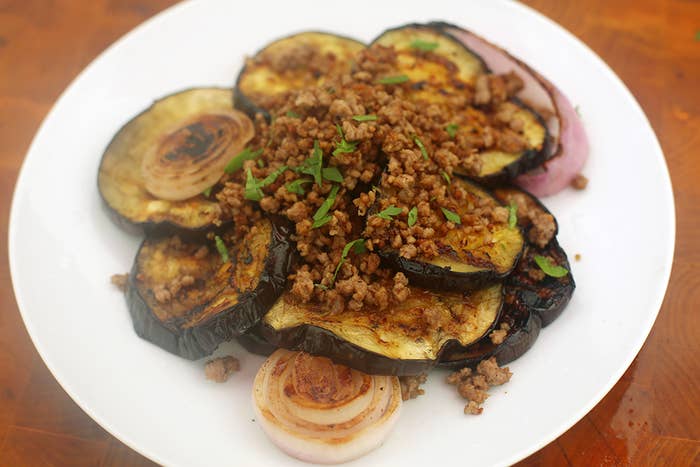 Eggplant can be disappointing on the grill if it isn't done right. But not this eggplant. With a few simple tricks of the knife, you can make sure your eggplant cooks perfectly — not too soggy, not too dry. Then there's a simple but flavorful glaze of honey, cumin, garlic and olive oil (and a topping of crispy ground lamb and grilled red onion), which makes it rich and savory, but most importantly, still very easy to do.
The recipe is taken from one of Mark Bittman's excellent articles on single-ingredient cooking for the New York Times. As Bittman points out, the ground meat topping is totally optional — I've had it both ways, and meat is not at all vital to this eggplant's overall success. You also don't need much meat, so think of it as a garnish and cook it awhile over the grill to get it good and crispy. Still, lamb or no lamb, the path is yours. I, however, took the meaty way.
1.
Mix together olive oil, honey, cumin, minced garlic, and vinegar. Add some salt and pepper to taste.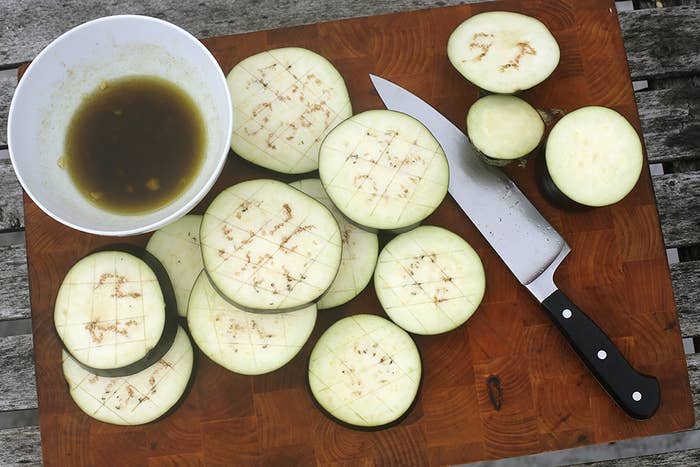 2.
Slice eggplants 1" thick then score them.
3.
Once the grill is hot, drizzle half of the sauce on one side of the eggplant slices.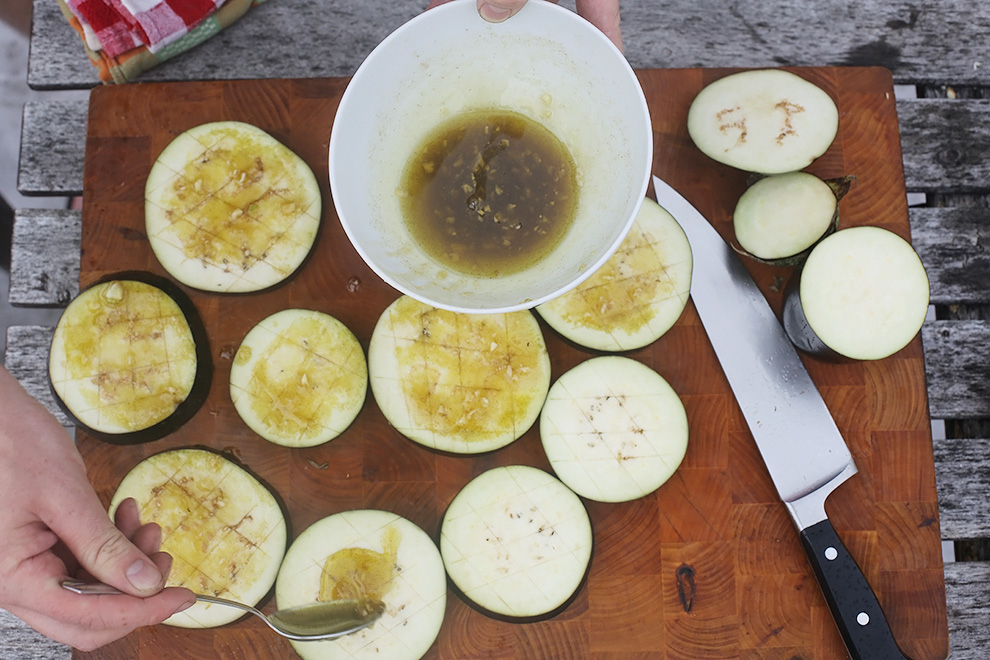 4.
With your grill grate nice and clean, put the eggplant slices glaze-side down over the fire. If your fire is super hot, place them around the edges of the coal pile.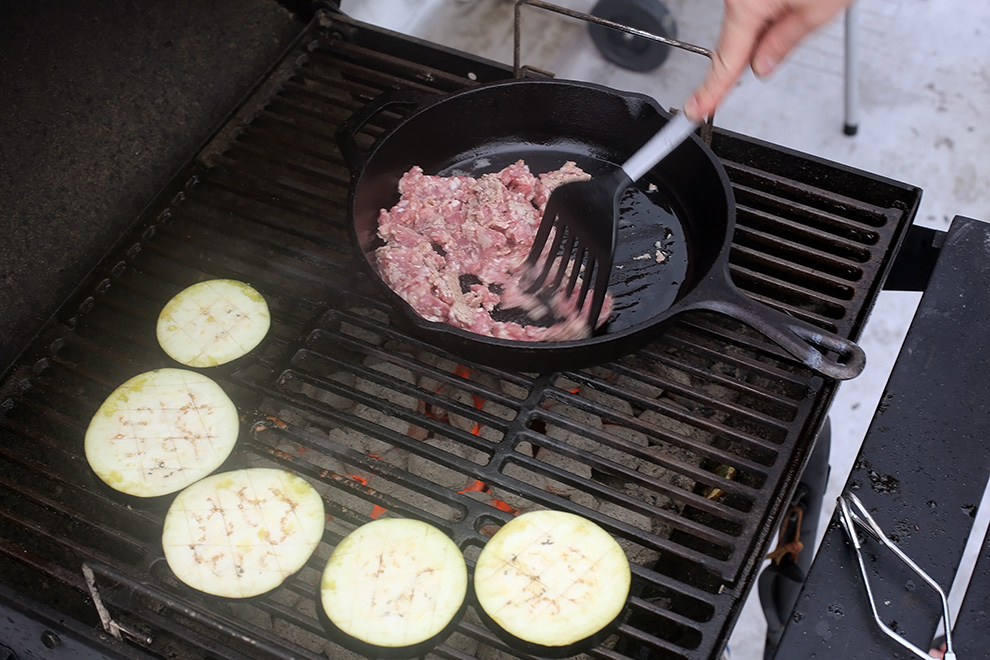 5.
If you're cooking meat for the dish, you can sauté it in oil in a cast iron skillet right on the grill. Don't forget to season the meat liberally with salt and pepper.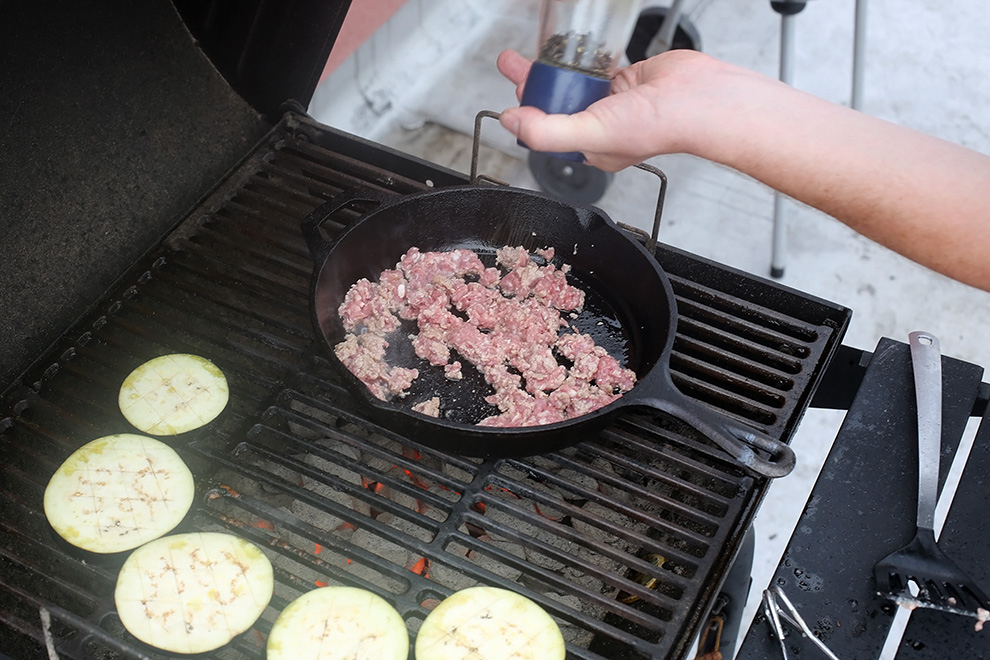 6.
Oil and season the red onion slices keeping the rings together, then put them on the grill, too. Cook everything until dark golden brown on one side (6-8 minutes per side).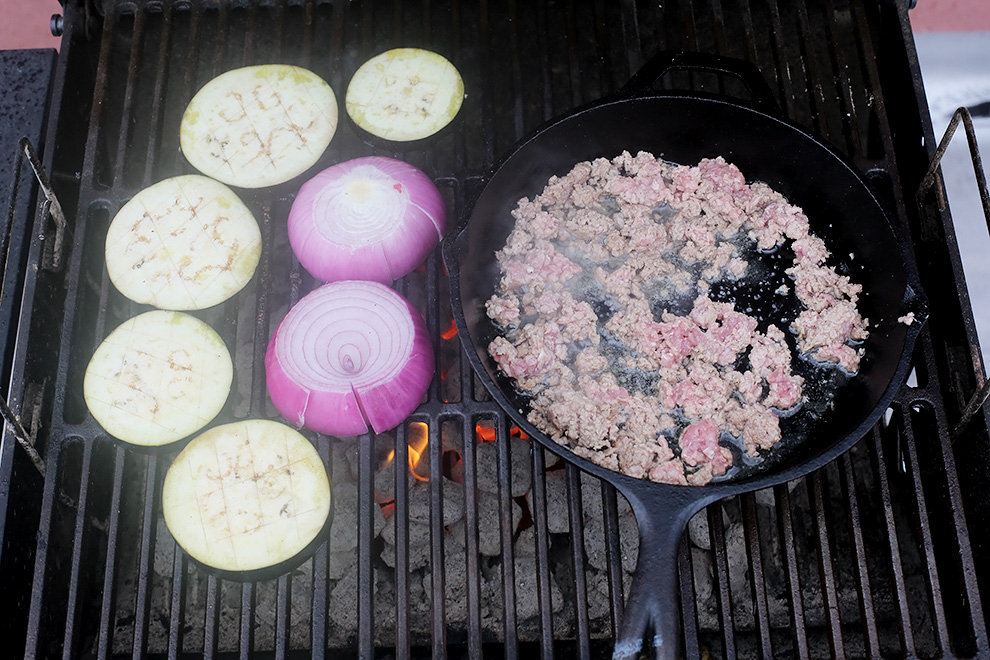 7.
Before you flip the eggplant, glaze the other side.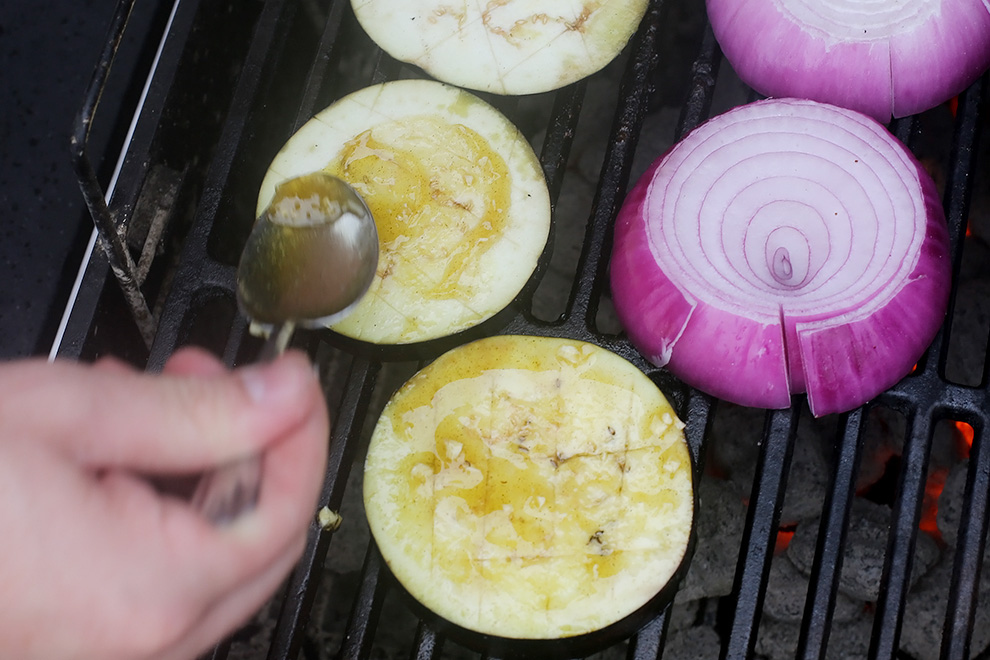 8.
FLIP.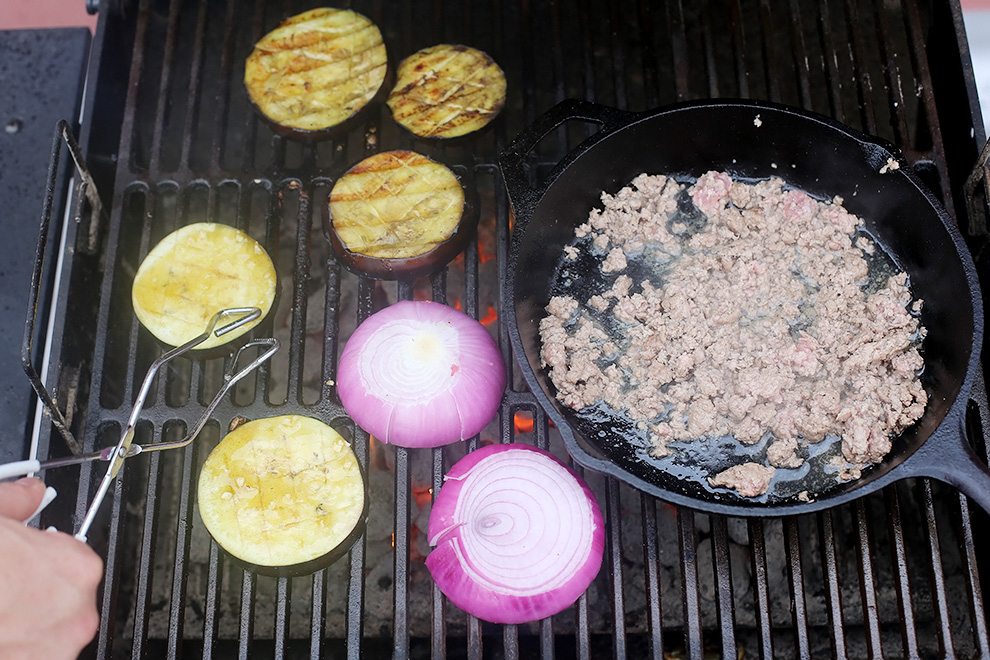 9.
Flip the onions once they are nice and charred.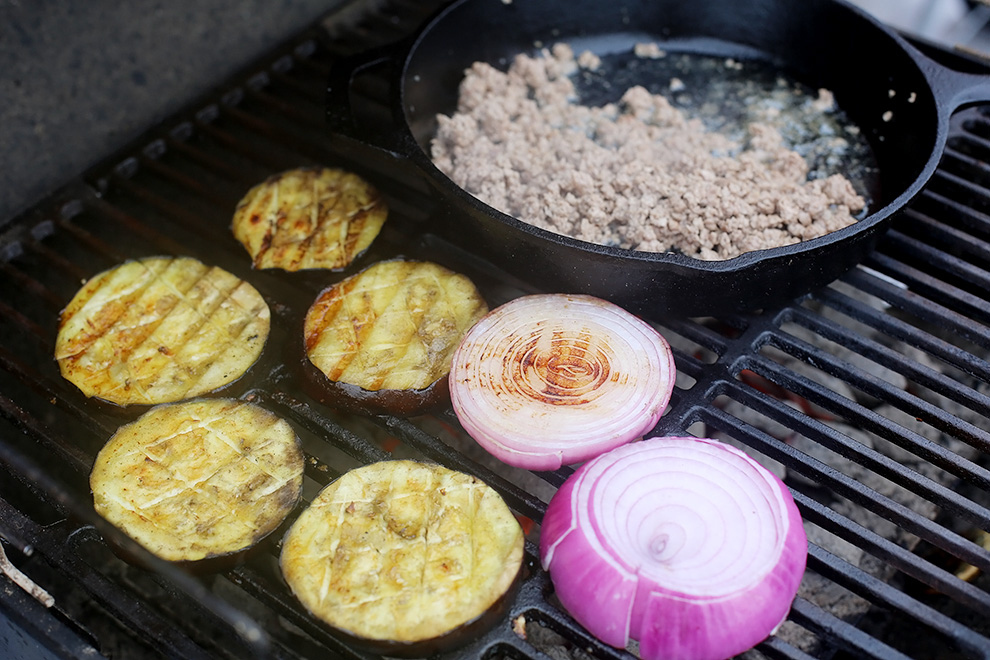 10.
Let the meat cook until it gets nice and crispy.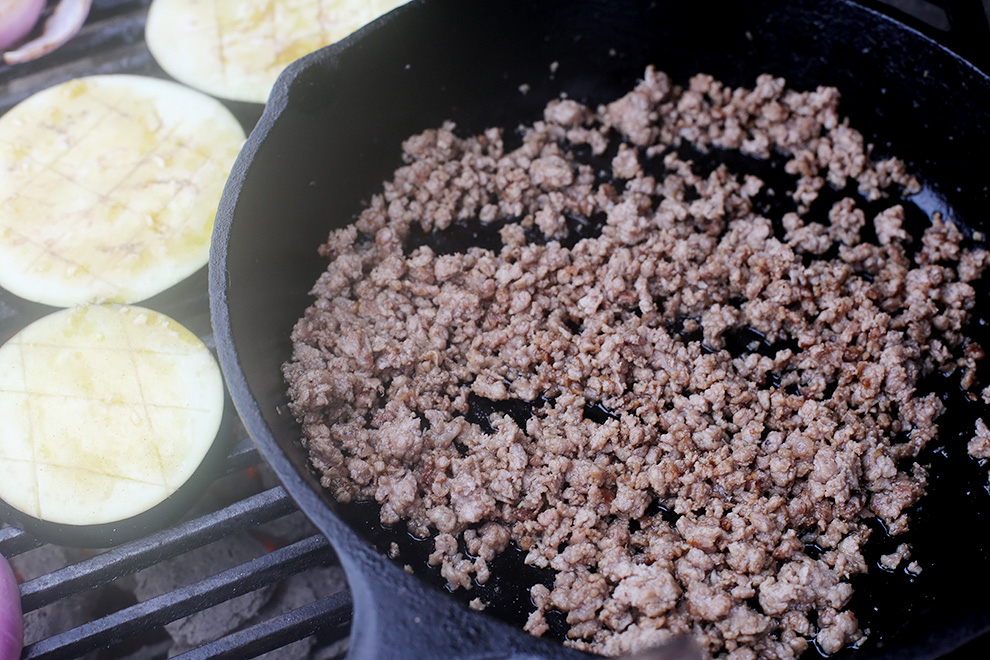 11.
Layer everything on a plate and add some chopped parsley or mint if you'd like.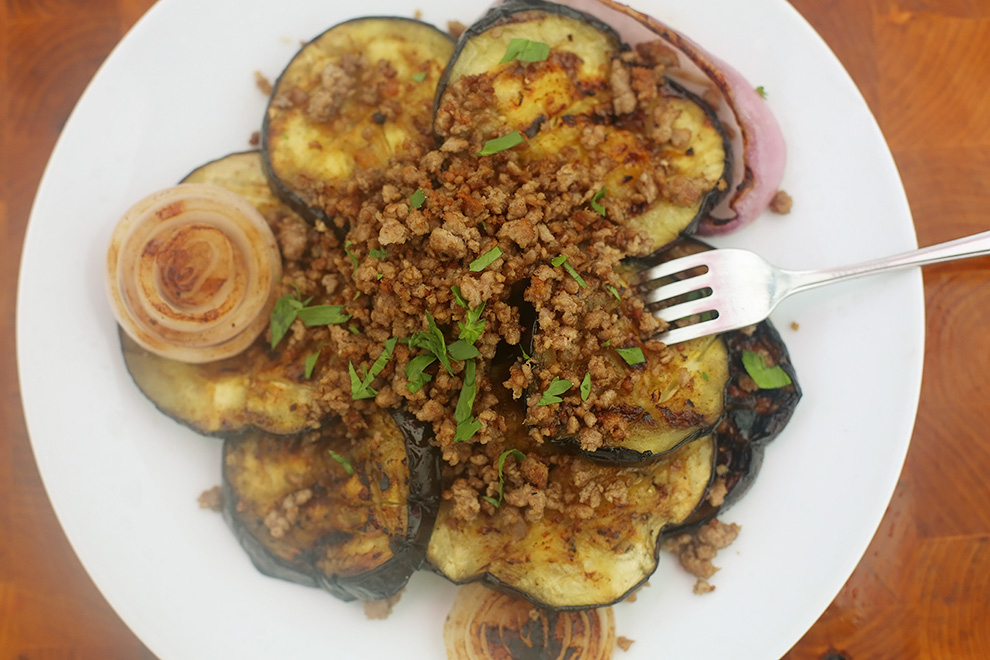 Grilled Honey-Cumin Eggplant
INGREDIENTS
1 large eggplant sliced crosswise 1" thick
1/3 cup olive oil
2 tablespoons honey
1 tablespoon ground cumin
1 tablespoon minced garlic
1 tablespoon vinegar (sherry, red wine, or apple cider)
Salt + pepper
1 red onion, cut crosswise into 1-inch rings
Optional:
1/2 pound ground lamb (or beef or veal)
a little chopped parsley or mint to garnish
PREPARATION
1. Light a fire in your grill. For this recipe, it's handy to "bank" your coals: Make a pile of hot coals that fills 2/3 of your grill, leaving the other 1/3 empty. This gives you a less-hot place to put any eggplant or onion slices that finish cooking on the outside before the others, but may still need some time to soften up over indirect heat. If you're using a gas grill, you can leave one of the burners off or on its lowest setting for the same effect.
2. Mix oil, honey, cumin, garlic, vinegar, and a dash of salt and pepper in a bowl. Taste it — it shouldn't be super sweet or too overwhelmingly cumin-y, but you should be able to taste both ingredients clearly. Add a bit more oil if it's too sweet, and more honey or cumin if it's too olive-oily.
3. Slice the eggplants then score each side of the eggplant slices with the tip of your knife by drawing a tic-tac-toe board on the face of each slice, just barely penetrating the surface. This is extremely satisfying.
4. Peel and slice the onion into 1-inch slices, keeping the rings together if you can.
5. Stir the honey and oil mix again (the honey tends to glob together at the bottom—this is OK) and put a spoonful onto each slice, spreading it around with the back of the spoon.
6. Give the grill a good cleaning with a wire brush, and wipe a little vegetable oil on it. Then put the eggplant slices sauce-side down over the fire. Brush the onion slices with some oil, and put those on too.
7. If you have enough room to cook the meat on your grill in a cast iron skillet like I did, put the pan over the hottest coals. You can also brown the meat separately on the stove, of course. Either way, sprinkle it with salt, pepper and a bit of cumin and fry it until it's crispy.
8. Cook everything until dark golden brown on each side (probably around 6-8 minutes per side, checking often), then flip. If you can, cover your grill while they're cooking to make sure they cook through, and brush them with more sauce if necessary. The eggplant is done when it is soft and deliciously dark brown — just before it begins to lose structural integrity in the middle.
9. When it's done, remove the eggplant slices to a plate, and top them with the onion rings and the ground meat, if you're using it. You can drizzle any remaining marinade over the top, and sprinkle with some parsley or mint for garnish if you are feeling fancy.
10. Devour without mercy.
IMPORTANT HINT: If you have any leftovers, combine them with a can of tomatoes and stew it down on the stove for a while, and you have an amazing eggplant/meat sauce for pasta.
Photos by Emily Fleischaker