Tomato Basil Pasta Bake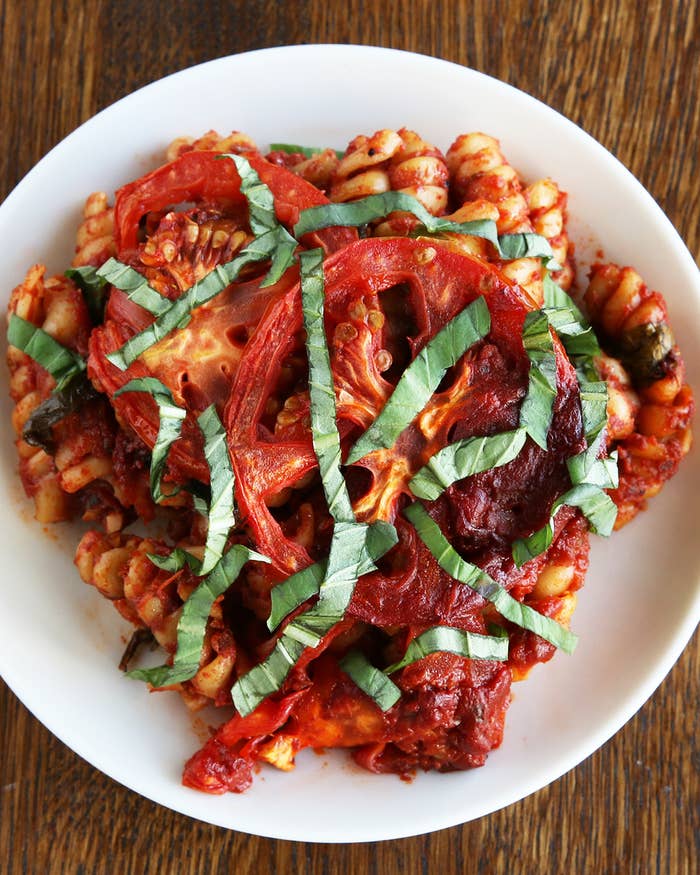 INGREDIENTS
Serves 8
1 (16 ounce) box fusilli pasta (or any similar pasta)
2 (28 ounce) cans crushed tomatoes
½ cup water
¼ cup olive oil
½ cup basil, torn
2 tablespoons dried oregano
4 cloves garlic, minced
2 teaspoons salt, plus more for sprinkling
1 teaspoon black pepper
3-4 large tomatoes, thinly sliced
PREPARATION
1. Pre-heat oven to 450°F/230°C.
2. In a large bowl, mix together the crushed tomatoes, water, olive oil, basil, oregano, garlic, salt, pepper, and fusilli.
3. Pour the pasta mixture into a greased roasting pan and smooth the top into an even layer.
4. Line the top of the mixture with the sliced tomatoes and sprinkle with salt.
5. Bake in the oven for 40-45 minutes, until the pasta is fully cooked.
6. Enjoy!
Want BuzzFeed Tasty right in your inbox? Sign up for our newsletter!