Shrimp and Avocado Taco Salad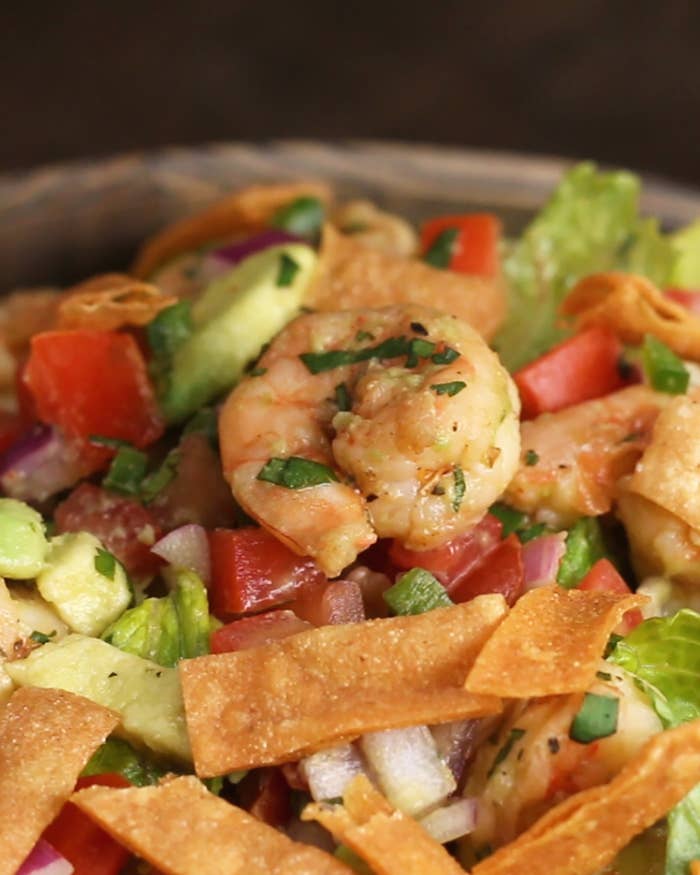 INGREDIENTS
2 tablespoons oil
1 pound medium shrimp, peeled and deveined
1 large head romaine lettuce, chopped
4 tomatoes, diced
½ jalapeño, deseeded and finely diced(optional)
¼ red onion, finely diced
2 tablespoons cilantro, minced
1 large avocado, diced
½ teaspoon salt
1 lime, juiced (2 tablespoons juice)
For the taco seasoning:
½ teaspoon salt
½ teaspoon black pepper
1 teaspoon ground cumin
1 teaspoon dried oregano
¼ teaspoon garlic powder
½ teaspoon chili powder
PREPARATION
1. Heat the oil in a skillet over medium-high heat.
2. Toss in the shrimp and immediately season with the taco seasoning. Sauté the shrimp just until each piece has started to turn pink, about 2 minutes. Remove from heat.
3. In a large bowl, combine the lettuce, shrimp, tomatoes, jalpeño, red onion, cilantro, avocado, salt, and lime juice, and mix until the salad is well-combined.
4. Serve with tortilla strips, if desired.
5. Enjoy!